For video game lovers like you and me, the experience becomes more thrilling if we can hear the sound effects from our Xbox video games very loud and clear to boost an adrenaline rush in our bodies. Playing Xbox on high loud volume with the help of speakers simply doubles up the fun, especially when playing with friends.
But not everybody knows how to connect speakers to Xbox. If you are one of them, then this article is for you. Moving forward, we will teach you all the necessary steps one by one. So, keep reading!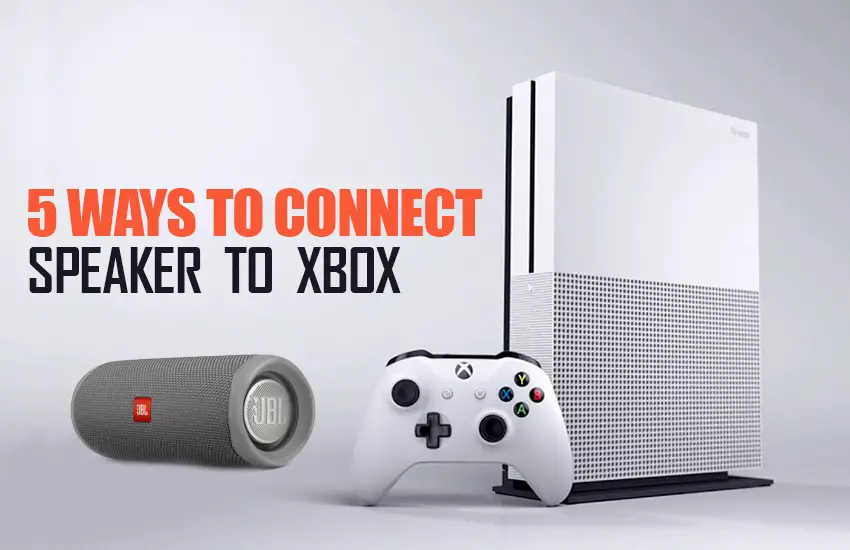 How to Connect Speakers to Xbox? Step-by-step Guide.
Connecting speakers to Xbox is quite tricky, particularly because there aren't any standard 3.5 mm jacks available on the Xbox One console where you can insert cables for connecting purposes. And unfortunately, there's no way to connect wirelessly via Bluetooth either.
Then how exactly are you going to connect speakers to Xbox when you're not satisfied with the video game sound quality? Well, we will tell you now so pay attention and do as we say:
Solution #1 – Using TOSLink Cable
For this solution, you will require a speaker or soundbar with an optical out option, if your speaker doesn't have this feature then you should probably skip to the next one. But as far as we know, the feature is typically included by default with almost all soundbars, so you'll be good to go. By the way, keep in mind – there is no other method to connect your speakers to the Xbox One console directly.
So, what are the things you need? You'll need an optical cable or also known as a digital audio cable. Then, your Xbox One's S/PDIF port should be connected to the cable. Make sure it's well-tightened and not loose. Next, attach the other end of the cable to the desired speaker or soundbar. Now, you should be able to hear your favorite video game sounds from the soundbar conveniently without any problems.
Solution #2 – Using AVR
What exactly is an AVR? Its full form stands for 'audio-video receiver'. It's basically a device that enables you to connect your speakers and other external devices (in this scenario your Xbox) so that you can enjoy top-notch sound effects. If you're familiar with having a home theater, you may have seen that sound systems of home theaters typically require an AVR in order to function. The AVR will operate in the same manner in this instance too.
There are three different methods for establishing a connection if you own an AVR. The first method is to first attach your AVR to your television. Afterwards, use an HDMI cable to connect your Xbox One to your television. By the way, be careful to set up all of these connections using HDMI cables, don't use a different cable type for each connection, or else your efforts will end up in vain.
The second option is to connect your Xbox One and AVR directly with each other. An HDMI cable will be needed though to link your Xbox One to your AVR. Following that, attach your speakers to the AVR. Remember that you will still need to use an HDMI cable to connect your AVR to your TV; otherwise, no video signals will be received by your TV sensors.
As for the final method, we are going to utilize the AVR's optical out port. On the Xbox One, there must be a 'Visual Out' option that enables audio device connections. Therefore, all that is required of you is that you connect your speakers to the AVR and then the AVR to your Xbox. You can use both HDMI cables or optical cables for this method, doesn't really matter. But yes, it's true that you're likely to hear better quality audio with optical cables than HDMI ones.
Solution #3 – Connecting Through TV
Although this technique isn't the most conventional fix for this issue, if your TV is compatible with wireless Bluetooth technology or supports a 3.5 mm jack/connector, things just might work.
The process isn't very difficult. First off, begin with using an HDMI cable to link your Xbox One to your television. Afterwards, use a Bluetooth speaker and connect it to your TV. Now, your audio output should be ready to function smoothly.
Remember, regular speakers can also be connected using any 3.5 mm standard connectors apart from HDMI cables. Since most new TVs support Bluetooth connection, choosing a Bluetooth speaker to connect to your Xbox is undoubtedly a better option.
Solution #4 – Using Optical Cable
This sneaky technique that we're about to teach you now is a very common one and has worked out for many people we know. For this, you'll need an adapter to connect the optical cable with the standard RCA of your speakers. Simply link up your speakers to the optical cable adapter and then move onto connecting your speakers with your Xbox console.
One possible problem that you may face is that the sound quality may not be up to your expectations. Moreover, it's pretty challenging to find the right optical cable to connect to the RCA adapter. Apart from this, it's a pretty easy procedure.
Solution #5 – Use External Sound Card
If the previous four solutions turned out to be very challenging or didn't work out for you, then this is the last technique we know of for connecting Xbox to speakers.
All you really need is an external sound card for your speaker system. They are generally sold to customers along with a USB input, hence you'll be able to connect your speakers to your Xbox. Next, you can link your speakers or audio devices to the sound card.
But unfortunately, we cannot 100% guarantee you that this will work since certain sound cards may not be compatible with your Xbox's audio codecs. Therefore, you may have to dig a little deeper to search for a sound card that is fully compatible with your Xbox console.
Wrapping Up
We feel positive and hopeful that at least one of these five solutions will work out for you no matter what the model of your Xbox is, which cable type you use to link a connection or what kind of speakers you own. Now, you may get confused which solutions to try and start off with first. Our recommendation would be to begin with the ones that are less complicated and won't shed too many bucks out of your pockets.
For instance, buying an AVR is comparatively more expensive than purchasing a digital TOS cable. All in all, it's totally up to you to decide which solutions you want to give a shot. Best of luck and we hope you'll be able to connect your Xbox to your speakers and level up your gaming experience.
Frequently Asked Questions:
1. How do I get speaker audio on my Xbox?
Answer: In order to connect your Xbox to speakers, you'll need some tools such as an optical cable or an external sound card. You may also have to use AVR or TOS Link cable.
2. Does Xbox have Bluetooth?
Answer: No, Xbox does not natively support wireless Bluetooth technology.
3. Can I connect a Bluetooth speaker to Xbox?
Answer: Yes, you can definitely connect a Bluetooth speaker to Xbox without facing any problems but you may need some technical tools to help you out, such as a Bluetooth adapter and cables.