Have you just received the package of your new Bose QuietComfort Earbuds? Well, congratulations! You've reached the first step for the cusp of an immersive auditory experience of a lifetime.
But first, let's embark on the journey of pairing them to your device since it can be a little challenging to do on your own.
Stay tuned with us as we'll be walking you through the seamless process of syncing your Bose QuietComfort Earbuds, ensuring you're ready to dive into your favorite tunes, podcasts, and calls with unparalleled clarity. So, grab your earbuds and let's get started on this sonic adventure!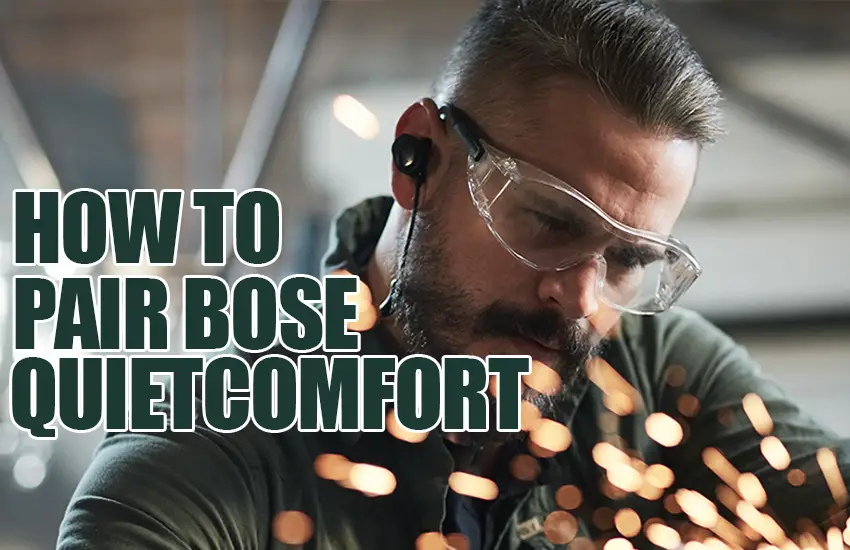 How to Put Bose Earbuds Into Pairing Mode?
When you've recently bought your Bose earbuds and are using them for the first time, they should automatically connect when powered on and enter pairing mode, provided that your device's Bluetooth is enabled.
However, if this automatic connection does not occur, you may need to initiate and proceed with the pairing procedure manually.
For Bose QuietComfort Earbuds, simply press and hold the button on the charging case until you observe the Bluetooth indicator flashing. This light flash will indicate your earbuds have been successfully put into pairing mode.
How to Pair Bose Earbuds Through The Official Bose Apps?
Bose offers two companion applications, namely Bose Connect and Bose Music, both available for iOS and Android devices. Each app is tailored to work with specific Bose devices.
Here's how to establish a connection with your Bose earbuds via the Bose Music App:
1. Download and launch the Bose Music App.
2. Allow necessary Bluetooth permissions when asked.
3. Proceed to either "Sign in" or "Create an account." If you already have a Bose account, there's no need to create a new one.
4. On the "My Bose" screen, select your specific device. If your earbuds aren't automatically recognized, tap the "+" icon to add them.
5. Activate the pairing mode on your Bose earbuds. Typically, this involves pressing and holding the button on the charging case until the LED indicator blinks.
6. Once your device is identified, select it, and the connection should be established successfully.
7. You should receive a notification prompting automatic connection whenever you power on your earbuds.
If the Bose Music App doesn't work for your particular device, you can also try pairing your Bose earbuds with the help of the Bose Connect app.
Here's an overview of the steps:
1. Start off with downloading and launching the Bose Music App from Play Store or Apple Store.
2. Next, allow necessary Bluetooth permissions by selecting the appropriate options.
3. Then, activate the discoverable mode on your earbuds by clicking "Find Available Devices'".
4. From the list of available Bluetooth devices, select the title of your earbuds.
5. In case they don't appear in the initial list, go to the "Headphones and Frames" section.
6. Locate your earbuds within the list of available devices and initiate the connection by selecting them.
And voilà! Your Bose earbuds should be successfully paired with your smartphone by now.
How to Manually Connect Bose QuietComfort Earbuds to Android?
Let's say you don't have sufficient storage in your device for installing the apps mentioned above or you simply don't want to go through those hassles – don't worry, we've got you covered.
You can still pair your Bose earbuds manually through the Bluetooth settings with your Android device without requiring any external apps.
Follow these steps below:
1. Ensure the Earbuds are On
Turn on your Bose QuietComfort Earbuds by pressing the power button on each earbud.
2. Activate Bluetooth
Open the Bluetooth settings on your Android device. This is typically found in the Settings app, often under "Connections" or "Connected devices."
3. Put the Earbuds in Pairing Mode
If your earbuds are not automatically in pairing mode, you may need to activate it manually. For Bose QuietComfort Earbuds, press and hold the button on the charging case until the Bluetooth LED light on the case blinks.
4. Pair the Earbuds:
In your Android device's Bluetooth settings, look for the Bose QuietComfort Earbuds in the list of available devices. It may appear as "Bose QC Earbuds" or something similar. Select them to initiate the pairing process.
5. Confirm Pairing:
Once selected, your Android device will attempt to pair with the earbuds. Select 'OK' to confirm the pairing and the earbuds should connect.
6. Connected Notification
After successful pairing, you should see a notification on your Android device indicating that the earbuds are connected.
How to Manually Pair Bose Earbuds to iOS?
Here's how you can easily pair your Bose earbuds with iOS manually:
1. Initiate Pairing Mode: Start by putting your Bose earbuds into pairing mode following what we've taught you earlier.
2. Access Bluetooth Settings: On your iOS device, navigate to the "Settings" menu and select "Bluetooth."
3. Enable Bluetooth: Activate the Bluetooth feature on your iOS device.
4. Locate Your Bose Earbuds: In the list of available devices under "My Devices," look for your Bose earbuds.
5. Connection Confirmation: Once successfully connected, your iOS device's screen will display a message stating "Connected," indicating the pairing process is complete.
How to Pair Bose QuietComfort Earbuds to Windows PC/Laptop?
Yes, that's right! You can pair your Bose earbuds to your computer and laptop as well! Simply follow these steps below:
1. First off, open the Settings menu tab and then click the 'Start' icon on the taskbar.
2. Look for the Bluetooth menu and then activate it once you find it.
3. Make sure your Bose earbuds have been entered into pairing mode.
4. In the Bluetooth window on your PC or laptop, navigate to the settings menu > Add Bluetooth & other devices.
5. Next, from the list of available devices displayed on the screen, select your pair of Bose earbuds. Click on the name to start pairing.
6. You will see a notification or message pop up on your Windows screen confirming that the pairing was successful. If not, then attempt again from scratch.
Earbuds Not Pairing? Time to Restart Your Earbuds!
If your Bose earbuds are really stubborn and refuse to pair up with any devices whatsoever, it's advisable to perform a restart for quick troubleshooting.
By following these steps, you can effectively reset your Bose earbuds, ensuring a fresh start for seamless connections.
1. Place your Bose earbuds into their charging case and ensure they start charging.
2. Keep the lid of the charging case closed for approximately five seconds, then open it.
3. Inside the case, press and hold the Bluetooth button for a duration of 30 seconds.
4. During this process, the Bluetooth indicator light will slowly transition from white to blue.
5. On your respective device, navigate to Bluetooth settings and select the option to "Remove" or "Forget" your earbuds.
6. Finally, proceed to connect your earbuds to your desired device.
(P.S: Just a heads up – restarting your Bose QuietComfort earbuds is like a soft reset, it will automatically clear off or delete the saved settings for the previously connected devices. Nevertheless, it won't restore factory settings, so you'll have the settings you had on your earbuds.)
If your Bose earbuds still don't pair up or connect properly to your smartphone or other devices after a successful reset, perhaps there's a hardware defect or any of the internal components are faulty.
In that case, you should contact Bose customer service and get your earbuds diagnosed by a professional. Repair or replace your earbuds if necessary.
Final Thoughts
Pairing up your new pair of Bose earbuds to your device for the first time isn't smooth sailing at all. Many things could go wrong and to top it off, if you have never used earbuds in the past at all, understanding the different settings and pairing successfully will deem even more challenging.
Nevertheless, with the step-by-step guidelines we've outlined above, pairing your earbuds for the first time should be a breeze. Just stay calm and take it easy. Good luck!
Frequently Asked Questions
1.How do I put my Bose earbuds in pairing mode?
Answer: To put your Bose earbuds in pairing mode:
Turn off the earbuds if they are on.
Press and hold the Bluetooth button on the earbuds until you see a blinking blue LED light, indicating they are in pairing mode.
Now, you can connect them to your desired device via Bluetooth.
2. Why won't my Bose QuietComfort earbuds go into pairing mode?
Answer: If your Bose QuietComfort earbuds won't go into pairing mode, start with ensuring they are fully charged. Next, turn them off, then press and hold the Bluetooth button for about 3 seconds until the LED indicator flashes white, indicating they are in pairing mode. If they still won't enter pairing mode, reset them by holding both earbuds' buttons for 10 seconds, and then try again.
3. How do I reset my Bose Quietcomfort earbuds to factory settings?
Answer: To reset your Bose QuietComfort earbuds to factory settings, follow these steps:
Place both earbuds in the charging case.
Close the charging case lid.
Connect the charging case to a power source using a USB cable.
While connected to power, open the charging case lid.
Wait for about 5 seconds, then close the charging case lid.
The earbuds should reset to their factory settings.
4. How do I connect my Bose Quietcomfort earbuds to my Bose app?
Answer: To connect your Bose QuietComfort earbuds to the Bose app, first download and install the Bose Connect app on your mobile device. Next, open the app and follow the on-screen instructions to pair your earbuds with the app. Make sure your earbuds are in pairing mode. Once they are paired, you can access additional features and settings for your earbuds through the Bose app.
5. How do you manually pair earbuds?
Answer: To manually pair Bose earbuds, make sure that both the earbuds are turned on. If they were previously paired with another device, make sure Bluetooth is turned off on that device or unpair them.
On the Bose earbuds, press and hold the Bluetooth button until the LED indicator flashes blue. Next, on your device (e.g., smartphone or tablet), go to the Bluetooth settings. Look for "Bose QuietComfort Earbuds" or a similar name in the list of available devices and select them to complete the pairing process.
Once paired, your Bose earbuds should connect to your device automatically when they are turned on and within range.