Have you been searching for top-notch quality bluetooth earbuds that aren't hella expensive?
Well, introducing to you the Muze Ripple TWS Wireless Bluetooth Earbuds – the latest game-changers in earbud tech that cost under $20! These innovative earbuds come equipped with a charging case that's like a power bank on steroids, offering a whopping 4x charging capacity.
Ever since launched, these TWS Ripple earbuds have quite stirred the buzz and we're here to test and review these for you today to make sure not a single penny of your hard-earned money goes to waste.
Have these featherlight wireless earbuds got what it takes to be your new workout buddies with all the tech cred? Keep reading to find out!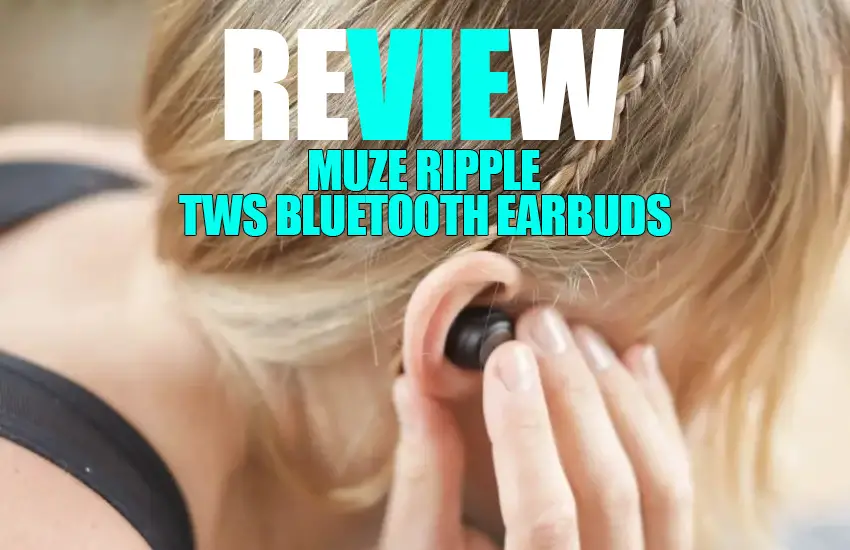 Key Specifications of Ripple TWS Earbuds In a Glance:
Brand: Muze
Item Weight: 0.3 lbs
Product Dimensions (LxWxH): 1.5″ x 4.0″ x 7.0″
Colors: Black & White
Made In: China
Connectivity: Bluetooth
What's Included in the Package?
In-depth Review of Muze Ripple TWS
Bluetooth Earbuds
Our team experts have been using these awesome earbuds for quite a while now and are glad to share their personal thoughts and opinions with you. So, in today's review, we're going to dive into their build quality, design, features, and weigh their pros and cons to help you make an informed decision.
Build Quality (4/5):
The build quality of the Muze Ripple TWS earbuds is impressive. They feel sturdy in your hands and have a premium finish. The charging case, in particular, stands out with its robust construction. The earbuds themselves are lightweight but don't feel flimsy. However, the glossy finish on the earbuds might be prone to smudges and fingerprints over time.
Design (4.7/5):
These earbuds boast a modern and stylish design. The compact size ensures a snug and comfortable fit in your ears. They come with three sets of ear tips, allowing you to find the perfect fit. The touch-sensitive controls on each earbud are intuitive, allowing you to play/pause music, adjust volume, and answer calls with ease.
Features (4.5/5):
The Muze Ripple TWS earbuds come loaded with some amazing features that add more convenience and comfort to your listening experience. Let's discuss them one by one:
Sound quality – These earbuds offer impressive sound quality with clear mids, crisp highs, and punchy bass. Whether you're listening to music, podcasts, or taking calls, the Muze Ripple TWS delivers an enjoyable audio experience.
Touch Controls – We love the intuitive touch-sensitive controls on each earbud that basically allow you to effortlessly manage your music playback, adjust the volume, answer or reject calls, and even summon your preferred voice assistant.
Bluetooth 5.0 – With Bluetooth 5.0 connectivity, these earbuds ensure a stable and quick connection to your device, minimizing dropouts and lag. Whether you're using them with your smartphone, tablet, or laptop, the Muze Ripple TWS maintains a reliable link.
Voice Assistant Integration – These earbuds are equipped with voice assistant support, including Google Assistant and Siri. This hands-free feature simplifies tasks like setting reminders, sending messages, or getting directions without reaching for your device.
Battery Life – While not class-leading, the Muze Ripple TWS offers a respectable battery life. With up to 4 hours of playback on a single charge and an additional 16 hours from the charging case, you can enjoy your music throughout the day without frequent recharging. However, some competitors do offer slightly longer playback times in this price range.
Comfort and Fit – Muze Ripple earbuds are designed for comfort and come with three sets of ear tips to ensure a snug and secure fit. Whether you're in the middle of a workout or a long commute, they stay comfortably in place.
IPX4 Rating – The IPX4 rating makes these earbuds sweat and splash-resistant, making them ideal for workouts or outdoor activities. You don't need to worry about moisture-related damage.
PROS:
– Premium build quality and stylish design.
– Intuitive touch controls for easy navigation.
– IPX4 rating for sweat and splash resistance.
– Support for voice assistants.
– Impressive battery life with the charging case.
CONS:
– Glossy finish may attract fingerprints.
– Some competitors offer longer battery life per charge.
– Active noise-cancellation is missing.
Our Final Verdict
The Muze Ripple TWS earbuds are a solid choice for those seeking a stylish, well-built pair of wireless earbuds.
While the Muze Ripple TWS Bluetooth Earbuds may not offer advanced features and have all the bells and whistles of that of premium earbuds, they still do offer a well-rounded set of features that cater to both audio quality and user convenience, making them an attractive option for daily use.
We believe these earbuds strike a good balance between price and performance. Whether you're using them for workouts or daily commutes, the Muze Ripple TWS earbuds are a worthy audio companion to consider.
Frequently Asked Questions
1. What is the battery life of Muze earbuds?
Answer: Although it varies for different models and depends on the usage frequency, Muze earbuds generally offer up to 2 hours of battery life and may also last up to 4 hours (initial charges along with charges provided by the case).
2. Is Muze earbuds waterproof?
Answer: Muze Earbuds have a rating of IPX4, meaning they are resistant to water splashes from any direction. They can handle splashes of water, such as rain or accidental spills, but they are not really designed to be submerged in water.
3. How long do Muze headphones last?
Answer: The battery life of Muze headphones can vary depending on the specific model and usage patterns. Once fully charged, Muze headphones offer up to 20 hours of playtime. Muze headphones are also reputed to have a long lifespan of up to 10 years which can be exceeded with regular care and maintenance.
4. How long does it take Muze earbuds to charge?
Answer: The charging time for Muze earbuds can vary depending on the specific model and the capacity of the battery. Typically, it takes approximately 1 to 2 hours to fully charge most wireless Muze earbud models.
5. How do I reset my Muze earbuds?
Answer: To reset your Muze earbuds, typically, you'll need to place them in the charging case, leave the case open, press and hold the reset button (location varies by model) for about 10-15 seconds, and then reconnect them to your device via Bluetooth. It's better to refer to your earbuds' user manual for model-specific instructions regarding correct resetting.