Whether you're a farmer who needs a horn speaker, a sailor, an organizer who needs to make an announcement, or maybe for personal outdoor use, you need a horn speaker in those situations. With all the great options in the market, it's hard to choose the best horn speakers, and I understand that.
I have experienced these situations and faced many issues, so I decided to help you with this and provide a list of excellent options. Let's see those!
Hand-Picked 7 Horn Speakers
Here is the list of all the horn speakers that I will discuss in detail later. I have personally used or known them for at least a brief time, and I highly recommend these.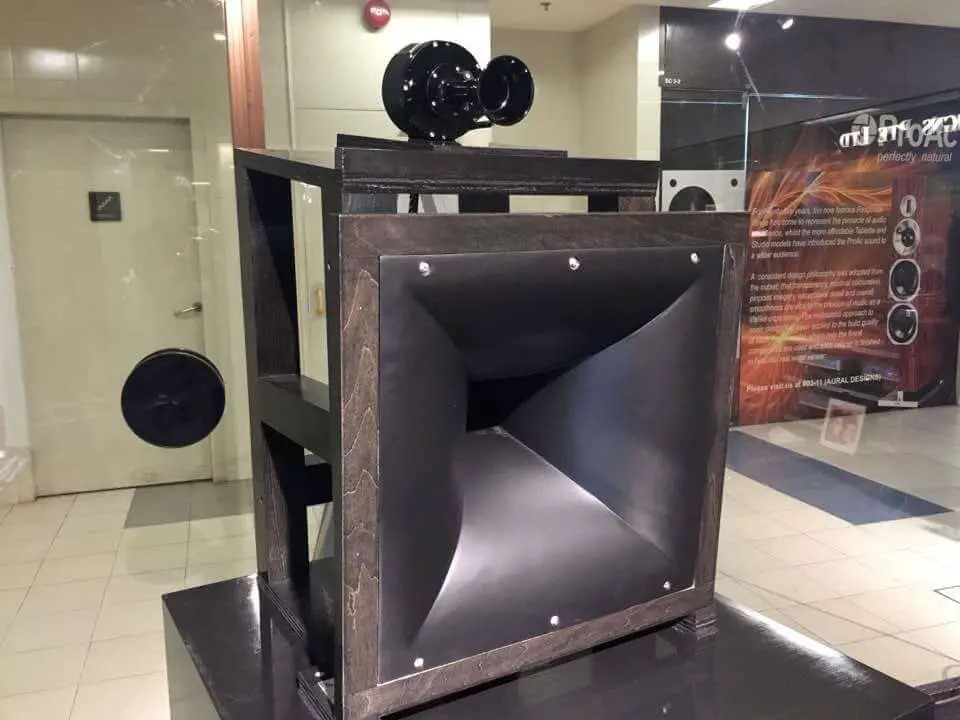 Pyle Indoor/Outdoor PHSP5
JBL Professional CSS-H30
Croove Megaphone Bullhorn
ALGO 8186
Speco SPC-40RP
Standard Horizon Hailer Horn
Bogen SPT15A
How Do I Choose a Horn Speaker?
You need to consider some factors while choosing a horn speaker, as you intend to use it long term and give you the best performance. Let's learn about them one by one.
Factor #1: Sound Output
You already might know you can use these horn speakers inside or outside the room. Depending on where you're using it, the environment will change, so the environmental effect on the sound's overall output. 
The critical thing to notice is the horn speaker's high ambient noise levels. Many horn speakers cannot suppress the noisy environment if you're using them outside. So, in that case, your horn speaker's sound level must be higher than the background noise and the proper pressure in that particular environment.
The bottom line is that the sound output should be clear and able to process dispersion no matter the environment.
Factor #2: Frequency Response
You need to ensure that your horn speakers' frequency range is more comprehensive than usual, meaning it can provide full-range sound.
Many speakers come with an unsmoothed impedance change, and you need to be aware of not getting those in your horn speaker; you can get them if you have a rotary switch function.
Factor #3: Design
In the case of horn speakers, design matters a lot as these have to stay outside and deal with many environmental factors, such as snow, rain, etc. Now, a hardy-designed horn can deal with all these environmental factors, increasing longevity significantly.
Every horn speaker has an Ingress Protection number to understand these things better. Try to get one with the highest IP number, which is labeled as IP67. A higher IP number means that you can hang them outdoors without issues.
Factor #4: Material
The selection of materials used in horn speakers is crucial in creating an exceptional listening experience. Materials used in horn speakers play a critical role in determining their overall sound quality and performance.
Properly selecting materials helps optimize the horn's acoustic properties, producing more accurate, efficient sound reproduction, protecting the speakers from various environmental factors, and giving it a long life. The choice of materials can impact the sound's clarity, warmth, and dynamic range.
Factor #5: Coverage
Horn speakers are available in different coverage patterns, such as narrow, medium, and comprehensive. The choice of coverage pattern depends on the room's size, the speakers' placement, and the listening distance. 
A narrow coverage pattern is ideal for small rooms, whereas a wide one is more suitable for larger rooms. A medium coverage pattern is perfect for rooms with moderate size. The correct choice of coverage pattern ensures optimal sound dispersion, providing a balanced sound experience for the listener.
Well! That's not all! Other factors include the price, impedance, power handling, mounting type, connectivity, etc. I will give you a complete tour while discussing all the choices.
Best Horn Speakers: Editor's Recommendations
I will be honest with you while discussing the speakers, and I will tell you exactly why I chose these horn speakers, not because I personally used or heard great experiences from my friends about them, but also all the great features that come with them.
Let's get into it!
1. Pyle Indoor/Outdoor PHSP5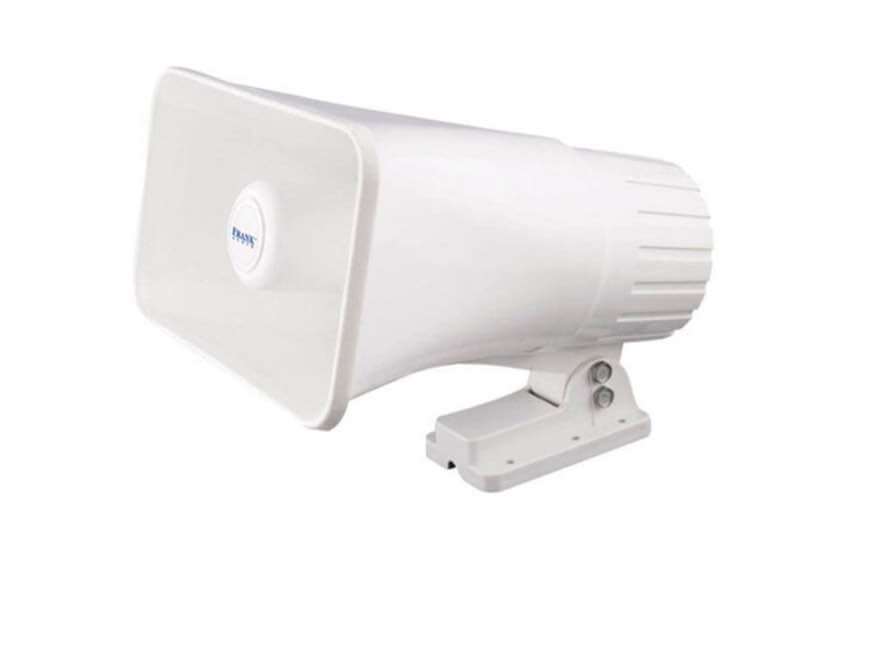 Everyone wants a versatile and powerful speaker that can deliver high-quality sound both indoors and outdoors, and Pyle Indoor/Outdoor PHSP5 is just the one you're looking for!
Here are the aspects I found about this particular speaker that made me recommend this, and here are they!
With a 65-watt power rating, it can produce crystal clear sound quality and easily fill a large room or outdoor area. Even I heard a pretty great and clear sound in a 20,000 square parking lot.
You won't have to worry about weather damage as the speaker is built to withstand all kinds of weather conditions, in every weather.
You can easily install it on a wall, ceiling, or wherever you want, as the speaker has mounting brackets.
With those brackets, you can control or adjust the direction of the speaker whenever you want.
Lastly, 8 ohms impedance enables the speakers to have up to 5 KHz frequency range and provide clean and clean sound.
You can also use it as your homemade e-caller for your animals, which can provide loud and crisp audio.
2. JBL Professional CSS-H30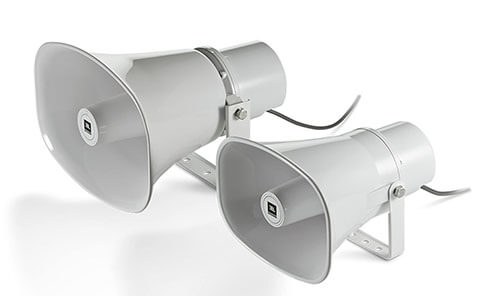 I've had the pleasure of using this speaker, the JBL Professional CSS-H30 speaker, for several months now, and it's safe to say that I'm thoroughly impressed. Here are the reasons why!
Whether you're listening to classical music or heavy metal, The speaker can produce crisp, clear audio that is balanced and full of depth and reach your expectation.
You can easily move the speaker around and place it wherever you need, as its design is compact and lightweight.
Here is a fun story; I've accidentally dropped it a few times, but thanks to its being built to last as it's made with high-quality materials, it still performs flawlessly.
It has both wired and wireless connectivity options, enabling it a too easy pairing with any device with Bluetooth and an aux port for wired connections.
 It may be a bit pricey, but you have to trust me on this as I'm saying it's worth every penny for the quality of the product you're getting.
3. Croove Megaphone Bullhorn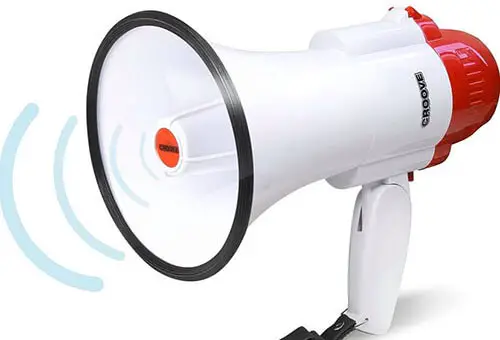 I have a friend who has used it, and I think it's worth considering. Here are some of the critical aspects of the Croove Megaphone Bullhorn.
Suppose you're looking for an ideal for public speaking, crowd control, and other similar situations. In that case, the Croove Megaphone Bullhorn is the one, as It can project your voice over long distances with clarity and without distortion.
You can be heard loud and clear, even in noisy environments like construction sites, stadiums, and busy streets. It is equipped with incredibly powerful, boasting a 30-watt speaker that can reach a minimum of 800 yards to a maximum of 4000 yards.
You can arrange long events or situations where you might not have access to a power outlet, and it is perfect for that as it has a rechargeable battery that can last for up to 8 to 12 hours on a single charge.
The speaker has a comfortable hand strap and a shoulder strap for easy carrying, and the rigid ABS plastic construction that can withstand harsh weather conditions and rough handling.
Other useful features include a built-in siren, a USB port for charging other devices, and a detachable microphone for hands-free use.
Give it a try, and you won't be disappointed!
4. ALGO 8186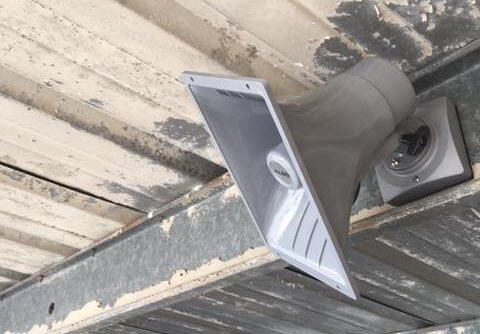 I'm not exaggerating when I say it is definitely a game-changer for music enthusiasts and professionals alike. Don't just take my word for it! Here are the reasons why!
It can produce high-quality audio output, making it perfect for use in professional settings such as recording studios, conferences, and events, and the quality is crystal clear and powerful.
You can connect your devices and stream music wirelessly from your smartphone, tablet, or laptop, as you can connect it via Bluetooth and Wi-Fi.
The user-friendly interface makes navigating and controlling the speaker's various functions a breeze and easy to set up and use, even for those who are not tech-savvy.
Its robust design makes it perfect for use in various settings, including outdoor events and concerts, and it can withstand heavy usage and transport.
Here is another thing to remember, if you're looking for a loudspeaker, which can suppress loud machinery sounds, this is the one! I would highly recommend this speaker for obvious reasons!
5. Speco SPC-40RP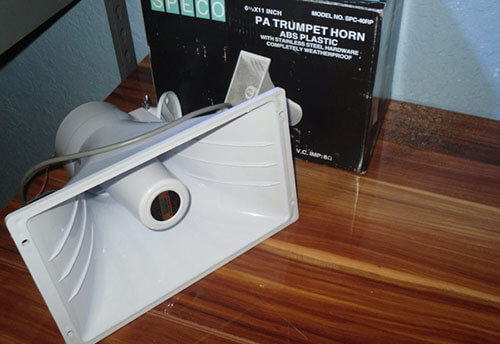 It is one of the most affordable and reliable options on the market, and it has exceeded my expectations in many ways.
I can confidently say that the Speco SPC-40RP delivers clear, crisp, well-balanced, and excellent sound quality, meaning you can hear all the notes and vocals with exceptional clarity.
A compact size, making it easy to move around, and a great addition to any room and store when not in use.
The casing is rugged and sturdy, made of high-quality materials that ensure its durability and longevity, and it can withstand regular use and even accidental drops.
It is completely waterproof and dustproof, meaning you can put it anywhere outside without breaking a sweat.
Thanks to its 40-watt maximum power rating, the sounds will reach 2000 to 3000 yards.
With a minimum of 200 Hz to a maximum of 15 kHz, it can produce any audio you want to play.
With its excellent sound quality, sleek design, durability, compatibility, and affordable price, this speaker is an excellent value for money.
6. Standard Horizon Hailer Horn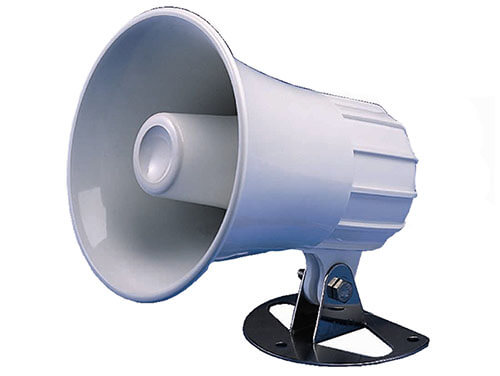 I went on the sea and experienced Standard Horizon Hailer Horn's performance, and I have become a fan of it and can attest to its usefulness and reliability.
This hailer horn will surely get the job done whether you're using it to make announcements or signal other boats, as it has 30 watts of power and a frequency response of 450Hz – 4kHz.
Besides, the Standard Horizon Hailer Horn can deliver a clear and powerful message across various frequencies.
One of the things I love about this hailer horn is its versatility. It can be used as a hailer, horn, or listen-back intercom.
The Standard Horizon Hailer Horn is built to withstand the harsh marine environment and high-quality materials and is designed to be weather-resistant and corrosion-resistant, as I've used this hailer horn in some pretty rough weather conditions.
It comes with a handheld microphone to make announcements or signals. The microphone is also intuitive, so you don't have to worry about fumbling with complicated controls or settings.
7. Bogen SPT15A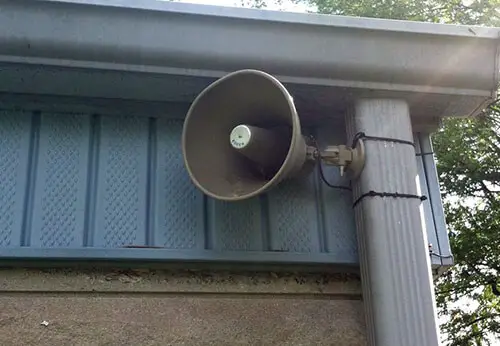 If you want a reliable, high-quality horn speaker system, let me introduce you to Bogen SPT15A. I've had the pleasure of using this speaker for several months now, and I have to say, I'm thoroughly impressed.
Many speakers are often subjected to wear and tear over time, but this one seems like it's built to last; as you'll notice about the Bogen SPT15A is that it's built like a tank. The speaker is incredibly sturdy and can withstand many outside issues like storms and rain.
The most crucial aspect of any speaker is how it sounds, and the Bogen SPT15A does not disappoint. The sound is crisp and clear, and  I've used it for both music and speech, and it's performed admirably in both contexts.
The speaker has everything you need to get it up and to run, and the controls are intuitive and easy to understand.
It has a sleek and professional look that fits well in any setting.
Maybe give it a try, and let's see if you're satisfied with it!
Comparison Table
I went through all the crucial aspects, and here is a comparison table with the technical elements to help you understand and compare these horn speakers in a better way.
| | | | | | | | |
| --- | --- | --- | --- | --- | --- | --- | --- |
| Speaker Model | Pyle PHSP5 | JBL CSS-H30 | Croove Megaphone Bullhorn | ALGO 8186 | Speco SPC-40RP | Standard Horizon Hailer Horn | Bogen SPT15A |
| Frequency Response | 500 Hz – 5 kHz | 380 Hz – 6 kHz | 400 Hz – 8 kHz | 350 Hz – 9 kHz | 200 Hz – 15 kHz | 300 Hz – 12 kHz | 275 Hz – 14 kHz |
| Sensitivity | 94dB | 113dB | 60dB | 83dB | 110dB | 110dB | 120dB |
| Power Handling Capacity | 65W | 30W | 30W | 10W | 15W | 30W | 15W |
| Material | ABS | Plastic | ABS | Polycarbonate | ABS | ABS | ABS |
| Mounting Type | Wall mount | Wall-mount | Handheld | Wall-mount | Wall-mount | Deck mount | Wall mount |
| Price | Check Here | Check Here | Check Here | Check Here | Check Here | Check Here | Check Here |
Wrap Up
That's all from me as I went through all the crucial aspects of the horn speakers and discussed the best ones with a table, and I hope you have decided which one you want to go for!
Let me know in the comment if you have any options, and I would be happy to hear them from you. Have a great day!