Choosing among all the great speaker options in the market can be overwhelming. And I understand the frustration, and that's why I made a list for you to choose one or multiple from the 5 best DJ speakers for outdoor events.
I chose to pick and discuss these speakers based on a few criteria, which I will explain in the following sections. Besides, in the last, I will provide you with a comparison table to help you make an easier decision.
Stay with me to learn more!
Hand Picked 5 Best DJ Speakers For Outdoor Events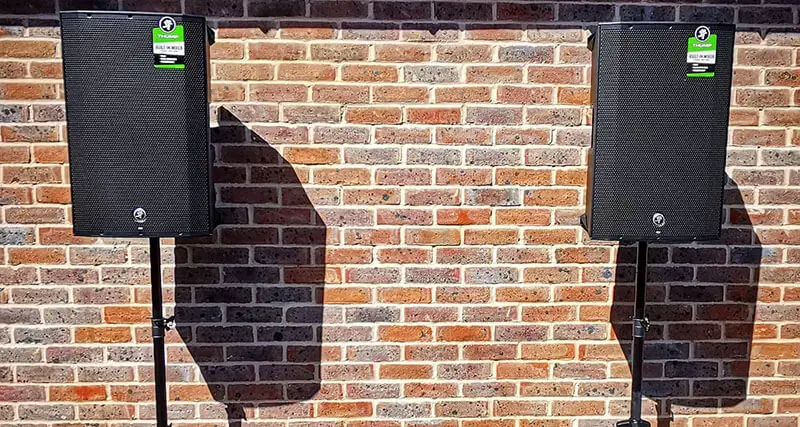 Here are the 5 best DJ speakers that we will discuss here. We choose these based on the factors discussed in the next section.
If you don't want to go through the entire post, that's ok because you can glimpse the top five hand-picked DJ speakers here.
PRORECK Club 3000.
Electro-Voice ZLX-12BT.
Rockville RPG152K.
QSC K10.2.
Mackie THUMP.
We will discuss the pros and cons in the later section.
What To Look For When Buying DJ Speakers?
You already had a glimpse of the top picks. I choose those based on some criteria or aspects. 
In this section, I'll explain why the following aspects are essential and why you should consider these before buying a DJ speaker.
Usually, I buy a DJ speaker, and I look for these;
If the speaker type is PA (Public Address).
If the speaker is categorized as active or passive.
Sound or frequency range.
Bass sound.
Subwoofer.
Size of the Audience.
Speaker Size.
Other Considerations (Connectivity and Accessories).
I'll go through these briefly to give you an overall idea, and then It will help you choose the right DJ speaker. Let's get started!
Speaker Types
Sometimes, It's easier to confuse a public address speaker and a studio speaker. As both are under the DJ speaker types, you need to get the right one.
Here's what a studio speaker is supposed to do;
A studio speaker gives accurate sound when the volume is low or moderate.
Best for a room or studio and is not recommended for outdoor use.
And not certainly at a high volume.
On the other hand, public address (PA) speakers are used for;
Mainly outdoor.
You can play at a higher volume for an extended period.
As the name suggests, It's best when you're having an outdoor event.
As we can see, when choosing a DJ speaker type, ensure that you select a public address (PA) type speaker.
Speaker Category
As you already know, there are two speaker categories. Those are active and passive.
It's not a big deal, but you get to know this because it's essential to know the difference. Active speakers come with a built-in amp, whereas you need to add or install an amp to the passive speakers.
For that, passive speakers are less pricey but easy to handle. On the other hand, active speakers are a bit tricky to control the volume and such.
Bass Sound
Depending on the speaker, they can produce two types of bass sound. They can also be tight (controlled), either muddy (boomy), or on the other.
As per your choice, you need to focus on what type you want and what the crowd wants for your outdoor events.
Besides, you must ensure that the speakers are balanced with the high frequencies. Per the criteria, the speakers are for the outdoors, and you need a speaker that people can hear clearly from afar.
Frequency Range
When using a speaker outdoors, they should be equipped with low-range woofers and tweeters. You must ensure that your speakers have these.
Besides, these will help the speaker sound clear at all ranges, whether low or high. That way, you don't need to worry about whether the tracking frequency range will sound clear.
Subwoofer
The subwoofer balances and enhances the sound's quality and other benefits. Depending on your speaker, you can add a subwoofer to the system. Though, it's not always mandatory.
But, adding a subwoofer can be helpful and will clear the sound quality as you use your speaker outdoors. When the crowd is big and far, it might be a great choice depending on the situation.
Size of the Audience
You will need a lot of power as you use the speaker in a large crowd. So, you must ensure that the speaker can handle much power.
In that case, when choosing a speaker, ensure that the audience size is considered.
Speaker Size
Whether it's the size of the subwoofer, speaker, or even a subwoofer box, the size of these will always matter.
Though it's said that the bigger the speaker, the louder it can play, besides, the box size and subwoofer also play in these cases.
And as mentioned earlier, the bass sound also depends on the speaker size. So, before buying, you must carefully choose the speaker's size.
Other Considerations
As for the other considerations, you need to ensure the connectivity and the accessories that go with the speaker. No matter how big or small these things are, they play a huge role in a big crowd. 
You must ensure that the speaker is compatible with all connectivity and connectors. Besides, the accessories must be consistent to play smoothly and produce better bass and sound. 
5 Best DJ Speakers For Outdoor Events
Here, I will discuss the DJ speakers we picked, their pros, cons, prices, and other specifications, and why they are best for outdoor events. 
I won't go into that much detail and will try to keep it short. Let's get into it!
1. Proreck Club 3000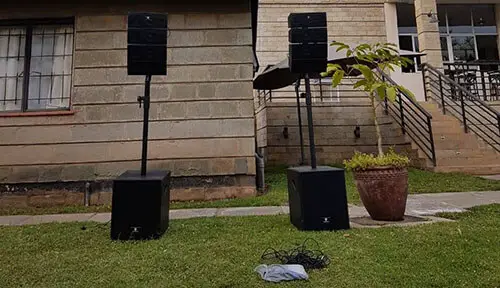 I picked this Proreck Club 3000 because it meets all the criteria anyone could ask for, along with all the other choices.
Here's why I like this speaker;
 It has 4×4'' speakers, and they are also arrayed.
It comes with everything, or as they call it, the "all-in-one" system. It means you won't need to add anything extra, such as stands and subwoofer. And the height of the stand goes around seven meters.
It has one of the most impressive frequency responses, around twenty to forty kilohertz.
It can produce sounds that are free of distortion.
It is an active categorized speaker, which means it has a built-in amplifier. It can be tricky sometimes to handle that, but you won't need to worry about adding anything.
You don't have to worry about connectivity, as it can connect to any modern device.
The control switch is separated from one another. You will also get another master control.
It can take up to 4K watts. The power handling is impressive too.
That sums up almost everything about Proreck Club 3000.
2. Electro-Voice ZLX-12BT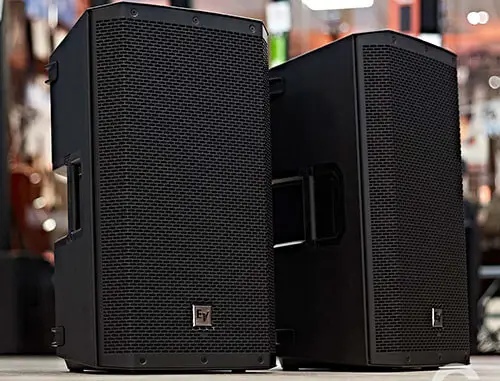 Among all the other speakers, Electro-Voice ZLX-12BT has many great qualities, resulting in my picking up the speaker.
It doesn't only offer you excellent quality sound, nor does it come with suitable and easy connectivity options. Besides that;
It's also an active speaker and comes with a 1000-watts amplifier.
You can connect it via Bluetooth.
Another important key feature is its very lightweight, and in terms of size, it's very compact.
It not just provide only clear and powerful audio just because it has modern DSP processing, but also it comes with a built-in equalizer.
As for the frequency response, it can handle 45 Hertz to 20 kilo Hertz (Max SPL 126 dB).
If you want a lightweight speaker with excellent-quality sound, it's the answer. Besides, it also comes in 15 inches too.
3. Rockville RPG152K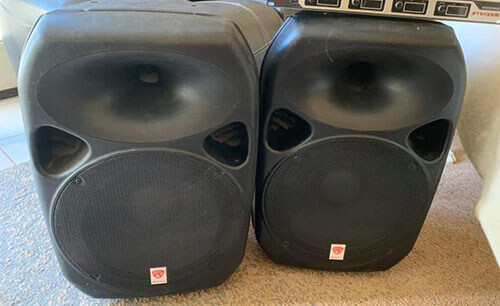 Let's start with the essential option first, versatility. The Rockville RPG152K comes in five different sizes or options, 8", 10", 12", 15", and Dual 15".
As the manufacturer offers a long range of lines, you can choose for a small to a large crowd. Besides, it provides;
Easy setup and installation process as it comes in a very ergonomically shape.
Nowadays, people want easy connectivity, and Rockville provides wireless connectivity. It is an entirely remote control that you can enjoy from afar.
The 1.5K watts of the peak makes it one of the power-handling devices.
Besides, it's another active category and has a built-in amplifier.
The "All-in-one" structure gives you an excellent sound experience outdoors.
It has excellent bass responses, which is possible for the aluminum voice coil.
And it is also one of the budget-friendly products you want to get.
4. QSC K10.2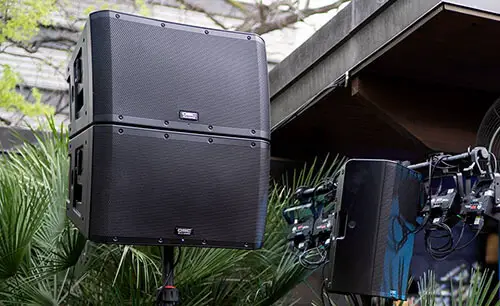 The fourth in the list is a QSC K10.2. It is one of the easy-to-use speakers which gives you a fantastic experience with the audio. Not just that, it has other great qualities, such as;
It has three different models, which makes it more versatile for other occasions.
It has excellent power handling and a frequency range that starts from 55 Hz and ends at 20 kHz.
As for the amplifier, it comes with a class D peak, and the number is 1800 Watts.
The compact size makes it easy to move.
Its great bass control makes it one of a kind. 
Besides, modern connectivity installed makes it easier and simpler to use.
But it can be pricey in terms of industry standards, but it gives you a fantastic experience and an excellent return on money.
5. Mackie THUMP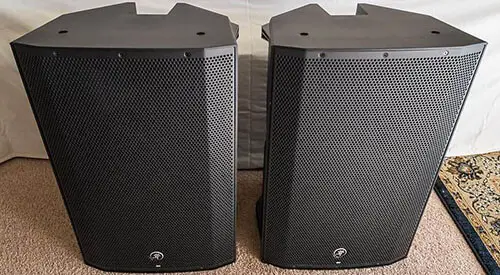 My last pick is the Mackie THUMP. It comes in three different sizes with different options. The sizes are 12", 15", and 18". And as for the options, you can choose from only the loudspeaker, Bluetooth-loudspeaker, and a subwoofer.
It's not lightweight compared to the other speakers on the list, but it does have other qualities. Those include;
There are four to six different modes available for the Mackie thump, depending on the model of the speaker.
You can choose among those modes depending on the occasion, crowd, and overall environment.
A fantastic amplifier makes the modern speaker excellent at their job. In terms of power handling, it's great at that.
The speaker comes with 1300 Watts, resulting in a great bass response.
The different mixer option makes the speaker more versatile in their job and produces clear and outstanding audio.
If you're looking for a speaker with different mode options for different occasions, you know which one to choose.
Comparison Table Among The Top Picks
I made you a comparison table among the top picks to make your decision clearer. Here it is.
| | | | | | |
| --- | --- | --- | --- | --- | --- |
| Speakers | Proreck Club 3000 | Electro-Voice ZLX-12BT | Rockville RPG152K | QSC K10.2 | Mackie THUMP |
| Type/Category | Active | Active | Active | Active | Active |
| Size | (12", 18") | (12", 15") | (8", 10", 12", 15", Dual 15") | (10", 12", 15) | (12", 15", 18") |
| Weight | 121 lbs | 34.3 lbs | 83 lbs | 27 lbs) | 28.8 lbs |
| Watts | 4000 | 1000 | 1500 | 2000 | 1300 |
| Frequency Response | 40-20KHz | 65 Hz – 18 kHz or 50 Hz – 20 kHz | 60Hz – 20kHz | 55 Hz – 20 kHz | 40 Hz -120HZ or 30Hz – 132Hz |
| RMS | 1000 | 465 | 375 | 500 | 300 |
| Connectivity | Bluetooth, USB, XLR, RCA | Bluetooth | Bluetooth | Bluetooth | Combo XLR/TRS |
| Price | Check on Amazon | Check on Amazon | Check on Amazon | Check on Amazon | Check on Amazon |
Frequently Asked Questions  (FAQs)
How Many Watts Is Good For DJ Speakers?
The answer depends on the model of the speaker. For example, some speakers can handle up to 1K watts, while others can handle only 300 watts. So, ensure you have a better RMS capability in your speaker.
What Size Speakers Do I Need For An Event?
You might need a 15" to 18"  sized speaker for an event. Although, the answer would depend on the event's crowd and environment. Generally, a dual 15" speaker does the job for around two hundred to three hundred people.
Do Bigger Speakers Mean Better Sound?
No, bigger speakers don't mean better sound. But yes, bigger speakers can produce a louder sound, whereas the quality of the sound depends on various aspects, such as frequency range, power handling, subwoofer, type, etc.
Conclusion
As I provided all the necessary information about the handpicked speakers and a comparison table, it will be easier for you to choose from all the options.
Happy DJing!