Everyone wants an excellent audio system in their house, and so do you. And, as a part of the perfect audio system, choosing a ceiling speaker for atmos can be challenging, not to mention overwhelming.
Besides, Klipsch has all those fantastic products in the line, but you need to find the best out of them. Don't worry! I got you! That is why I found the 3 best Klipsch ceiling speakers for atmos.
I will discuss them in detail so that you can understand them properly. As a bonus, I will give you a comparison table of the best picks.
Let's get into it!
Best Klipsch Ceiling Speakers For Atmos: Top 3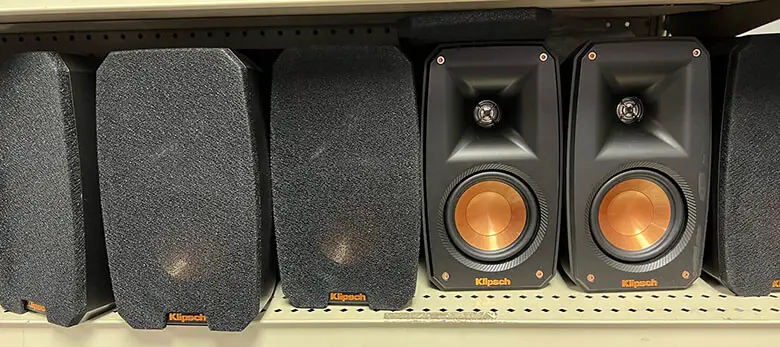 It's okay if you find it overwhelming to go through the entire post, the pros and cons, and every detail.
You don't need to worry, as I listed the best 3 Klipsch ceiling speakers for your atmos. Here they are;
Klipsch R-1650-C.
Klipsch CDT-3650-C II.
Klipsch CDT-5800-C II.
Of course, I discussed these speakers in detail in the following sections, and you get to know about them. 
How To Select the Right Ceiling Speakers For Atmos?
I set some bars and criteria before choosing the best options for you. Of course, you should consider these aspects too before purchasing the right ceiling speakers for your atmos.
When you already choose the speaker brand and type, there are only a few things left to consider, such as depth, size, quantity, power handling, sensitivity, and frequency response.
Speaker Depth: The depth is crucial as it will affect the sound quality. There are two types offered by the brands, such as ultra slim and standard. If the ceiling type is ultra slim, it might cost you a bit higher than usual.
Speaker Size: The size of the speaker affects whether the sound is going to be louder and the bass. To clarify, the size here refers to the cone inside the speaker. The bigger the cone size is, the louder the sound will be.
Speaker Quantity: Another essential factor is how many speakers you need in your room. Well, that depends on the room size. In this case, the rule of thumb is to get one or two pairs and set them the evenly same distance.
Power Handling: As the name suggests, It means how much power the speaker can handle before it's a mess. It is important for the protection of the speakers.
Sensitivity: It's another essential factor as It means how much power you need for the output or the best output the speaker has. The less the amount is, the better. 
Frequency Response: Of course, you want to hear the speaker sound loud and clear even though the guest is far from your speaker. And the frequency response means how well the sound will go to that distance.
3 Best Klipsch Ceiling Speakers For Atmos
In this section, I'll dive deep into the top 3 Klipsch ceiling speakers I picked. And you will know the crucial aspects you need to know by the end of this section.
1. Klipsch R-1650-C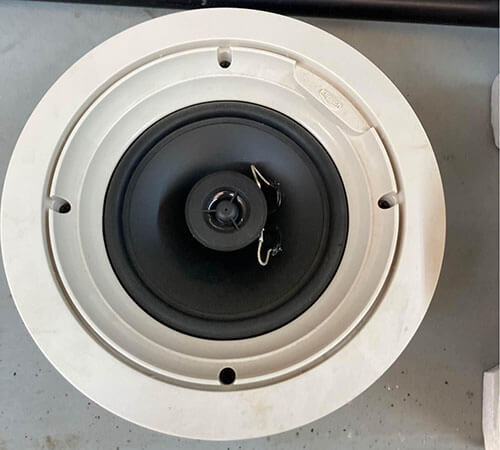 When you choose Klipsch R-1650, you're selecting a high-quality audio setup. It will not just keep entertaining you and your friend, and it will become your friend with its superior quality bass and sound.
Among all the other qualities that caught my eye, a few of them are listed below;
As for the power handling capabilities and other aspects, it has 140 watts of power handling capability.
As for the size of the cone, it includes a 6.5" cone, which is also polymer-made. It's entitled to give you amazing sound and bass.
As for the range of the sound, the 1-inch tweeter takes care of that. It takes the clear sound to the end of the room.
It has an impressive and durable build which is going to last long.
The frequency response for this speaker is 57Hz-20kHz.
The trebles are excellent and the most impressive aspect of this specific model.
You won't hear any noise or cranking up the volume.
If you want a low-budget ceiling speaker compatible with atmos, this is your best choice.
2. Klipsch CDT-3650-C II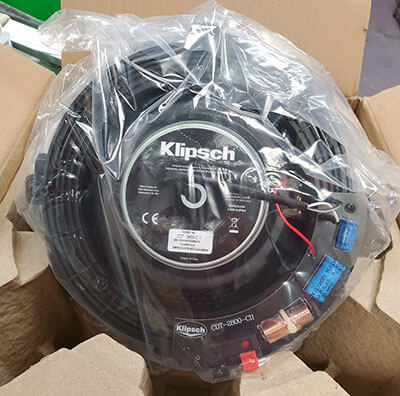 It is my second in terms of overall performance and everything. It doesn't come with excellent and dynamic design; it is a great product for the money you're spending.
Don't take my word for it. Here are the reasons;
With the cone size of 6.5" and evenly distributed around the room, you, your guests, and your friend can enjoy the audio clearly with fantastic bass.
The coolest thing about this speaker is it can rotate 360 degrees, which means you can adjust the speakers whichever way you want.
Besides, if you want to face to focus on a specific direction, you can adjust it to that in 15 degrees.
With a 1" aluminum tweeter, you can prefer wherever the audio goes.
It's compatible with both high and low frequencies.
Besides, with a 63 Hz-23 kHz frequency response level, you can reach the audio to every room corner.
I forgot to mention the usage of this speaker. As a bonus, it can be a great speaker for outdoor use, which is also compatible with atmos.
3. Klipsch CDT-5800-C II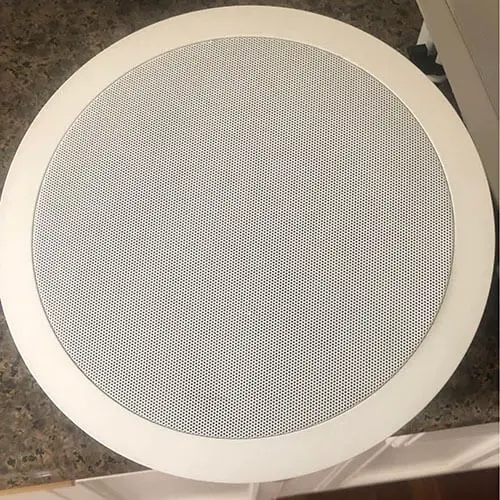 Among all the other picks, Klipsch CDT-5800-C II lives up to the hype. In terms of everything, it is the best in every aspect with a consistent level for the atmos.
Not just is the built-level top-notch, but the aspects will blow your mind. Such as,
It has an eight inches cone woofer with the loudest and clearest sound possible in the product line.
For this specific model, they used titanium for the 1" tweeter for its durability.
Not to mention its superiority in the frequency response, high control, and compatibility with high and low frequencies.
Besides, with a 49Hz-23KHz frequency response capability, you won't need to worry about compatibility with low frequencies.
On the other hand, with 360-degree rotation and a 15-degree adjustment level, you're in complete control over the direction of your audio.
The 200 watts of power handling capability makes the speaker more compatible with all the accessories.
With all the aspects and premium audio experience you will have with this speaker, it will be amazing.
Comparison Table
Here's the comparison table of the best picks to choose the perfect one to add to your audio system.
| | | | |
| --- | --- | --- | --- |
| Aspects | Klipsch R-1650-C | Klipsch CDT-3650-C II | Klipsch CDT-5800-C II |
| Size | 6.5 Inches | 6.5 inches | 8 inches |
| Options | 1 | 3 | 1 |
| Power Handling | 35 watts (Peak – 140 watts ) | 50 watts (Peak – 200 watts ) | 200 watts |
| Frequency Response | 57Hz-20kHz | 63 Hz-23 kHz | 49Hz-23KHz |
| Impedance | 8 Ohm | 8 Ohm | 8 Ohm |
| Connectivity | Coaxial | Wired, Remote Control | Wired |
| Tweeter | 1-inch polymer-dome tweeter | 1" Aluminum Tweeter | 1" Titanium Tweeter |
| Price | Check on Amazon | Check on Amazon | Check on Amazon |
Frequently Asked Questions (FAQs)
How Many Watts Should My Ceiling Speakers Be?
Generally, that depends on the size and amount of the speaker in your room. For a small-sized room, 40 to 50 watts might do the job. But, for a medium-sized room, you need around 100 watts. And, if the room is large enough to host a big party, the watts should be 200.
Do You Need An Amplifier For In-Ceiling Speakers?
Yes, you need an amplifier for in-ceiling speakers. You can connect one through the speaker cable. It will enhance the overall audio quality and make the speaker more compatible with low frequencies for smooth bass.
Do Ceiling Speakers Need A Subwoofer?
No, ceiling speakers don't usually need a subwoofer. But if you have a small cone woofer installed in your speaker, you might help to enhance your bass and audio experience with a subwoofer.
Final Words
I picked the best three and discussed them thoroughly. Besides, I added a comparison table to help you choose depending on your budget and other expectations. 
Let us know which one you choose. Have a great day!