People who like to listen to a lot of music no matter what they do clearly need to know their speakers to have an optimum listening experience. And for that, you also need to be aware of what type of room you are actually putting your speakers in. Different speakers have different ranges.
If you put a small set of speakers in a large room, then clearly you will be left unsatisfied complaining about the speakers when the issue is actually in the size of your room.
My buddy, who is absolutely into metal music, was completely unsatisfied with the lack of quality in sound and bass. Later on, he had to get an appropriate set of floor-standing speakers based on his room. 
What sort of rooms are we talking about?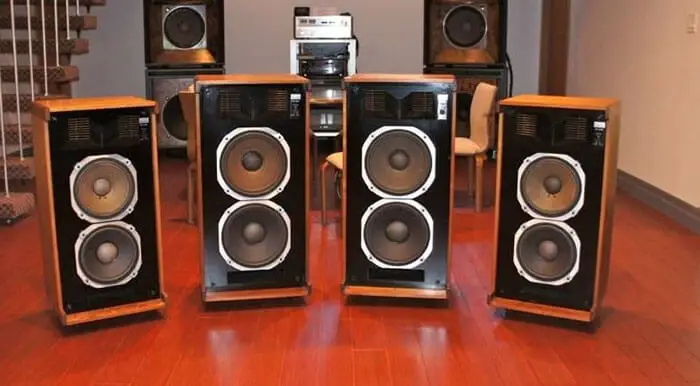 You need to understand your room because the relationship between the two plays a huge part in getting the right balance for your music system. You could be having a speaker that is too large for your room; by large, I mean not just in size but also in terms of sound, or you could be having a speaker which is too small for your room.
It is not recommended to use a large or a tower speaker inside a small room because then the sound will come out as distorted and filled with a lot of basses than it is typically. Certain rooms have specific air capacities, and the sound of the speaker works around that air capacity.
So, suppose you put a small set of speakers into a large room. In that case, it can't pressurize the air capacity enough leading to your sound not being enough in terms of clarity, mid-range, and of course, bass.
And, if you put a large speaker into a small room, then it'll over-pressurize the air capacity, and it will create something called room nodes which is not exactly a pleasant music experience. 
Rooms Vs. Speakers Ratio
The equation is quite simple, for small rooms, you get small speakers, preferably bookshelf speakers. For medium-sized rooms, medium speakers, and evidently, for a large room, you get large speakers. 
If you are confused about your room's size and would like to measure it, then all you need is to have the measurements of the length, height, and width of your room and multiply them. 
Generally, a small room is around 30-40 meters squared; then, it is better not to get a tower or a floor-standing speaker as the sound will feel too bass-heavy. If you think you must need a lot of bass and sound from your speakers, then I'd suggest you get a subwoofer in your system. 
Moving on, a medium-sized room is around 45 to 55 meters squared; at this mark, it is wiser to get a medium-sized floor-standing speaker to get the best possible sound experience. 
And, lastly, if anything above 55-60 meters squared is a large room, then you need to get those large floor-standing speaker systems that will produce sound in accordance with your room's air capacity. 
Now that you know your room's size, now at least you know what sort of speakers you should purchase. 
Where to place your floor-standing speakers based on your room's size?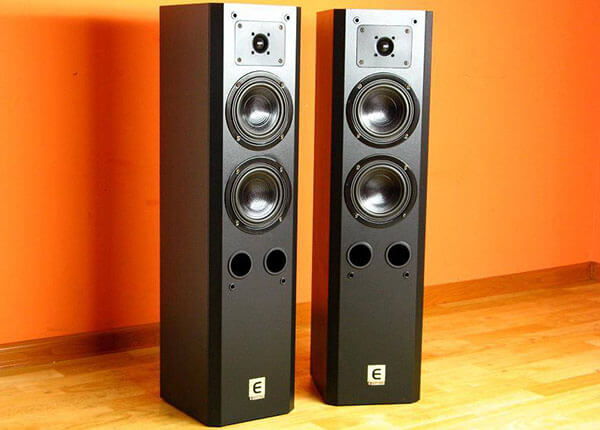 If the placing isn't done right, no matter how perfect your room's size is based on speakers, you will be left unsatisfied because it won't produce the pristine, bassy sound that you are desiring. 
Distance between the walls and your speakers is incredibly significant to prevent any form of distortion. Typically a speaker should be at least 2-3 feet away from the wall, or it can be more if you have a lot of cables behind. 
You don't necessarily need to get speakers that are extra tall. Your priority should be the specifications based on your room. The ideal height should be parallel to your ears whenever you start to listen. Parallel to your ear when you start listening after sitting down. 
Make sure you don't place your speakers in such areas where there are too many cables, electronic devices, or even C/D and Cassettes; this will lead to distortions. 
Sometimes, due to much bass, your speakers will start to vibrate and shake. To prevent that, it is wiser to buy a speaker stand, or you could simply place it under a rugged mat.
Position the speakers in such a manner that it is centered around where the audience will hear. So, your couch needs to be centered around the speakers, or else you won't have equally proportionate sound. 
Insightful Data: How to choose speakers based on room size?
This is for your assistance if you are wondering what you should get. There are obviously other alternatives. 
| | | | |
| --- | --- | --- | --- |
| Floor Standing Speakers | Dimension  | Sensitivity  | Room Size |
| Edifier R1280T | 5.7in x 7.7in x 9.2inches  | 85dBA | Small Sized Room(30-40 meters squared) |
| Q Acoustics 3050i | 1020 x 310 x 317 mm | 91dB | Medium Sized Room (45-55 meters squared) |
| SVS Prime Pinnacle | 8 x 13.9 x 41.4 inches | 88dB | Large Sized Room(55-60 meters squared or higher) |
Different floor-standing speaker types may vary your experience.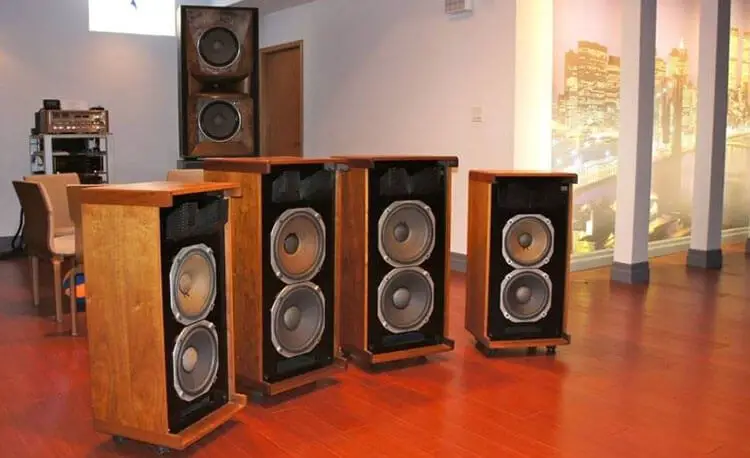 There are multiple types of floor-standing speakers, and you might need to place them based on their types. 
As for the Dynamic Floor standing speakers, it is rather regulatory to where you need to place the speakers to get the optimum sound from where you are sitting. For, Ribbon Speakers, it is also similar. 
And for Planar and Electrostatic speakers, the setup based on the room might vary because it produces electrostatic pressure through magnetic fields. The sound clarity and distortions might not be suitable for typical rooms that you want to put. 
For Bipolar Speakers, your setup will be very much different because it may have settings similar to the usual Floor standing speakers, but the sound gets produced from the front as well as the back. 
Lastly, if you use Horn Loaded speakers, then you may need to change them as it is not suitable for your room since Horn loaded speakers are meant for professional work. 
Now you may be wondering if knowing all these types would add any value to you. Yes, it completely would because based on the speaker types, you may require to place your speakers differently to have that immersive experience you desire. 
FAQs (Frequently Asked Questions) 
What do two-way and three-way speakers mean in general?
Two-way means the speaker that has two devices, the woofer, and the tweeter. The woofer will let you experience low-frequency sounds, and the tweeter does the opposite. And, in the three-way speakers, another device is added, which is the mid-range. Basically, means it handles the mid-frequency range as its name. 
Do I need a subwoofer since my room is too large for speakers?
If your speakers are not suitable for large rooms, then you probably need to get a subwoofer to compensate for the sound you are missing out on. But, it is better to get floor-standing tower speakers for your large room. 
Can getting spikes to help me get good sound for my room?
Sometimes, your sound will come very distorted, and then if you get closer to your speakers, then you notice that your speakers are vibrating. It is because the surface is aligned for the sound waves to pass fluently. If you get spikes, then you will get accurate sound and bass. 
Should I get floor-standing speakers for my surround sound system? 
Yes, you absolutely should. Floor-standing speakers, if placed properly then it can produce a totally immersive experience. Anyone who has medium to large-sized rooms should get floor-standing speakers because the height of the speakers will, more often than not will, be at the level of your ears which will help you in the best possible sound experience. 
Wrap Up! 
Thus, I hope now you have become well insightful in terms of choosing your speakers as well as identifying what sort of room you are placing your speakers in. I have tried to cover all the basic and some technical aspects for you to understand thoroughly.
You could not be needing floor-standing speakers based on your room which might be cost-effective for you in case you haven't bought your speakers. I have also guided you with the types of floor-standing speakers because, who knows, you could be getting speakers that are required for your room or your necessities.
Hence, I hope you are now good to go regarding this issue for yourself and for others. 
Thank you, and it has been a pleasure!