The speakers that are used in movie theaters are evidently more immersive than regular speakers. If you're going to start a theater business, you cannot simply get regular speakers. A lot takes place to create the perfect sound experience in a movie theater. You require the right speakers for that experience. For a movie theater experience at home, you will need the right speakers, like the JBL Stage 180. 
The speakers are built based on the directivity patterns of the area and are significantly larger in size than typical speakers (Around 18 inches), known as horn-loaded speakers. A lot of technology, drivers, and placement gets focused on when getting speakers for movie theaters. 
About cinema speakers and how the technology is different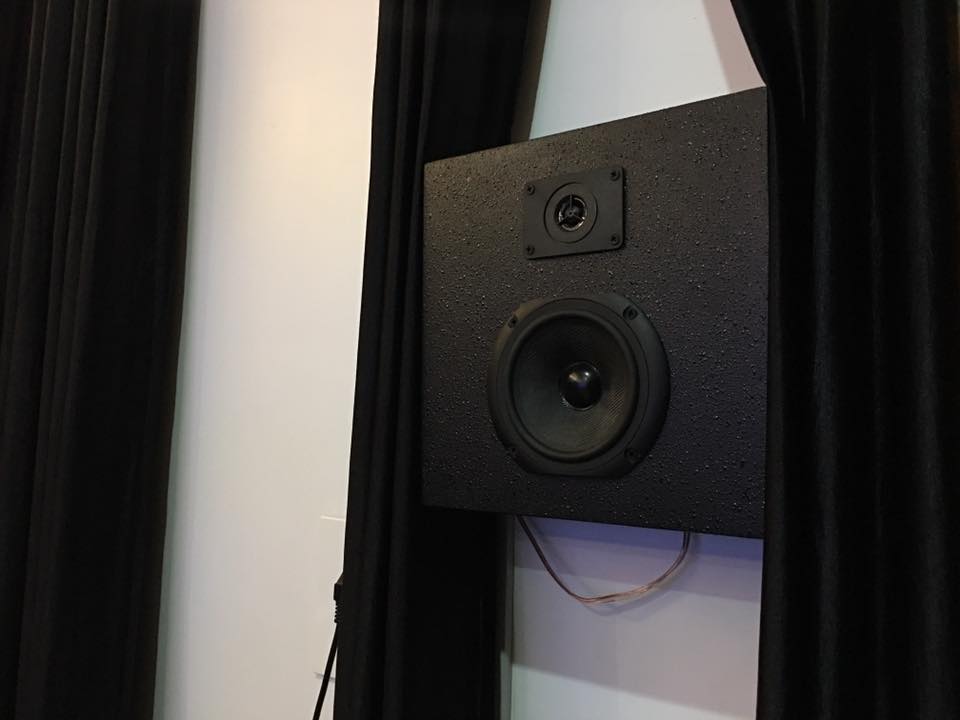 Clearly, the most evident thing that you are aware of is that the speakers in a theater and the ones at home are quite different. Even if you want to have a cinema-like experience, you are still required to get a different set of speakers.
Sound Format
Knowing about sound format has to be a must if you are starting, no matter what you are doing. It basically means the companies that provide the audio and visuals of the movie with the highest quality. 
They come with a few brands and their variants. As we are all aware of Dolby, their technology has got to be the most notable whenever we buy Sound devices or even on Tv. We all know terms like Dolby Cinema, Dolby Digital, Dolby 3D, and many other formats.  
There also come other brands like Digital Theater Systems (DTS) and Sony Dynamic Digital Sound (SDDS). 
Difference between regular speakers and movie theater speakers
The most generic difference between regular speakers and movie theater speakers that you will notice is the size of the devices. As I have mentioned, those speakers are horn-loaded speakers as I have mentioned above. 
Horn Loaded speakers are much more likely to fill a large room than a typical speaker. In contrast, for a room, it is redundant because for you to have cinema experience at home, you may achieve that with a decent 5.1 surround system or higher. 
You will understand the right speakers as I move ahead based on your need.
What will it take to have a movie theater experience at home?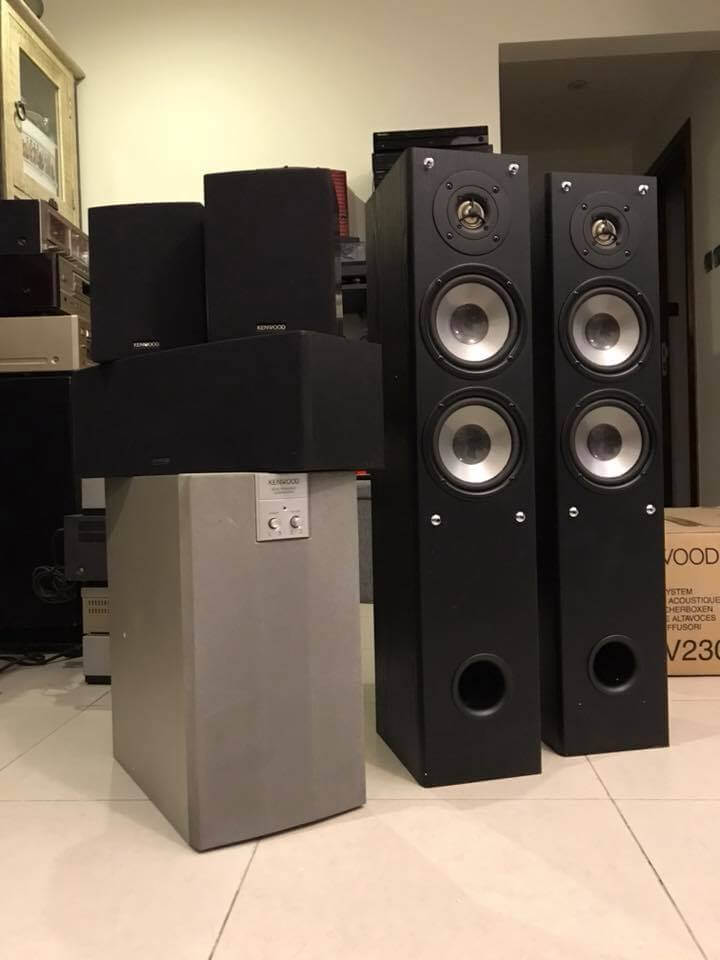 Now, if you're someone who wants to create a room that gives a movie theater-like vibe, then this is what you are supposed to do. 
Upgrading the sound system based on your room
Your generic 3.1 systems won't create any form of attraction in your ample home theater surround system. You need something beefy for your setup. A 7.1 surround system might do it gracefully for your setup, like if you want to make your unused garage your surround sound studio, then go for a 7.1 setup or higher. 
For 500-800 square feet of room, it is wiser to get a setup that is at least 5.1 surround sound setup. Speakers dedicated to having at least 40 watts per channel in RMS
You need to dig deeper if you're having issues with the room size related to your speaker wattage.
Soundproofing the room
After finding the right room, it is essential to have soundproofing to make your experience feel immersive and ambient. Rooms are bounds to have spaces and windows that will let the sound go out and ruin the experience. Sealing the sound into one area will always better your experience in various ways.
Get soundproof foams
Get adhesive panels 
Get sound-deadening mats
You can use other tools or similar things to seal your room as well. 
Need to get a Projector
Even if you have a 60+ inch curved flat-screen Tv, it still won't give the immersion that is gotten from theaters without a projector. A professional projector is the only thing close to a theater-like an experience at your home.
But you need to invest in a projector because those cheap small projectors will not work. You need to spend around the 1000 dollar mark. Preferably the professional laser projectors that are packed with features.
Aside from all the things I mentioned, you also need to focus on things like lightning and the correct seats, along with the noises coming from outside rooms. But, most importantly, your sound system needs to be in accordance with your surround setup.
What speakers do movie theaters use?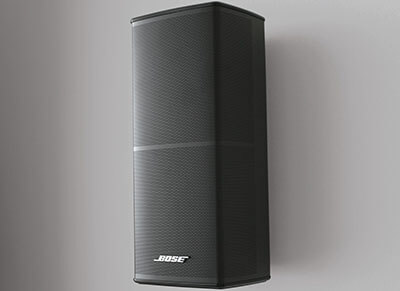 Now that we know the general disparities between cinema theater and home theater setups let us now talk about home speakers for a movie theater-like experience and actual movie theater speakers. We will talk about the main features of the products so that you know what you are buying. 
JBL
For sound setups, JBL is a homily name for all of us. Any sort of sound or stereo lacking can be fulfilled with JBL setups. JBL devices are also widely used in IMAX theaters, and of course, for surround speakers, you can not skip past JBL. 
For your home (JBL Studio 6 88LCR)
This is a formidable option if you are looking for speakers to wall mount. This speaker is not only easy to install, but JBL promises to give you a cinema-like movie theater experience inside your home. 
Features: 
It has Dual 8″ PolyPlas Woofers 
It has options to wall mount.
It has a nearly invisible magnetic grill and has JBL's very own high-frequency compression drivers. 
It has a nominal impedance of 6 ohms
It has a sensitivity of 97 decibels. 
You may also look into JBL stage 180, which I have mentioned above if you're looking for something different.
For movie theaters (JBL C222)
For cinema speakers, you'll find an array of speakers from JBL. The C222 is suitable mainly for small-medium size theaters where you will place a bunch of speakers at the peripherals of the theaters. 
Features:
It has a next-generation two-way ScreenArray.
It has a maximum throw distance of 12 meters.
It has acoustic aperture technology for low distortion and optimum sensitivity.
It has a nominal impedance of 4 ohms.
It has senstivity of 103 decibels. 
You can also look into options like the JBL 9350, as it is known to be suitable in larger theaters. 
Pioneer
Pioneer is also a known brand as many of your known people's cars have pioneer audio setups. Still, their av receivers are pretty relevant in the cinema industry. Pioneer brands heavily with Dolby digital as both of these brands promise to provide an equal amount of listening experience no matter where you are inside the theater.
For your home (Pioneer SP-BS22)
If you're looking for bookshelf speakers for your surround sound setup, Pioneer is a formidable candidate. 
Features: 
It has RF molded curved cabinet. 
It has a 1-inch soft dome tweeter. 
It has a nominal impedance of 6 ohms. 
It has a sensitivity of 85 decibels.
Klipsch
Audiophiles are fans of Klipsch, they cover all of the sound system requirements, but they fall into more of the premium segment. A lot of Klipsch speakers and subwoofers are used inside IMAX theaters and are THX-certified. 
For your home (Klipsch Reference R-26FA)
If you're looking for premium grade two-floor standing speakers that will be at the two corners of your screen, then Klipsch Reference Dolby Atmos is indeed the deal you'd be looking for. 
Features: 
It has Built-in Elevation Channel for Dolby Atmos sound. 
It has 2 front grilles and 2 top grilles. 
It has a nominal impedance of 8 ohms.
It has a sensitivity o 97 decibels. 
It has a power handling capacity of 400 watts peak.
Klipsch is also quite good if you are looking for bookshelf speakers as well. 
For movie theaters (KPT-8-VB)
Suppose you want a never-before-experienced seamless, immersive experience. In that case, KPT-8-VB will let you have that in your medium-sized theater.
Features: 
It has Virtual Boundary Array Technology (VBAT).
It has an 8-inch woofer.
It has a sensitivity of 98 decibels. 
It has a nominal impedance of 8 ohms. 
It has a power handling capacity of 800 watts peak. 
If you are looking for 3-way speakers for large auditoriums, then you can check the KPT-4350-MS. 
Where are all the speakers located in the movie theater? 
An Imax theater has around 44 speakers throughout the hall, partitioned into multiple segments. The main stereo speakers are at the front and the corner sides of the rear end of the theater. While the rest of the speakers, based on their specifications, are at the peripherals and above. 
The number of speakers will vary based on the brand and the theater size. 
FAQs (Frequently Asked Questions) 
Are there any alternative methods for ceiling speakers for my theater? 
Obviously, placing the speakers on your ceilings may not be possible in a lot of cases. So, there are Dolby-enabled speakers that have top-layered drivers. These top-layered drivers let the sound go above, hit the ceiling, and then come back to the audience. Essentially making the audience have that same sonic sound feeling that is usually gotten with ceiling speakers.
Where should customers be exactly seated for the most immersive experience?
Sound engineers recommend sitting at the absolute center of the speakers to have the most optimum listening experience in terms of all sides. Not to mention sitting at the center will also allow you to have the perfect peripheral vision of the movie. Although in terms of listening, there are some theaters where you can have the same type of listening experience from all angles of the theater. 
To Summarize! 
Thus, I hope I have covered all the necessary general pieces of information about movie theater speakers. I assumed that you might want to have speakers for business purposes, thinking that you might launch movie theaters, or you may just be looking for a cinema-like an experience inside your home. 
Either way, I have covered both parts by telling you some general ideas as well as suggesting you the right speakers for whichever intent you may have. I hope it has sufficed your needs. 
Thank you for your valuable time!