Every audiophile outdoors seeks to get a record player setup. Some may see it as a lack of taste or not being up to date. But it sparks sophistication and is the centerpiece of your house. It is a way to appreciate the craft. Just like wanting to have a record player, you obviously need the right tools to play it. You will need the right set of speakers, which are active or passive, based on the system you own. Then come to the specifications of the speaker itself.
As we move on, we will cover many things, along with a few affordable speakers for your record player. 
What should speakers have to play on a record player?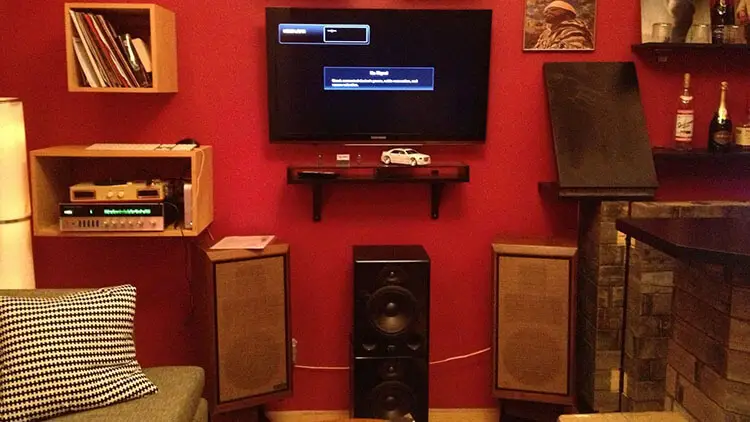 If you need to create a whole system built around a record player, then you require to remember and understand a few things. You require to have the record player adequately set up, get the pre-amp, receiver, and of course, the speakers. 
So, if you have a phono pre-amp built into your speakers, then you will need to
Get the RCA cables red and white attached to the speakers.
If there is not a phono pre-amp built-in, then you will need to get an external phono pre-amp. 
Attach the RCA cables in red and white in the input section of the pre-amp and the ground wires if there are any slots. 
Now, if you want to connect it to a complete sound system, then you will require to connect it to a receiver.
After connecting the RCA cables to the pre-amp, simply connect the other RCA red and white cables to the output section. 
Note: Make sure that your speakers are passive speakers because if you have active speakers, then they have amplifiers built-in, making sure they can power themselves. But, a passive speaker requires a receiver to get powered. 
4 Cheap Speakers for the Record Player
Evidently, if you seek to get new speakers for your whole setup, chances are that you need to go past 250 to 300 dollars to fulfill that audiophile craze of yours.
But, I have tried to find the underrated ones, the ones that are packed with features and that pristine audio along with an easy-going budget. 
So here are some of the reasonably priced speakers for your record player. 
1. Edifier R1280T (Complete Package)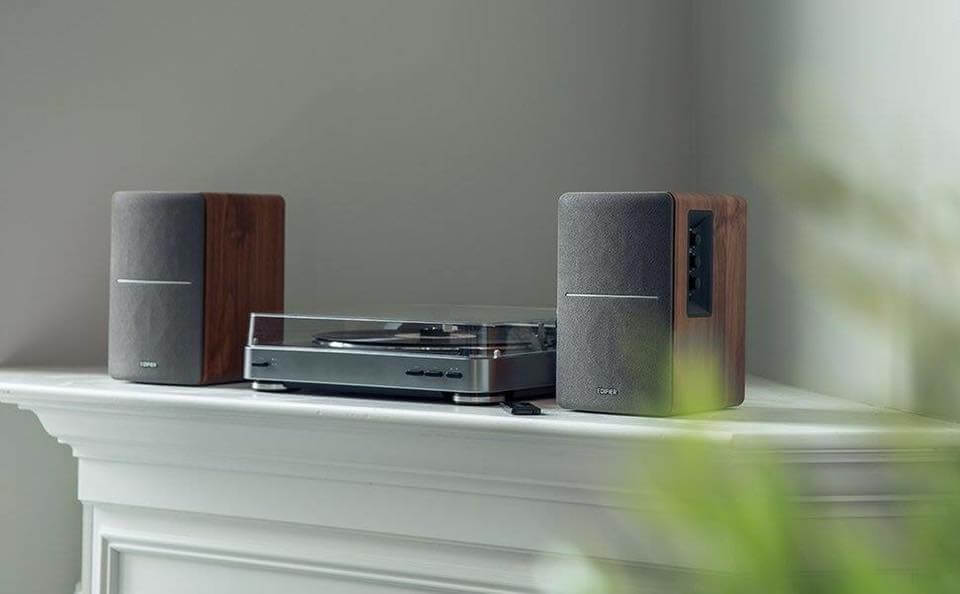 If you're someone who's into bookshelf speakers and like sleek finishes that goes aesthetically in terms of minimalism, then Edifier R1280 is the perfect option for you. Most speakers you'll see that have wooden finishes are mainly in the premium segment, but this not only fulfills in terms of specs for your vinyl setup but also is quite reasonably priced. 
The R1280 is widely known for its user base in Turntables. The clarity of the sound and the highs & lows of these speakers will surely surprise you. 
Features: 
Has a signal-to-noise ratio of 85 decibels. 
Plug and play connection with the record player immediately. 
Active speakers, so receivers are not a necessity.
Frequency response of 75hz.
RCA to RCA cable attachment, 3.5mm jack to RCA attachment, and a remote control system. 
Dimensions per speaker are 5.7in x 7.7in x 9.2in. 
Drawbacks:
EQ settings are not good enough.
The input type is only limited to RCA connection. No Bluetooth or co-axial. 
No wireless options. 
For its size, it is a bit heavy.
2. Prosonic BT30 (Cheapest package)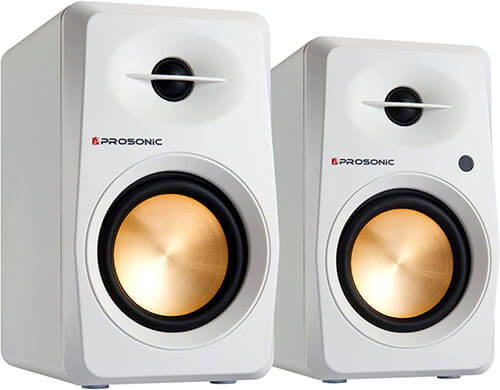 This is the speaker that you should get if you are incredibly tight on your budget. You'd be surprised to see that a set of speakers which costs less than 100 dollars can sound so clean and bass heavy. Also, in terms of aesthetics, you won't be dissatisfied. The white variant looks very minimal. But, the golden-colored tweeter may be a buzzkill for a few. 
Another significant Pro for this speaker is that, for its price, it also has multiple connection inputs. 
Features: 
Maximum power output is around 60 watts. 
Signal to noise ratio is 84 decibels. 
Frequency response of 55 Hz. 
Multiple input options having Co-axial, Bluetooth, RCA, and Optical.
It has silk dome tweeters. 
Dimensions are 7 x 5 x 9 inches. 
Drawbacks
The sound quality is not that good
It is not suitable for medium to large crowds
Build quality is not up to the mark.
A few users have experienced its early expiry. 
3. Yamaha Audio NS-F150 (For floor-standing speaker lovers)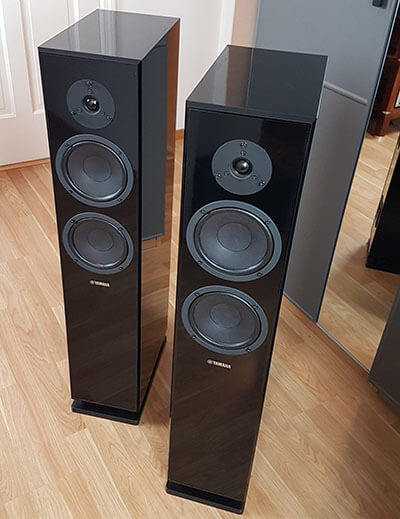 It is hard to find decent floor-standing speakers that are under 300 dollars. Thankfully Yamaha has got us covered. You obviously have a big room and a large crowd around; that's why a decent floor-standing speaker should be okay for your record player. 
It has gold-plated speaker terminals and a removal grill. The piano's black color is undoubtedly meant to compliment your whole setup. Also, has a rosewood variant for the wooden aesthetic people. 
Features:
Frequency response of 37 Hz.
The signal-to-noise ratio of 88 decibels. 
The maximum input power of 180 watts and the impedance of 6 ohms.
Dimensions are 14.3 x 7.9 x 40.5 inches. 
The speaker grill can be removed. 
Drawbacks:
Poor build quality. 
Requires a lot of cleaning. 
The bass quality isn't as good as the premium floor-standing speakers. 
4. Klipsch Synergy (Can do justice with a home theater setup)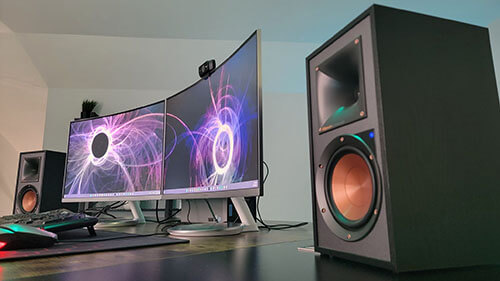 You can't talk about the speaker without mentioning Klipsch at least once. Like the Edifier, this one is also an all-rounder that mostly ticks all the points. For bass-heavy music with crisp sound, The R-51PM  is a formidable choice as you won't go broke while buying this, even though it is a bit pricey compared to the other three. It is a set of powered speakers that has BlueTooth connectivity capable of handling even outdoor conditions. 
Features: 
Frequency response of 68 Hz. 
It has Bluetooth, stereo RCA input connectivity, optical, and 1/8″ aux. 
It has a phono-preamp.
Dimensions are 11.3 x 7 x 9.1 inches. 
The maximum output power of 120 watts. 
Drawbacks:
No other color variants.
Might sound too much in small rooms.
A bit heavy.

Comparison Table
I'll be providing all of the generic features so that you can understand what is what at a glance. 
| | | | | | | |
| --- | --- | --- | --- | --- | --- | --- |
| Speakers  | Type | Frequency Response  | Maximum Input/Output Power | Input Connections | Signal-to-Noise Ratio | Dimensions |
| Edifier R1280T | Bookshelf | 75 Hz | 42 watts | RCA and Aux | 85 decibels  | 5.7in x 7.7in x 9.2in. |
| Prosonic BT30 | Bookshelf | 55 Hz | 60 watts | RCA, Bluetooth, Coaxial and optical. | 84 | 7 x 5 x 9 inches.  |
| Yamaha Audio NS-F150 | Floor-Standing | 37 Hz | 180 Watts | RCA, Split connections, or grounding | 88 decibels | 14.3×7.9×40.5 inches |
| Klipsch Synergy R-15 PM | Powered Speakers | 68 Hz | 120 Watts | Bluetooth, Stereo RCA input, optical, and 1/8″ aux.  | 107 decibels  | 11.3x7x9.1 inches |
Burning Question: Are turntable and record players the same thing?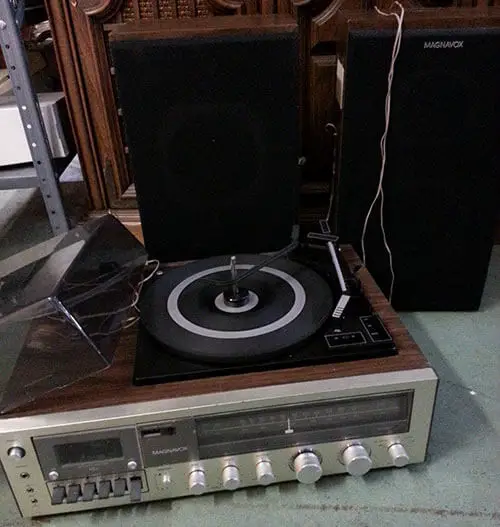 In short, both are the same thing, but the key difference is one is all in one other and requires the other components to fulfill everything. 
In terms of pricing, turntables are pricier as they are higher in quality as well give you the flexibility to change and upgrade various parts. On the other hand, a record player will come in all in one, having things pre-built and just ready to play, connecting the speakers and vinyl. The sound quality of a record player is very rarely better than a turntable, as the quality of all the components built is not up to the mark. 
At the very least, you will be required to connect the turntable to your amplifier. If you would like to know about the difference between the two in detail, then I might have something for you.


FAQs (Frequently Asked Questions)
Should I get a speaker based on my room size? 
Yes, absolutely. Before getting that affordable speaker for your record player. You first need to get a speaker that is suitable for your room. You need to choose among bookshelf, floor-standing, and powered speakers based on the area you'll be hearing. For example, if you get a floor-standing speaker in a 300-400 square feet room. You'll go through an unpleasant experience. Knowing the wattage and choosing the right amplifier is also a priority. If you'd like to know further, then here's something that could interest you. 
What is a phono-preamp? 
Basically, a pre-amplifier that allows your turntable or record player to be flexible with various types of audio devices. It increases the signal coming to the turntable. Make sure you know whether your turntable or your record player has a built-in phono-preamp. 
How do I know if my turntable has a pre-amp or not?
It's quite simple. Go to the back side and check if there's a switch named phone-line. You'll have the flexibility to switch between the two options based on the receiver you will be using. If you see that there's no switch, then most likely, you don't have a pre-amp built installed. It is actually a good thing because you'll have room to improve your musical experience.
Wrap Up! 
Thus, this has been quite a long discussion. It has been rather difficult to cover 4 cheap speakers as there are wide varieties. I would like to tell you that you have your room to explore and get other speakers. Just because I have mentioned 4 speakers doesn't mean that these are the absolute peak of all the budget speakers. Surely there are other alternatives and brand preferences. 
With that being said, I have tried to cover at least one for all types of people and the others depending on people's preferences. For like, I had to include one for floor-standing speaker lovers. 
Hence, thank you, and I'll see you in another query.