I have a keen passion for experimenting with electronic devices and gadgets. So a friend of mine came to me with a Denon AVR 488 Surround Sound Receiver. Whenever he turns on the power button, It flashes a solid red light.
When he presses it for the second time, the display goes blank. The power shuts down and it starts blinking red light. I wanted to diagnose so kept it with me and yeah, I fixed it in no time. 
So if you have a Denon receiver and facing the same red light blinking problem, no worries! Follow these troubleshooting steps and get it fixed immediately. And of course, these tips would work out not just for Denon but other receiver models as well.
Why Does My Denon Receiver Keep Blinking Red Light?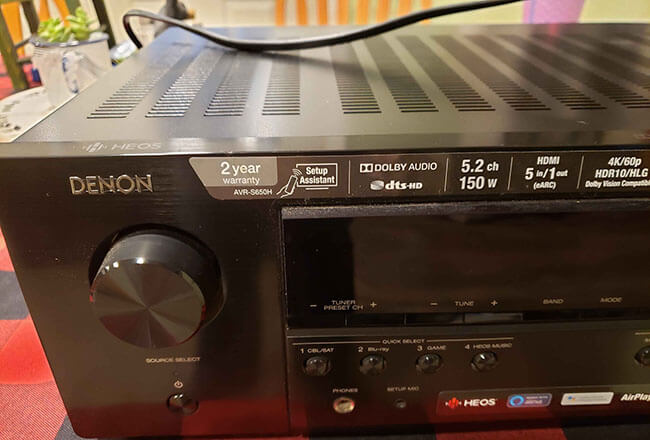 If your Denon receiver starts blinking red light and turns off immediately, don't worry. This is basically a Protection mode, where your receiver warns you of any internal problem. And it shuts down to eradicate any possible further damage.
However, other reasons include:
Overheating: Not just receivers, but any electronic device poses threat upon overheating.
Current surge: The receiver might blink red light if there is a supply of overcurrent or current surge.
Ventilation issue: If there is not enough ventilation, the receiver might stop working.
An Instant Fix To Get Rid Of This Problem
The following is an instant remedy that works in maximum cases. In case you are in a hurry and try the easiest instant technique, follow this trick. All you need to do is:
Unplug your Denon receiver or turn it off.
Wait for 2-3 minutes.
Now replug it and check. Sometimes this fixes the issue for good.
6 Ways To Fix The Denon Receiver Blinking Red Light Issue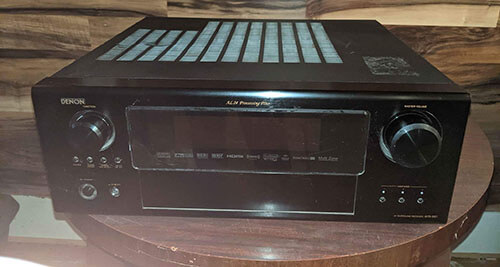 1. Start With The Resistors
My friend had some faulty resistors inside the receiver. You could have some too. So if you are good with the tools and stuff, I'd suggest you pull the power amplifier board and check the resistors. Just follow the steps below:
First things first. Unplug your Denon receiver.
To open up the power amplifier board, pull the screws out of the power amplifier board. It will lift itself up easily.
Now check if there is any bad or melted resistor. Use a voltmeter to measure the resistance of the resistors.
Check the resistance of the emitter resistors and output resistors in the same way. If any of the resistors turn defective or give null values, unscrew the transistor screws and replace the faulty ones with a new one.
2. Inspect The Transistors
After you finish checking the resistors, look for transistors as they also tend to turn defective.
Switch the voltmeter in the diode range and check the bias tracking transistors. If they turn defective, unsolder them off the board and replace them.
Once you install the new transistors, mount them on the heatsink first and make sure they match perfectly with the board. This is because you don't want to put an extra load on the circuit board.
Now you gotta bend the leads and solder them to the board accordingly. 
N: B When you finish soldering and putting everything back, turn on the power button of the receiver and check if everything works perfectly.
3. Proper Ventilation
As I already mentioned earlier, your Denon receiver might shut down and blink red light if there is not enough ventilation.
Make sure that your room is spacious enough.
Confirm that there is no presence of electronic devices near the receiver.
If it gets overheated, turn it off and let it cool down.
Once it cools down and gets back to its initial state, the red blinking light will hopefully disappear.
4. Check The Connections
It is another major reason why your Denon receiver gets into problems. You might think there is an internal issue but all it starts with loose unstable connections.
So before you think of doing a factory reset/troubleshooting your receiver, make sure to follow these important steps:
Unplug/Turn off your Denon receiver.
Check the connections from the scratch. Also, inspect the power surge separately.
If you discover loose connections, tighten them up and check whether the red light disappears.
To be completely sure, unplug the speaker wires and reconnect them one at a time. If the blinking problem happens due to faulty speaker wires, you'd be able to determine it easily.
In this regard, check the speaker connectors as they might turn defective or get dirty as well.
Check the temperature of your receiver as well as the speakers. The too hot temperature would eventually destroy your receiver.
5. Speaker Impedance
You increase the volume of your receiver and it immediately dozes off. Did something similar happen to you? If so, then consider this point to be your solution. 
If the speaker resistance is lower than its actual limit, then the receiver would lose excessive power. As a result of which, it is more likely to doze off/ shut down immediately. Now to overcome this situation:
You can follow up on the resistance values displayed on the receiver and speakers.
You can also go for modern speakers that would allow enough resistance (at least 8 ohms) for your Denon receiver.
Use series connection as it lets you increase the speaker impedance via multiple speakers. On the other hand, parallel connection hinders that. So if you have a parallel connection, consider switching it to series.
6. Factory Reset
This step comes only when the above steps fail to disappear from the annoying red light. So if any of the above steps work out for your Denon receiver, skip this one.
And I am saying that because doing a factory reset means all your history, configuration, setup procedures- everything will get erased so you need to be careful to avoid any unwanted consequences.
I would recommend marking/noting down the setup procedures so that you don't mess things up later.
For a factory reset, you need to:
Press and hold the input speaker buttons while pressing the Power button simultaneously.
Check on the display of your receiver for a RESET option.
Press that and wait until it resets and restarts.
Now set up your system and configuration accordingly.
N.B The factory reset setup might vary as per models. So you must check the owner's manual to confirm the steps.
If following the above steps still get you no solution, seek the help of a professional expert. They will diagnose your receiver using other better options and help you out no matter what.
From my experience, if the above steps fail for your receiver, then I guess you'd need a replacement.
Frequently Asked Questions
Thought of adding a few FAQs in case you are still confused about the red light popping and blinking on your receiver. 
Why is my Denon receiver shutting off?
Your Denon receiver might keep shutting off due to loose connections. Start with checking all the wires, particularly loose or burnt ones. When there is a loose connection, a short circuit or fuse takes place. As a result of which, your Denon receiver keeps shutting off.
What is Denon's Standby Mode?
Denon Standby Mode is basically a feature that lets the receiver power switch to Standby mode automatically. And this feature functions when there are no incoming audio or video signals transmitted to the receiver.
How do you troubleshoot a Denon receiver?
To troubleshoot a Denon receiver:
Unplug/Turn off the receiver.
Press and hold the Direct and Stereo buttons. You should hold them simultaneously.
Now plug in the power and check the display.
Followed by the reset option, release the buttons, and you are done!
Conclusion
Hope these troubleshooting tricks would help you get rid of this annoying blinking red light.
In most cases, they would work out and you don't have to worry about professional help and all. However, if they don't work out, check the Denon expert support and call them for immediate help.