The height of the speaker stands will vary based on your seating arrangement. If you're standing, the height would be 81.28 to 99.56 cm or 32 to 39.2 inches. On the other hand, for your living room and home theatre, the optimal height would be between 45.72 to 68.58 cm or 18 to 27 inches, respectively.
Besides, when choosing the speaker stand, there are some factors to consider, such as size and weight, material, room space, top and bottom plate, etc. 
I will go through all these factors and show you how you can find the right height for the speaker stand. Let's get started!
Does Speaker Height Matter?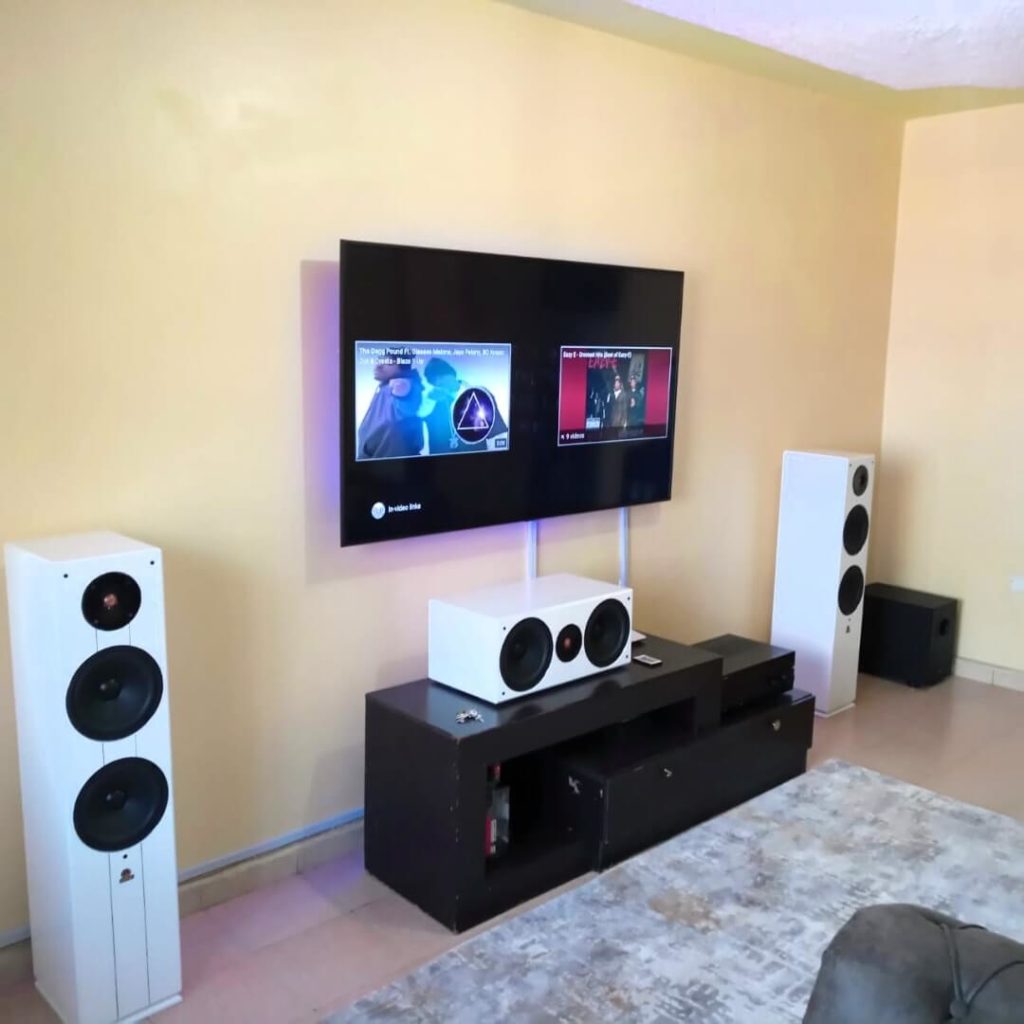 Yes, speaker heights matter. It just doesn't make the overall look of your setup better, but it also helps the speaker produce a more precise audio experience by capturing lower and higher frequencies.
Besides, when you place the speaker at the optimal height, it instantly reduces reverberation, which causes when you're setting the speaker on the floor. As a result, when you're listening to heavy music, which requires putting a lot of frequencies to put together.
Another reason it matters is that you can add single or multiple speakers to the system. People nowadays prefer more sound or loudness sometimes, or you're watching a horror or action movie, and the sound experience will increase if there is a 5.1 speaker in the system.
In these cases, you can add more speakers. So, briefly, the speaker height matters because it gives you a better audio experience and a lot of space in the room, and you can add more speakers to the system.
Do Speaker Stands Improve Sound Quality?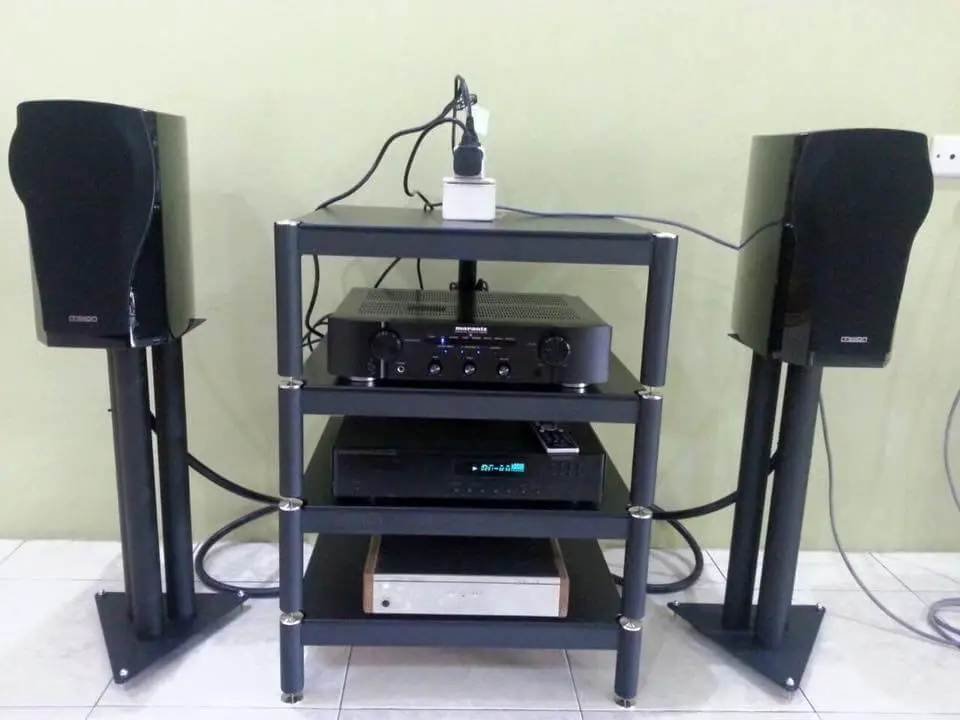 Yes, the speaker stands do improve sound quality by reducing fluttering and resonance and giving you a more precise bass output, which will be tight. Whether you put your speaker on the floor or the bookshelf, you will notice vibrations while the frequency jumps.
As a result, you won't be able to enjoy and get the best out of the speaker. To improve the overall sound quality, you need to focus on mainly three factors;
Getting a heavy stand that can support your speaker.
Setting the speaker at the right height.
Installing other accessories which can reduce vibration and get a more clear bass.
I'll get into all the essential factors in the later section. Let's see the types of speaker stand briefly.
Types of Speaker Stands
There are tons of speaker stand options you will find on the market, but some specific and popular types of stands are convenient and compatible with almost all types of speakers.
Here is a table with all the necessary information about the speaker stand types.
| | | |
| --- | --- | --- |
| Stand Type | Place/Speaker Type | Core Benefits |
| Floor | Home Theaters / Entertainment | Can Add Extra Speaker |
| Desk | Studio Monitors / Music Production | Positive Gaming, And Audio Experience |
| Heavy-Duty | Powered And Amplified Speakers / Dj Setups | Not Suitable For Home Use |
| Bookshelf | Bookshelf Speakers | Better Cable Management |
How Do I Choose the Right Speaker Stand and Height?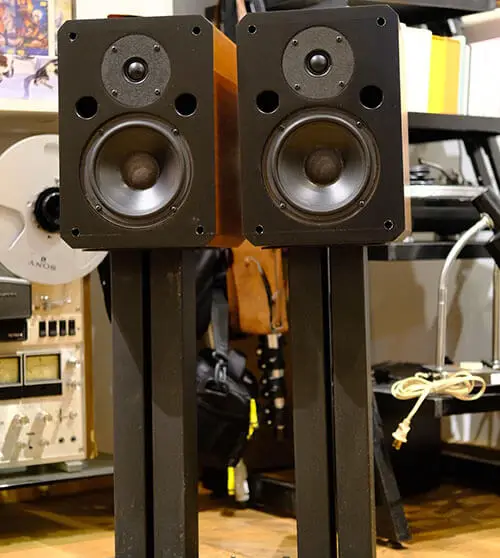 Before choosing and determining the perfect height for the speaker stand, there are some factors that you need to consider. And based on those factors, you can find the optimal speaker height.
Factor #1: Stand Size Compatibility
There are various speaker stand sizes, and you must find one compatible with your speaker. Speaking of compatibility with size, it is directly connected to overall stability. The perfect fit stand will get the best out of your speaker and give you an overall better audio experience.
For example, if you have a large-sized speaker and then get another more undersized-sized stand, the frame can't hold off the speaker, and it will fall and might damage your speaker. So, ensuring overall size compatibility is crucial in the process.
Factor #2: Stand Material
There are usually metal and wooden speaker stands, and in terms of durability, wooden ones would be a much better option.
While the wooden stands are less fashionable and aren't classy, these aren't prone to rust like the metal ones. Even though, if you get a metal stand, ensure to get a stainless speaker stand that will last longer and give you better service.
Factor #3: Room
Based on where you will use the speaker stand matters a lot. Some people use the stand in a regular drawing room, while others use it in a small theater.
The stand type and compatibility will change depending on the purpose and where you will use the speaker. You must ensure that you have the right speaker for your room environment and then get a suitable stand.
Factor #4: Speaker's Top Plate
Another component that works for maintaining stability which is the top plate of the speaker. Ultimately, the plate is a bridge between the speaker and the stand and keeps them connected together.
If the plate and speaker are incompatible, there is no stability and might damage the speaker. Whether it's a desk or bookshelf speaker stand, ensure that these components are compatible and you got the right one.
Factor #5: Bottom of the Stand and Cable Management
We have different types of floors in our home. And based on that, you must ensure your stand is the right for that type of floor.
Here are the rules of thumb;
If your floor is regular/hard floors, then the suitable option is to get a stand with rubber pads for better grip.
On the other hand, getting a spiked stand for the carpet floors would be a wise decision.
And as for cable management, compatibility with the cable channel is a must. Ensure that the cable, channel, speaker, and stand are in order.
If everything is done, now it's time to find the perfect height for your speaker.
Finding the Right Speaker Stand Height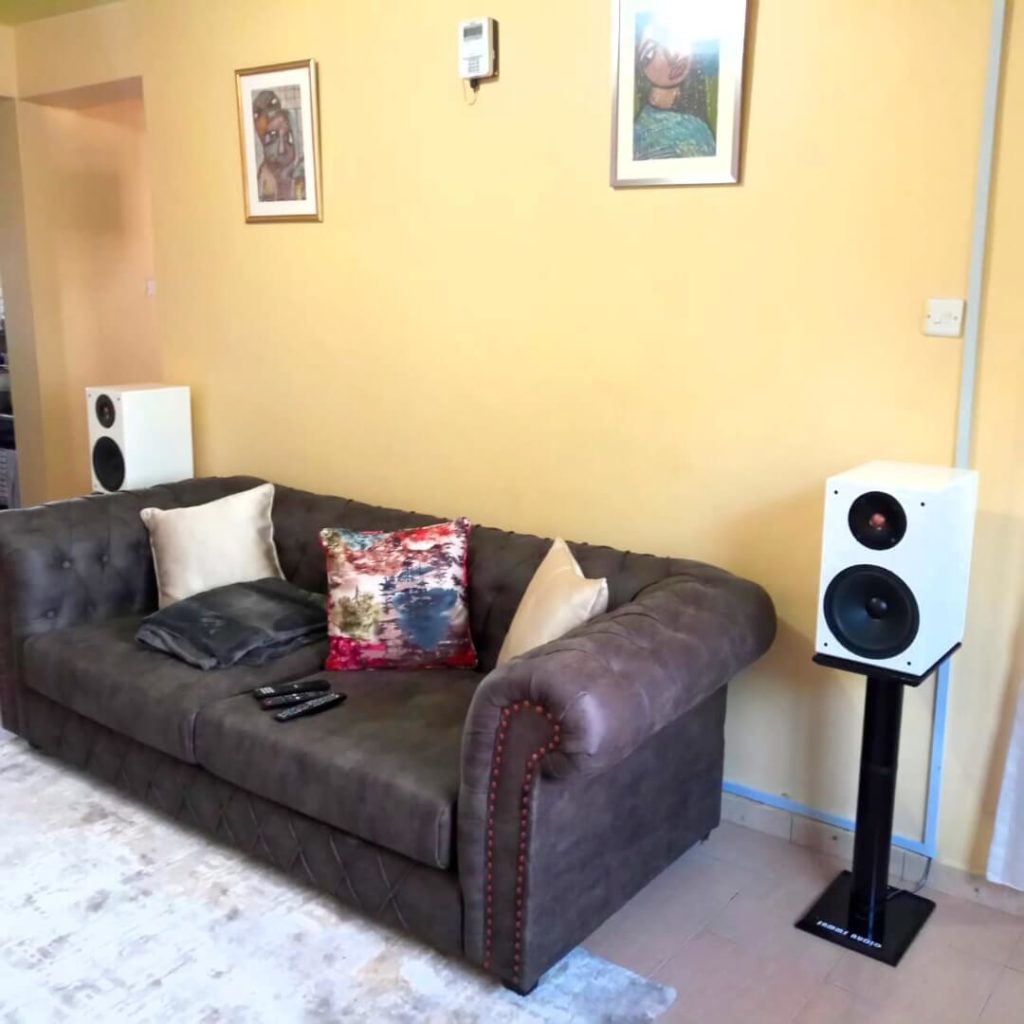 The process is very straightforward, but you must remember a few things and, to be specific, three. Those are;
Tweeter, so that you can change the direction.
Ear-level.
Where you mostly sit in that room.
Now, the rule of thumb for determining the correct height is: (The distance between the speaker's bottom and the tweeter – The height between your ear and the floor)
And your sitting position could vary depending on the place or room. For example, you might use the speaker in the theatre where you'll sit slightly lower. On the other hand, in your bedroom, the distance would be a bit higher.
Last but not least, when you're standing in your library or studio where you might be listening to the audio. In that case, the height would be more.
Based on these, the height will differ. Here's an example table to help you understand the optimal height!
| | | | | |
| --- | --- | --- | --- | --- |
| Seating Arrangement | Distance Between the floor and ear | Speaker Stand | Distance between the tweeter and bottom | Optimal Height |
| Drawing or Regular Room | 76.2 cm to 81.28 cm or 30 to 32 inches | Atlantic Bookshelf Speaker Stands | 5 inches or 12.7 cm | 25 to 27 inches or 63.5 to 68.58 cm |
| Home Theatre | 60.96 cm to 66.04 cm or 24-26 inches | Kanto SP6HDW | 6 inches or 15.24 cm | 18 to 20 inches or 45.72 to 50.8 cm |
| Reading or Studio | 170.688 cm to 182.88 cm or 67.2 inches to 70 inches | Sanus Speaker Stand | 28 to 38 inches or 71.12 to 96.52 cm | 39.2 to 32 inches or 99.568 to 81.28 cm |
After you get the optimal height, you can close the gap between the ear by adjusting using a tweeter or angling the speaker.
And, based on the speaker stand type, the stand height will vary too. Here is the list of all the optimal heights based on different speaker stand types:
| | | |
| --- | --- | --- |
| Stand Type | Optimal Height (In Inches) | Optimal Height (In cm) |
| bookshelf speaker stand height | 25 to 27 inches | 63.5 to 68.58 cm |
| Studio speaker stand height | 30 to 37.2 inches | 76.2 to 94.488 |
| Center speaker stand height | 32 to 39.2 inches | 81.28 to 99.568 cm |
| Surround speaker stand height | 42.2 to 49 inches | 107.188 to 124.46 cm |
Additional Tips About Speaker Stands
Here is some information that might help you make the process more effective and efficient and keep the stand and speaker balance.
If you want your speaker to have better security, a 3M Command Strip might come in handy. 
Wooden stands would be a better option if you're looking for more stability and if you have a heavy speaker.
Never let the height of the speaker stands higher than the tower.
While using a bookshelf stand, ensure you're not compromising any leveling capability.
Besides, the port position should be at the optimal level too. If your post is higher, the bass will be slightly lower, and vice-versa.
How Heavy Should Speaker Stands Be?
There is no exact weight for the speaker stands or heaviness of how much they should be. But, owners suggest that the weight would be between 40 to 65 kg without speakers or 45 to 75 kg with speakers. And, wooden speaker stands will be more havier, around 15 to 20 kg more than the metal ones.
The primary reasons or causes for the optimal weight for the speaker stands are two things; lack of resonance and stability. Although the regular rule of thumb is that the more weight you add to the stand, the more stability it will get. 
Besides, you can always add a stand spike to get more stability. Alternatively, you can also get plastic knubs to do the same work. But, if you don't have the budget, you can fill the stand with sand, although it will dampen the side of the stand.
Based on your speaker type, the weight will vary slightly, around 5 kg. The focus thing you should look for is if the stands are stable or not. That's all you need to get right.
Wrap Up
By now, you have an overall idea of how to find the stand's optimal height and the factors you should consider. As I discussed, there are several factors, and the most essential is the tweeter, distance of the ear, and the stand top.
Based on these, you can install your stand and have an exceptional audio experience. Let me know if there is anything else you want to know about the speaker stand and height or if you are facing any issues.
Good Luck!