If you're getting tower speakers, then an amplifier, according to the specifications of the tower speakers, is an absolute necessity. You cannot simply get an amplifier and be okay with running your music. Like, if you get a Polk audio speaker like an S50 or T50, then something as powerful as Denon AVR-S570BT as it ticks most of the boxes, which we will discuss as we move ahead. 
I'll be talking about three amplifiers suitable for three separate preference levels, which can include your budget or how powerful your speakers are. Along with which things to know before getting an amplifier and things to avoid, as well as a few insights related to amplifiers and tower speakers.
Important: What to know before getting an amplifier for your tower speakers?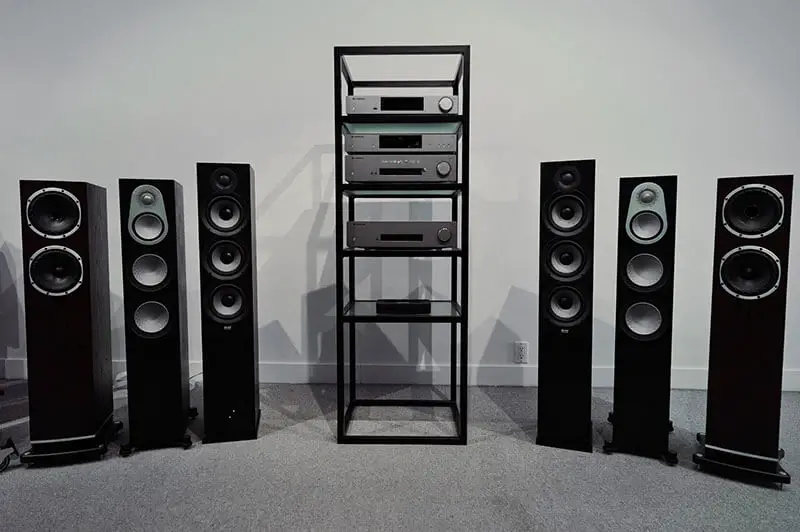 This is to consider when it comes to considering amplifiers in general, but this has to be especially prioritized when it comes to getting Amps for Tower/FloorStanding Speakers. Because tower speakers are high in specs and most generic amplifiers won't be able to handle the load of those speakers. 
Knowing the right Impedance for your Speakers and Amplifier
The key should be to get a two-channel amplifier to play both of your speakers; if not, you'll make your life difficult in making sure how you can run the two speakers on your amp. 
Find out the impedance of your speakers; it most likely will be around 8 ohms, I am guessing. I can be 4 ohms or even 16 Ohms. But, the key is to get an amplifier that is less in ohms, so you could get an amplifier that is 4 Ohms or 6 Ohms based on the wattage. 
Suppose you get an amplifier that is a single channel. In that case, you will need to do a lot of calculating as you are then required to know the difference between parallel and series. 
Knowing the right Power for your speakers 
You have to make sure that you don't focus on the peak power rating of the speakers. Instead, you need to calculate based on the RMS rating of your speakers. Peak power rating means the maximum power it can withstand for a brief period of time until it overheats, and RMS power is the rating that is the consistent power it will deliver. 
Based on my experience, it is better off if you take amplifier wattage up to 30-40% more than the speakers' wattage per channel. So, let's say your speakers are 600 watts. Then it is better to take an amplifier that has 900-1000 watts per channel so that there's enough headroom. Leaving extra wattage will leave you in space when it comes to overpowering your speakers. Because evidently, if you use underpowered amplifiers and if you overpower your speakers on that amp, then for sure you are at risk of damaging both devices. 
To know more in-depth amplifier buying guides, check this might help you.
Recommendations: 3 Best amplifiers for your tower speakers 
Here, I have comprised three types of speakers for three types of needs. Those are in case someone is on a low budget or if someone is looking for an all-in-one as well as a sophisticated choice for the best listening experience possible. 
1. Yamaha A-S501 (Vintage but also an allrounder)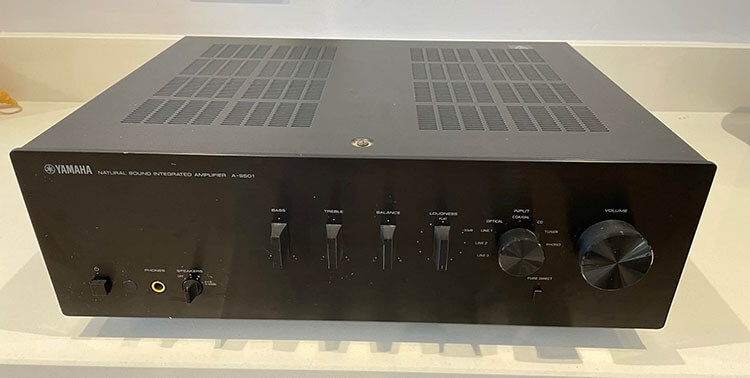 I was asking for an amplifier that had a classic look, something from the 80's but had all the specs necessary to run powerful speakers. Then my colleague suggested Yamaha A-S501, and I haven't been disappointed ever since. 
It has A and B amplifier classifications on the speakers. Suppose you're someone who has different sets of speakers. In that case, you can also do that with A, B, and A & B wiring systems to play the speakers separately or together through bi-wiring. Even though it looks archaic, it has room to adjust in most ways you want. It is packed with features like onboard DAC to add a flat screen with an optical fiber as well as a phono pre-amp in case you feel like adding a turntable. 
Specifications:
It is a two-channel amplifier which is 85 watts each. 
The Yamaha has an impedance of 8 Ohms
As for Signal to Noise Ratio, it has a convenient 99 decibels. 
The Yamaha has a frequency response of 10 Hz -100 kHz. 
A-S501 has Yamaha's ToP-ART (Total Purity Audio Reproduction Technology). 
Drawbacks: 
It doesn't have Bluetooth connectivity, so you need to get a Bluetooth adapter. 
Some say that the sound is not clear and muddy. 
Note: If you're looking for a cheaper alternative the Denon AVR-S570BT is a brilliant option as in some cases it may seem better than the Yamaha.
2. Fosi Audio BT20A (The mini dynamite, Cheapest out of the lot)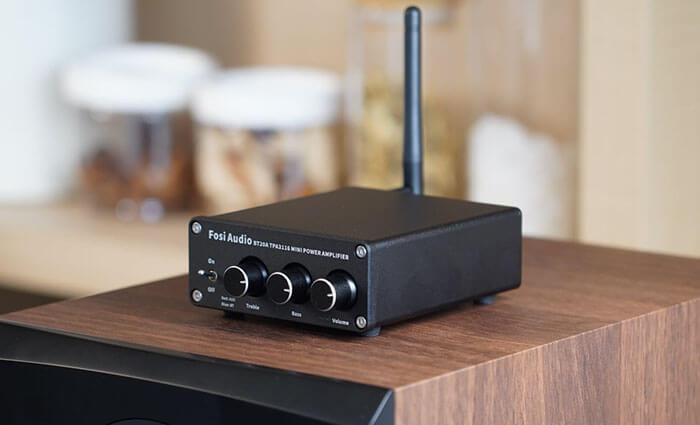 Often, people ask for something genuinely miraculous at an absurdly cheap price. Well, what if there was an amplifier that was small in size, packed with power as well as incredibly cheap. That is what the Fosi Audio BT20A will give you. It's so compact that it fits in the palm of your hand. 
The power it will generate will surprise over the types of audio devices it will be able to sync without any issues. The mid-range and treble in it will surprise you, considering its price point. Its front side has three knobs which are for Volume, Bass, and Treble, along with a Bluetooth knob. And on the back side, it contains the antenna with the banana plug along with all the input connectivity sources. 
Specifications: 
The Fosi is a two-channel amplifier, which is a whopping 100 watts each. 
It has an impedance of 8 Ohms. 
For request, the Fosi has 20 Hz – 20 kHz.
It has a signal-to-noise ratio of 98 decibels. 
Unlike other amplifiers, the Fosi also has Bluetooth 5.0. 
Drawbacks: 
It doesn't have a remote. 
Not recommended to use it on high-end tower speakers. 
Sound quality won't be as good as premium-priced amplifiers but better than cheaper-priced ones. 
3. Cambridge Audio CXA81 (For the Audiophiles out there)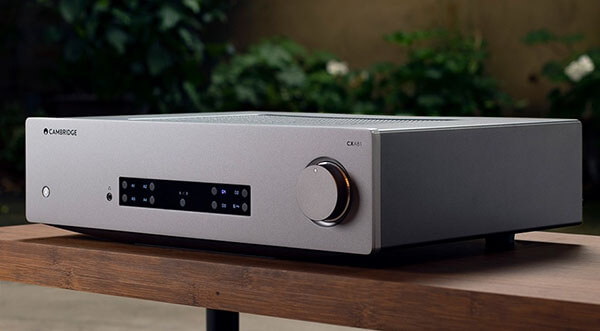 If you are looking for something high-end, then I can't help but talk about Cambridge Audio, as they are all about premiumness. The CX A81 indeed adds a lot of value with the specs and technology based on its high price point. 
The CX A81 is a class A and B amplifier, so in terms of sound with various types of speakers, you certainly won't be disappointed. It is an integrated amp which is a pre-amp and an amp summed into one. If you're willing to connect a TV, then you can do that, as the CX A81 has a DAC, not to mention it also has Bluetooth. Aesthetically, it has a very sleek, vintage look, but the bar that looks like a monitor is basically a place where there are buttons for the amp. 
Specifications: 
It is a two-channel amplifier which is 80 watts per channel. 
The CX A81 has a frequency response of 5Hz– 60kHz.
It has an impedance of 8 ohms when it comes to 80 watts RMS and 4 ohms when it comes to 120 watts peak per channel. 
For audio inputs, the CX A81 has S/PDIF coaxial, TOSLINK optical, USB audio, and Bluetooth. 
It has a signal-to-noise ratio of 105 decibels. 
Drawbacks:
It does not have a phono stage. You need to get a separate one. 
The price point may not seem attractive to other users. 
Differences between the recommendations 
So, here are the differences among the amplifiers I have mentioned at a glance. 
| | | | | | |
| --- | --- | --- | --- | --- | --- |
| Amplifier  | Channel Wattage | Frequency Response | Impedance | Signal-to-noise ratio  | Input Connectivity |
| Yamaha A-S501 | 85 watts per channel | 10 Hz -100 kHz.  | 8 Ohms  | 99 Decibels  | RCA and Optical  |
| Fosi Audio BT20A | 100 watts per channel | 20 Hz – 20 kHz | 8 Ohms | 98 Decibels | Bluetooth and RCA |
| Cambridge Audio CXA81  | 80 watts per channel  | 5Hz– 60kHz | 8 Ohms at RMS | 105 Decibels | S/PDIF coaxial, TOSLINK optical, USB audio, and Bluetooth.  |
Must Read: What happens if you get an amplifier that cannot drive enough power? 
If you notice constant clipping and distorting sound whenever you turn up the volume. In that case, you then need to realize that you have an amplifier that is underpowered. The power that you are willing to drive cannot sustain through the speakers and won't be sustainable for the amplifier. 
The waveform of the sound that will come out of the speakers will be broken, resulting in the speakers getting overheated. So, as I have said above, getting an amplifier that is more powerful than the speakers is essential so that you cannot use the speakers' maximum potential. Further use of an unpowered amp with speakers will only lead to permanent damage. 
Frequently Asked Questions
What's the difference between an integrated amplifier and a regular amplifier?
A regular amplifier or a power amplifier is essentially there for the speakers so that the speakers get the power to turn on and it just whereas an integrated amplifier comes with a pre-amp that adjusts the audio in various ways possible; it also has a tone controller along with a power amplifier. 
What is the difference between parallel and series speaker impedance? 
This is something that you need to know to understand the situation if you're connecting multiple speakers to a single-channel amplifier. After connecting the speakers in a parallel manner, then if the speakers have the same Ohm levels, then it'll be divided into 2, so 8 ohms of speakers will give 4 ohms, and if the speakers have different Ohm levels, then there's a separate formula for it. 
And when connecting the speakers in series, the ohms of the speakers will be added, so if you have speakers which are 6 Ohms and 4 Ohms, then it will give a 10 Ohms load.
Wrap Up! 
Thus, based on my understanding, I hope I have said enough regarding suggesting the best amplifiers for your needs. You are more than welcome to explore further if you think that your needs are not getting sufficed with any of these amplifiers.
But, getting any of the ones I mentioned will not leave you disappointed as all of these are tested by my colleagues and are recommended by many. I have tried to cover a few other aspects that may give you the proper insight in finding how to adjust your system with the amplifier so that it's an overall experience for you.