Edifier is undoubtedly a household name in the audio industry. Any audiophile at least once in their lives has suggested someone an Edifier sound product. When it comes to bookshelf speakers, the best out of all the brands is Edifier speakers. So, naturally, for turntables, we cannot help but suggest edifier speakers for your old-school, minimal sound setup. 
Like, the Edifier R1280T is a notable name for anyone looking to get an allrounder of bookshelf speakers. For Turntables, you may get other types of speakers, but anything other than Bookshelf speakers will seem too much, especially if you have a small room. 
Importance of Edifier: Why is it mostly Bookshelf speakers for turntables?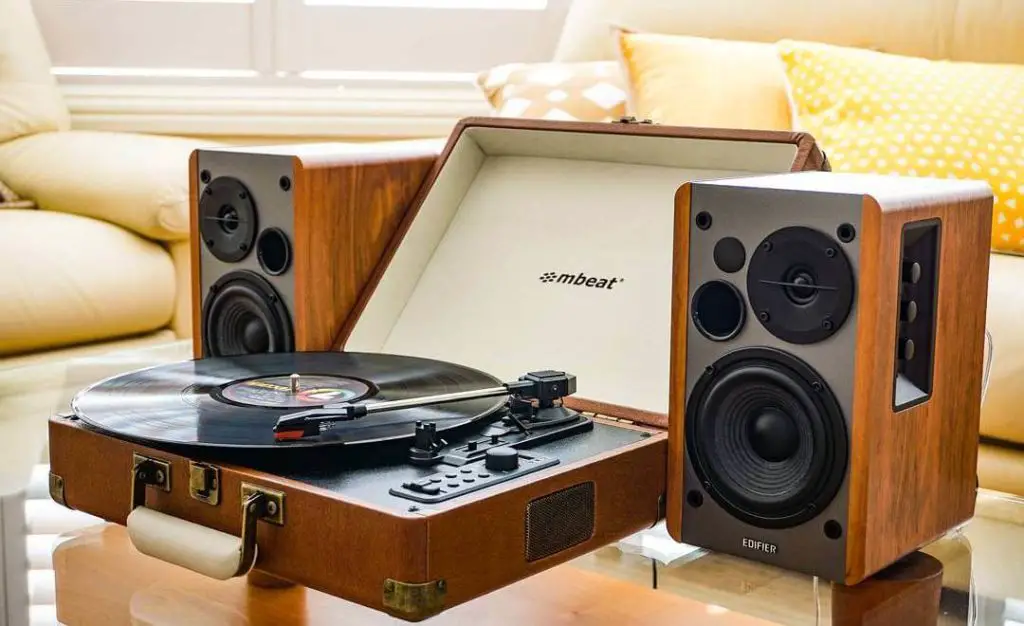 Turntables are supposed to give you those clean, soft, sophisticated musical experiences that a small spacing that looks clean will give you. That relaxing jazz music you'd want to play at your party or while you are reading a novel is what a turntable is all about.
For that, a pair of bookshelf speakers are more than enough. And, clearly, Edifier is known for bookshelf speakers globally, given how reliable the R1280 series is. That clean, detailed, just about loud enough will be given to you by bookshelf speakers.
Unless you hear metal or rock music, then clearly a Turntable contrasts that, so that is when you use an entirely different sound system to have that musical experience. 
Recommendations: What are the best Edifier speakers for turntables? 
Based on your necessities, I have chosen three types of edifier speakers; there is one for active speakers because that is the easy way, another for the sound geek, the audiophiles, and lastly for the budget-oriented users who are also looking for a good immersive experience.
Whether it's for turntables or, in some instances, for record players, these three speakers will surely pack a punch.
1. Edifier S1000DB (The best active speaker)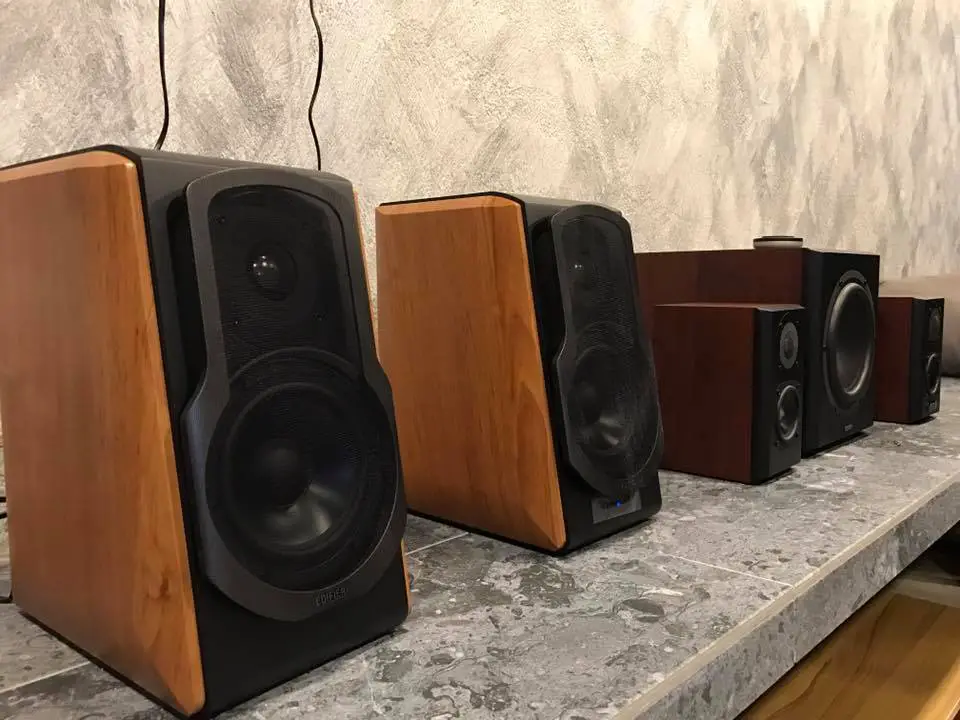 Unlike passive speakers, active speakers are a more accessible alternative because it is simply plugged and played in active powered speakers. The pre-amp is already installed in the speakers, whereas it is the opposite in the case of passive speakers. 
That is where the Edifier S1000DB steps up, as it will only give you a premium feel but also has more output than most competitor speakers.
Features: 
It has multiple input options of Bluetooth, coaxial, optical, and aux. 
It has a power output of 120 watts RMS
It has a frequency response of 4 dB.
It has a signal-to-noise ratio of 85 dB.
It has a mid-range bass unit with 5.5-inch drivers.
Drawbacks:
Bass will feel average sometimes.
The design may seem unsophisticated. 
Other alternatives may have better Bluetooth connectivity. 
Suppose you are looking for a passive speaker option. In that case, the Edifier P17 is a decent option, especially for budget-oriented people. 
2. Edifier S1000MKII (The best for all, Audiophiles)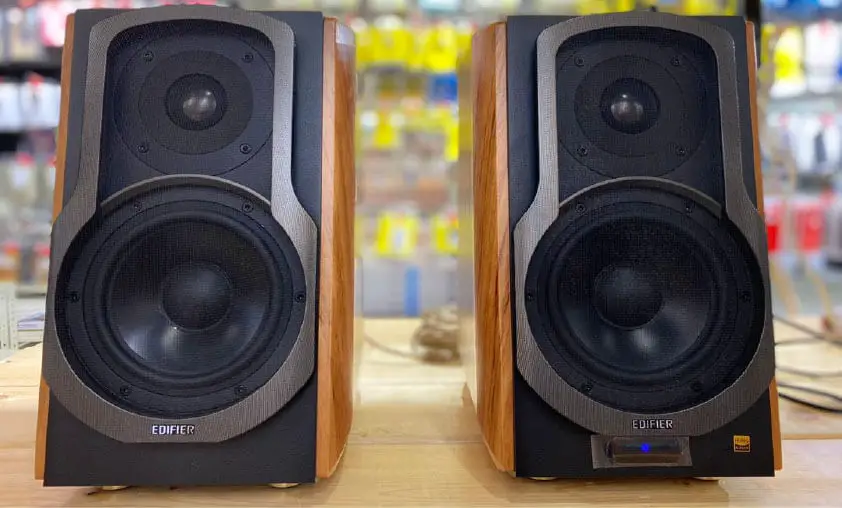 For the most premium, immersive experience, there was challenging to consider one. Considering the price point and the general features compared to the other two, the S1000MKII seemed like a formidable option to me. 
It is High Res certified and supports digital audio signals with a bit depth and sampling rate up to 24bit/192kHz. It feels like a steal for everything it is offering for its price point
Features: 
It has multiple input options of Bluetooth 5.0, coaxial, optical, and aux. 
It has a power output of 120 watts RMS
It has a frequency response of 45Hz-40kHz. 
It has a signal-to-noise ratio of 90 dB.
It has a mid-range bass unit with 5.5 inches and 1 inch for treble aluminum bass drivers.
Drawbacks: 
Changes may not seem that big compared to its predecessor. 
Size and weight may be a bit more. 
Some users say that it sounds average in the lows. 
Suppose you are an audiophile who is looking for a wireless experience. In that case, the S3000pro could be a safe option for you, although it is a bit pricey. 
3. Edifier R1280Ts (The best for its budget)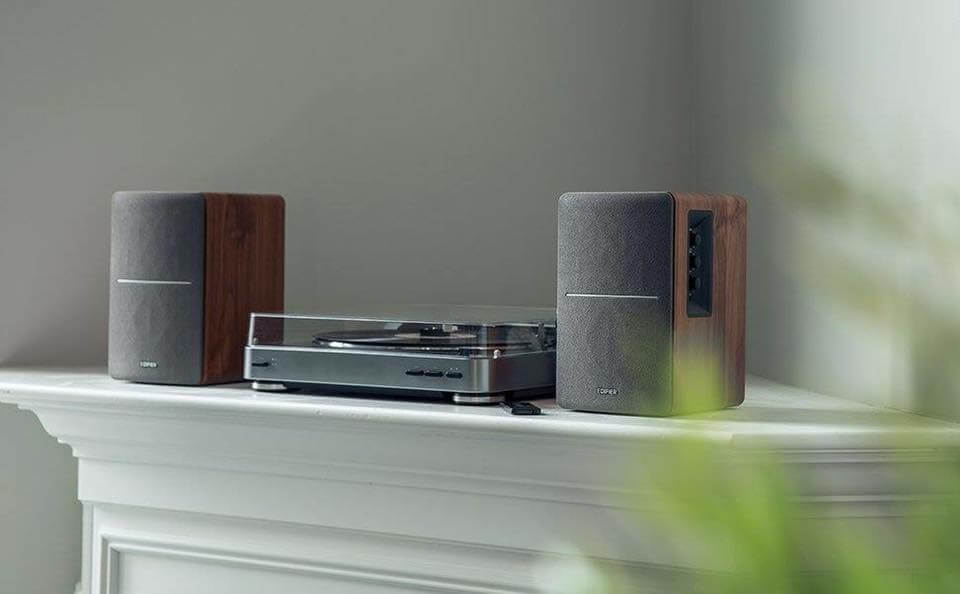 Now, if you are someone who is budget-oriented like me but also wants a wonderful experience, then there is nothing better than the R1280Ts. The quality will offer will almost feel unreal at this price point. Its EQ knobs to adjust things and especially to add another subwoofer indeed adds more value.
I always suggest the R1280 series speakers for anyone who is starting out with their turntable setups. It will be the closest thing you can experience compared to a premium segment. 
Features: 
It has multiple input options for RCA ports 
It has a power output of 21 watts + 21 watts RMS.
It has a frequency response of 52Hz-20KHz
It has a signal-to-noise ratio of 85 dB.
It has a mid-range bass unit with 4 inches and 0.5-inch silk diaphragm treble drivers. 
Drawbacks:
It doesn't have a phono pre-amp. 
Some will say its predecessors have better designs. 
If you are looking for something cheaper, then get its predecessor, the R1280T, which is similar and a favorite to many. 
Note: If you have been looking for floor-standing speakers for turntables, then you are clearly looking for the wrong brand, as Edifier is not known for floor-standing speakers. 
Understand the Differences among these Edifier speakers
Here's a table so that you can understand the products I have recommended to you at a glance. 
| | | | | | |
| --- | --- | --- | --- | --- | --- |
| The Speakers  | Input options | Power output | Frequency Response | Signal-to-noise ratio | Bass Unit |
| S100DB | Bluetooth 4.0, Coaxial, Optical, and Auxillary | 120 Watts RMS | 4 decibels | 85 decibels  | Mid Range 5.5 inch drivers  |
| S1000MKII | Bluetooth 5.0, Coaxial, Optical, and Auxillary | 120 Watts RMS | 45Hz-40kHz | 90 decibels  | Mid-range 5.5 inches and 1-inch treble drivers. |
| R1280Ts | RCA Ports only | 21 + 21 Watts (L and R) RMS | 52Hz-20KHz | 85 decibels | Mid-range 4 inches and 0.5 treble drivers  |
What should you know about turntables? 
You should know your speakers well because the two differences, the active and the passive speakers, work differently. In simple terms, for an active speaker, you simply connect it to your turntable and start listening, but in the case of passive speakers, you need to connect it to your amplifier, and then through that, you connect it with your amplifier. 
Also, suppose you have a turntable that has Bluetooth enabled. In that case, your life becomes even easier as you simply connect them to the speakers. Apart from the R1280, the other speakers have Bluetooth speakers. 
FAQs (Frequently Asked Questions)
Does digital sound better than analog or different? 
While some may say that digital sounds better than Analog, it actually sounds different from the other as for the old school music, analog is preferred by many because the digital sounds add too much compression and clarity that makes a lot of people's experience feel unrealistic. 
Are all powered speakers active speakers? 
Powered speakers are essentially active speakers, but they are a mixture of both because of their specifications. It is powered by speakers because it has an amp and pre-amp built-in, unlike passive speakers, but the signal path is not similar to an active speaker. Also, when it comes to crossover, it is similar to passive speakers. 
Wraps Up! 
Hence, I hope I have been meticulous enough in suggesting to you the right bookshelf speakers Edifier has to offer for your turntable setup, along with a few key details. Just like I have mentioned before, make sure you know your speaker types and know if they are powered speakers, active or passive. If you are on a budget, then I would definitely recommend you to get an active speaker, but if affordability isn't an issue for you, then you may get the most premium segment which most definitely will require other items apart from the speakers and turntables. 
Thank you, and I hope you get the benefit.