You can make your vehicle into a boombox by installing 6×9 speakers. Whether it's more sound or bass you want, these speakers can meet your expectations. Besides, having a great amp with these speakers is always a plus point.
But, with all the options and factors to consider, finding the perfect system for your car is always a challenge. You don't have to worry as I found the 5 best 6×9 speakers with an amp for your car.
These can provide an excellent sound experience along with fantastic bass.
Let's see those great picks!
Best 5 Picks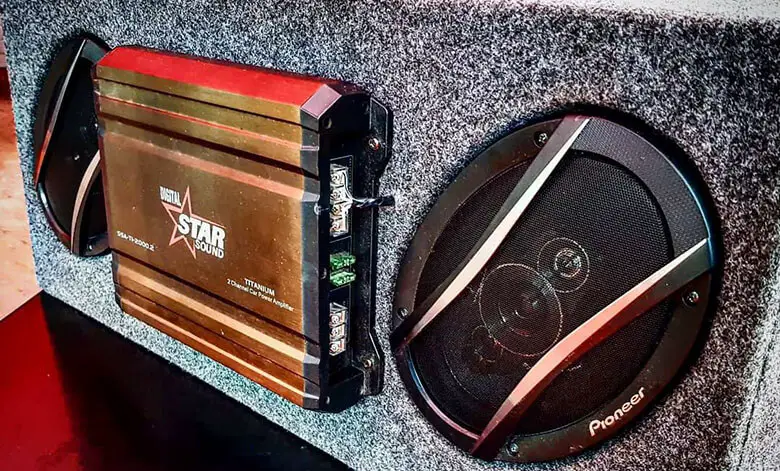 Here's an overview of the top 5 picks of 6×9 speakers with amps that I'll discuss in the following sections.
Infinity REF-9633IX
Alpine SXE-6926S
Kicker 43DSC69304
Kenwood KFC 6996PS
JBL GTO939
I'll add a comparison table, at last, to make the decision-making process easier. Stay with us to learn more!
What to Consider Before Choosing a 6×9 Speakers With Amp?
Before going into detail about the best picks, let me walk you through the criteria and aspects you should consider.
When it comes to the amplifier, you must ensure that it can provide at least 1.5 times the power required of the speaker. But that's not all!
Compatibility is a common issue with amplifiers and speakers. Power, Impedance, and other aspects should be accurate for the smooth audio quality you deserve to avoid making that mistake. Let's discuss that!
Power: When discussing the power of a speaker, it means how much energy the speaker can handle generally. Here are some rules of thumb to know when going through the speaker power aspect.
Don't worry if you find multiple power ratings in the manual or tech-spec.
You will find either RMS or AES indications besides the power rating.
Peak power ratings mean the maximum energy the speaker can take without getting fried.
And the continuous power ratings indicate how long the speaker can go on at reaching a specific energy without any electrical damage.
The power rating has nothing to do with the loudness of the speaker.
The amplifier and power rating should be compatible with each other.
Impedance: The speaker puts an amount of load in the amplifier, and that's what impedance refers to. You will find the impedance amount on the label of the speakers.
Besides, you might find three types of impedance in your speaker: four, eight, and sixteen. While connecting multiple speakers into one connection where they all put a load on one amp, you need to be careful about that.
Sensitivity: As this aspect is directly connected with the power, it affects the sound quality too. You need to ensure that the power source can provide enough power to the speaker to run the device smoothly. 
Besides, if you don't have enough power, you can't turn up the volume at high as you want. And that case, the sensitivity determines or refers to how well the speaker will work when connected to the power sources.
You might already notice the "dB" in the specification of a speaker. The better you see a speaker's rating or count, the better the audio's smoothness and clarity.
There is more! 
A specific type of speaker with an amp could be tricky. And you need to find the speaker specifications first.
Then, look for the number of speaker channels. The rule of thumb is to get at least a 2-channel amp. That way, you have both options to power the speakers.
You need multiple amps for receiving different signals if you have multiple speakers.
And, of course, you should get the specific power and impedance.
Even though these all sound ok, remember to get a speaker that can handle decent audio pressure while you enjoy the music alone or with your friends.
5 Best 6×9 Speakers With Amp
Let's dive into this part, where I'll walk you through these speakers' details and discuss what's so great about them.
Besides, at the end of this section, you will know which one you should go for with a bonus comparison table.
1. Infinity REF-9633IX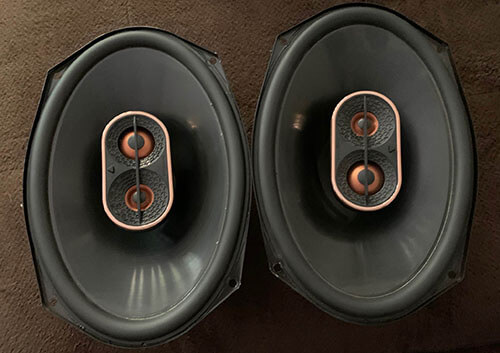 The Infinity REF-9633IX is not just an updated version of its predecessor but comes with more than that. Not just it gives you the experience of a perfect combination of the frequency response, with tight and best bass experience.
As for the other aspects;
It has got the perfect medium-range frequency response.
You have complete control over the direction of the audio with the tweeter.
A decibel adjusting switch is one of the most exciting aspects of this speaker. It does not just allow you to switch among the various frequencies but gives you an exceptional audio experience.
The technical parts which make the speaker so great are;
Woofer construction with textile tweeter and durability.
The 3-ohm load with 4-ohm resistance capability.
Power handling is 100-watt RMS, with a peak of 300 watts.
The sensitivity is 94 dB.
If you want the best bass with durability for your car's speaker, this is the one you should go for.
2. Alpine SXE-6926S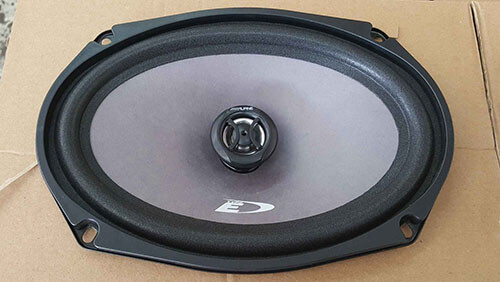 With impressive power, frequency response, and impedance, the Alpine SXE-6926S gives you the overall best value among all the other 6×9 speakers.
The reasons why it made it to the best value are;
The power handling capacity is 45 watts RMS. And it can handle a peak power of 280 watts.
The frequency response starts from 40 Hz and goes up to 20kHz. That means it can deal with both high and low frequencies.
As for the standard, it got an impedance level of 4 ohms.
Excellent construction and material make it possible for its durabilities, such as barium ferrite, mylar, and magnet in tweeter.
The cone with made of poly-mica. That's why it can serve a clear and fantastic sound, as it is surrounded by rubber.
The 92 dB sensitivity can produce deep and tight bass and audio.
It will be a fantastic choice in terms of value and overall quality.
3. Kicker 43DSC69304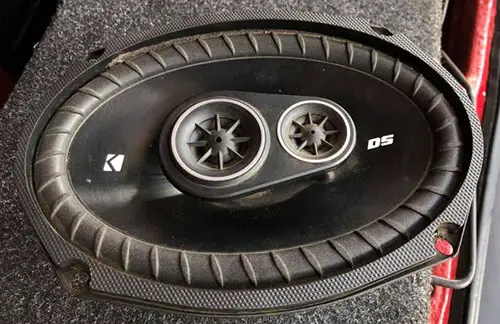 The most impressive aspect of the Kicker 43DSC69304 is that it produces audio in three clear ways or channels, thanks to the neodymium magnet.
As for the other aspects;
With 90 watts of power handling capability, it is compatible with all modern systems, whether a car or a house. And the peak capability of 360 watts gives it an extra edge.
The 92 dB ratings will produce your desired transparent and seamless audio quality.
The frequency response can handle high to low frequencies, with an impressive 30- to 20,000 Hz frequency rating.
The great news is you might not need any modification to your car to fit the system.
But sometimes, you might have some less bass tremble.
Another thing is you need to install another extra amp to get the audio experience you want.
With EVC tech and PEI dome tweeters, it is one of the best overall 6×9 speakers in the market. 
4. Kenwood KFC 6996PS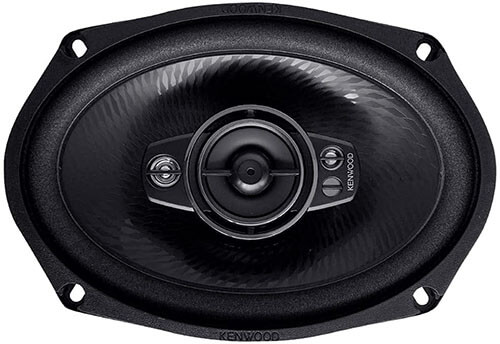 With regular 150 RMS power handling capability, it is one of the best audio speakers. And the peak rating is higher than most speakers, which is 650 watts.
That's not all! It also got;
Five speakers or channels to produce as much sound or audio as you want.
The 88 dB sensitivity rating might seem a bit low compared to the other speakers got, but it's good at its game.
If you add another amp, it won't need a subwoofer, as it's already built with impressive specs.
You won't have to face hassle with a straightforward installation process and great fit.
It's got an excellent build with a polypropylene-woofer cone. It also comes with an array pattern shaped like a diamond.
It has two super-tweeter to deal with and control the direction of the audio.
If you want a fantastic volume experience, this is the one you want.
5. JBL GTO939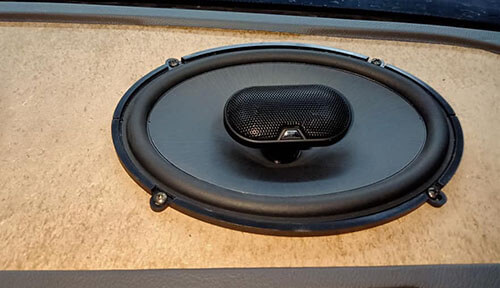 If I discuss the JBL GTO939, the most impressive aspects will focus on the channels, plus+ woofer, and mounting depth.
But it doesn't end here! It also got;
A mylar-titanium tweeter, with which you can adjust and pivot the audio direction.
It also got another super tweeter. With this, you can even control the level.
It can handle continuous 100 watts of power handling rating and 300 watts peak rating.
You won't have to worry about parting or running the speaker for an extended period and overheating, as these speakers are labeled edge-driven.
Its perfect cone size and fantastic build can produce the best bass experience and handle various frequencies simultaneously.
With a 94 dB sensitivity rating, it has an impressive smooth sound experience.
The JBL GTO939 will be a great choice for the easy installation process and excellent sound quality.
Comparison Table
Here's a comparison table to help you understand the differences better.
| | | | | | |
| --- | --- | --- | --- | --- | --- |
| Aspects | Infinity REF-9633IX | Alpine SXE-6926S | Kicker 43DSC69304 | Kenwood KFC 6996PS | JBL GTO939 |
| Type | Woofer | Woofer | Coaxial | Coaxial | Coaxial, Woofer |
| Power | 100 watts(Peak 300 watts) | 45 Watts (Peak 280 Watts) | 90 watts (Peak 360 watts) | 150 watts (Peak 650 watts) | 100 watts (Peak 360 watts) |
| Impedance | 3 Ohms | 4 Ohms | 4 ohms | 4 ohms | 2 ohms |
| Frequency Response | 46Hz – 30kHz | 40Hz – 20kHz | 40Hz – 20 kHz | 58Hz  – 22KHz | 45Hz – 21kHz |
| Sensitivity | 94 dB | 92 dB | 92 dB | 88 dB | 94 dB |
| Connectivity | Coaxial | Coaxial | Coaxial | Coaxial | Coaxial |
| Price | Check on Amazon | Check on Amazon | Check on Amazon | Check on Amazon | Check on Amazon |
Frequently Asked Questions (FAQs)
Should I Use An Amp For 6×9 Speakers?
Yes, you should use an amp for 6×9 speakers to get extra loudness and overall audio quality. With an amp in the system, the speaker's power handling capability and impedance will increase as well as the smoothness.
Do 6×9 Speakers Have Good Bass?
Yes, most of the 6×9 speakers have good bass. They have the most impressive sensitivity and channel among all the other types in the market. That makes it possible for the speakers to come with a fantastic bass.
Can An Underpowered Amp Damage Speakers?
Generally, no, an underpowered amp can't damage speakers. But it's recommended to have more than twice as much power in the system to get the desired result and audio quality.
Final Words
I discussed all the best speakers in this category with great amp options. With a comparison table, you can get an overall decent idea.
I hope you were able to make your decision about which speaker you want to go for. Please let us know if you want to know about other-sized speakers with an amp.
Have a great day!