Bose Wave series is known for offering premium-quality sound systems. Take Wave IV, for example. It has a minimalist yet classy look. Besides, it can provide room-filling sound. But premium features come at a premium price. Same for the Bose radio wave. The latest model (Wave IV) costs around 500 USD, which is not worth it for most users.
Anyway, don't lose hope. I have good news for you. I have listed some alternatives to bose wave radio. They also have similar features but at a lower price. So, read out the post to the end.
Top Pick: Wave Radio Alternative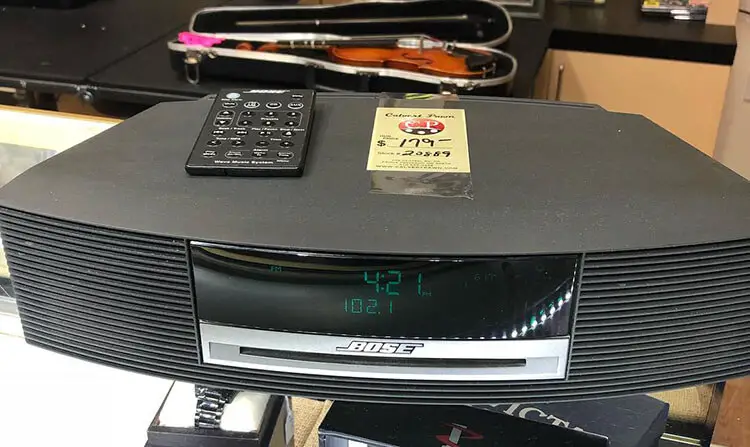 As I mentioned earlier, bose wave radio costs around 500 USD. Moreover, it offers pretty basic integrated speakers. If you want a good music experience, you will need an external amplifier and speakers. That means it will cost even more. So, I have listed the below alternatives that offer better at comparatively lower prices.
Alternatives
Quality Features
Highlights
Type
Bose Wave SoundTouch
Compact Sound System
# Compact sound system
# Wireless connectivity
# Remote and voice control
Compact
Sony Bluetooth Stereo
Heavy Music
# Stereo shelf sound system
# Classic look
# Bluetooth connectivity
Stereo
Toshiba TY-CWU700
Low Price
# Compact sound system
# Vintage style retro look
# Wooden construction
Compact
Sharp XLHF102B
Value of Money
# Stereo sound system
# Bluetooth streaming service
# 50 W RMS
Stereo
Sangean WR-22WL
Sound Quality
# Compact sound system
# Wooden cabinet
# Bluetooth streaming service
Compact
Denon D-M41
Premiumness
# Stereo speakers
# Wireless connectivity
# Japanese precision technology
Stereo
KEiiD CD Player
Overall Performance
# Compact sound system
# Wooden cabinet
# Stereo system desktop speakers
Compact
7 Bose Wave Radio Alternatives' In-Detail Review
1. Bose Wave SoundTouch Music System IV Review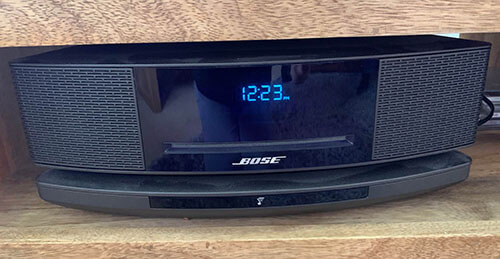 Highlights:
Compact sound system
Wireless connectivity
Remote and voice control
Only Bose can provide the same performance as a Bose. The same thing goes for Wave Radio. Only Bose Soundtech IV can alternate the Wave Radio. It's costly but provides way better results than the wave radio. This compact sound system comes with the latest waveguide speaker technology. It can provide lifelike room-filling using music experience. It also supports various types of audio formats. So don't worry about the source options.
The best thing about this sound system is its wireless connectivity. It connects through BlueTooth and wifi. You can integrate Alexa's home with it. Control gets easy with it. You can control the speakers with voice. The remote is also available for different modes and volume control.
Lastly, I can talk about the look and the mobile app. Soundtech IV has a minimalist yet classy look. Unlike other cheap sound systems, bose has developed an efficient music app. You can mix or equalize the sound with the app. To summarize, Soundtech IV is one of the best compact sound systems I have ever seen.
Pros:
Minimalist look
High performance
Ease of use
Efficient app control
Both WiFi and BlueTooth connectivity
Cons:
Remote is only applicable for radio and CD player
2. Sony Bluetooth Stereo Shelf System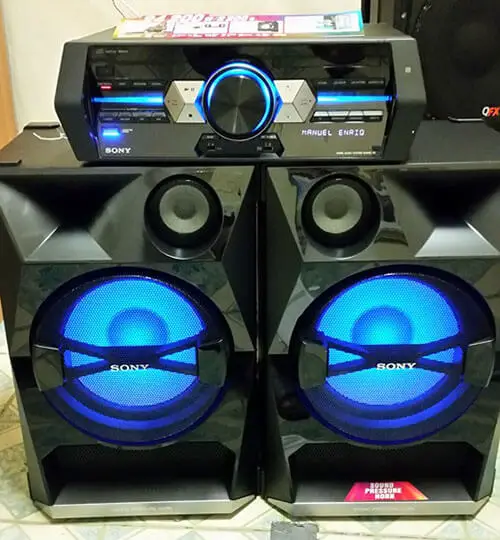 Highlights:
Stereo shelf sound system
Classic look
Bluetooth connectivity
If you are a hardcore music lover, this sound system is for you. It's a powerful option with a big brand name, "SONY." It's the name where reliability is not questioned. So, let's talk about the technical features. This sound system comes with two giant speakers. These speakers can provide powerful sound and high bass with minimum distortion. That's not all. This sound system offers 4 different DJ effects. It takes your music experience to the next level.
However, you will be amazed by the outer appearance of the sound system. It comes with a classic look. The look reflects a style statement and appetizes you for music. Moreover, the speaker is designed to improve the stereo effect. Sony really understands the taste of a music lover.
Sound systems from Sony are versatile in terms of source and connectivity options. This shelf sound system is an excellent example of it. You can use it as a CD player. It also has an FM radio and a USB input. Besides, you can connect a microphone to it through a stereo jack. Most importantly, it has a Bluetooth connectivity option. Lastly, it's a simple yet exciting alternative to bose wave radio.
Pros:
Powerful sound
Wide range of input
Both wired and wireless connection
Dj effect
Cons:
3. Toshiba TY-CWU700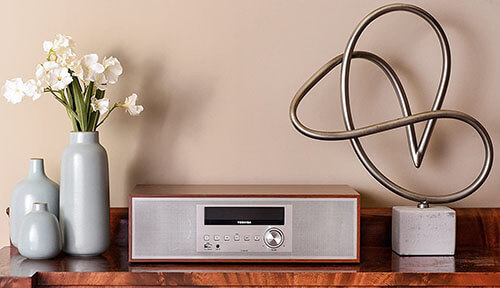 Highlights:
Compact sound system
Vintage style retro look
Wooden construction
If you are looking for a cheap alternative of Bose wave radio, Toshiba TY-CWU700 is for you. This sound system is suitable for listeners fond of soft and soothing music. It can't fulfill your need if you are a hardcore music lover.
Firstly, I have to talk about its look and construction. This sound system comes with wooden construction, which is not sustainable. Still, it provides an aesthetic and classic look that many people will like.
Surprisingly, this sound system has Bluetooth connectivity. It's pretty good for a cheap music system like this. You can stream music for hours through it. If I talk more about the source option, it has auxiliary ports like USB and Stereo. Besides, it works as a CD player and FM radio. I know it doesn't have too many source options. Still, the existing options provide a pretty impressive performance. So, you can't complain about it.
Lastly, I can mention the control panel. It has a LED display and a pretty basic remote; nothing interesting.
In conclusion, Toshiba TY-CWU700 seems more than a decent option if you compare its performance with the price.
Pros:
Cheap in price
Soothing music experience
Bluetooth connectivity
Cons:
4. Sharp XLHF102B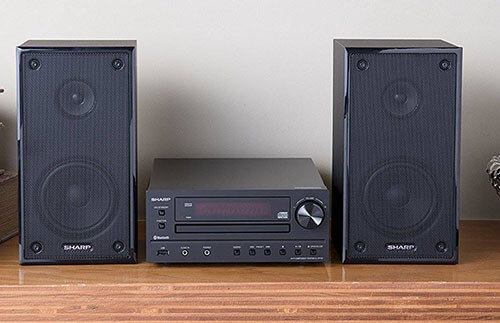 Highlights: 
Stereo sound system
Bluetooth streaming service
50 W RMS
Sharp  XLHF102B is something that can provide the value of price. The features it's offering at this price are worth the money. But sharp has compromised on a few points to establish this price. Let's talk about them first.
This sound system has decent built quality. It has a solid wooden construction. A blended construction could be better. But it's Okay if you consider the price. The remote has a cheap look  and poor design. It also could be better. That's all in drawbacks. Let's talk about the good parts now.
Sharp  XLHF102B comes with a pair of 10-inch speakers. They can provide a powerful sound of 50 RMS. It also has a bass boost feature which makes excellent beats in sound. This sound system comes with an FM radio and player. It also supports music streaming. You can connect it to your phone through Bluetooth and USB.
Alongside the above features, this sound system has dimmer control. That's a plus point for a cheap sound system. Sharp  XLHF102B has a simple design. But it's easy to set up. I must say, it's a good alternative to Bose wave radio at a lower price.
Pros:
Value of price
Powerful sound
Easy to set up
Cons:
The remote's design is not too good
5. Sangean WR-22WL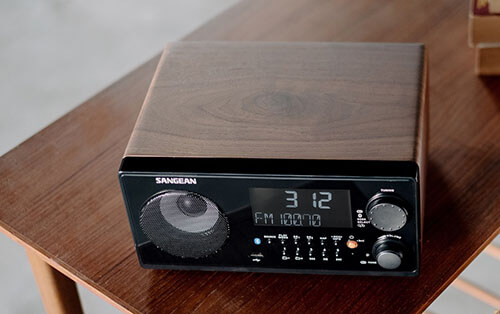 Highlights:
Compact sound system
Wooden cabinet
Bluetooth streaming service
If you want something that solely serves a single purpose, Sangean WR-22WL is a better option. Sangean tends to make this model a high-quality tabletop sound system. Whereas other brands are busy with fancy features and gimmicks, WR-22WL focuses on the real stuff. 
This sound system comes with a 3inch 7-watt driver. It features an enlarged magnet, an aluminum cone, and an air seal. They help the driver to deliver a loud voice and rich bass without noise. However, WR-22WL has a one-way speaker. So, distortion is very minimum here.
Sangean WR-22WL has a wooden cabinet. Along with the noise reduction material, it also helps to enhance the sound quality of the speaker.
Anyways, let's talk about some common features. Sangean WR-22WL can work as an FM radio. It also offers Bluetooth streaming services. Besides, you can connect your phone through a USB cable. It doesn't come with a CD player. That's a drawback you can complain about.
Lastly, I am mentioning some unique features. The sound system comes with an alarm clock. I know It's not that much exciting. But it's good to have in a tabletop music system.
Pros:
High-quality sound
Built-in alarm clock
Wireless connectivity
Cons:
6. Denon D-M41 Home Theater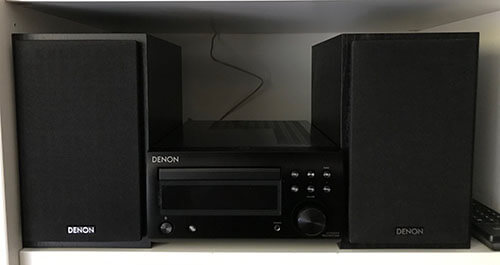 Highlights:
Stereo speakers
Wireless connectivity
Japanese precision technology
Till now, I have only talked about affordable alternatives of Bose Wave radio. Consider this premium option if you want something better at the same price. Denon is a century-old Japanese electronic company. It has a good reputation in the sound system segment. Besides, you must be known about Japanese technologies. So, Denon D-M41 has easily passed the reliability and quality test. So, I won't talk about them. Instead, let's discuss its technical specifications.
This sound system comes with a pair of SC M41 speakers. These speakers are equipped with 5-inch woofers and 1-inch silk dome twitters. So, the sound you get is powerful, crystal clear, and distortion-free. Moreover, the noise gets minimum with the noise reduction modules.
Denon DM-41 has a wide range of input options. Unlike other alternatives, D-M41 supports digital input. So, you can connect it to the TV and use it as an amplifier. Besides, Bluetooth streaming services, USB ports, and a CD player are also available. However, this sound system offers a dedicated amplifier for headphones. So, it's the most premium alternative to Bose Wave Radio.
Pros:
Premium look & built-quality
High-quality sound
Wide range of input
Dedicated headphone amplifier
Cons:
7. KEiiD CD Player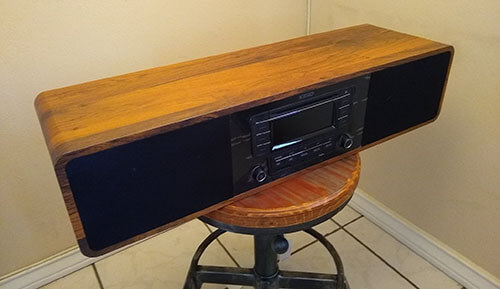 Highlights: 
Compact sound system
Wooden cabinet
Stereo system desktop speakers
I will wrap up this list with a sound system that offers some exciting features. Don't get fooled by the name. KEiiD CD Player is not just a CD player. It's more than that. Alongside a CD player, it can work as an FM tuner or TV soundbar. Besides, you can stream music through Bluetooth or USB connections. Also, KEiiD can be used as an audio receiver. It receives sound from microphones or auxiliaries.
Though KEiiD is a compact sound system, it can create stereo effects. It happens because of its shape and size. It may seem heavy at the very first glance. But you will eventually realize bulkiness is a blessing for this sound system.
Lastly, I can discuss the built quality and look of the CD player. It comes with a wooden cabinet which gives it an elegant retro look. Moreover, this type of construction helps to enhance the sound quality. But, the wooden cabinet provides decent performance in terms of durability. So, the KEiiD CD player is the best alternative considering its overall performance.
Pros:
Eye catchy design
Wide input range
Various use case
Cons:
Heavy in weight
Poor design of remote
Buying Guide for Bose Wave Radio Alternative
I hope you have already chosen a sound system. If you are still confused, use this buying guide to find the most suitable one. Here are the factors you should consider while buying a sound system.
Size
In the very first place, you have to consider the size of the music system. Mainly the size of the speakers. Many factors depend on it. Take surround sound technology, for example. You may set the speaker right. But the sound won't be enough if the speaker is too small. Again, the sound will be noisy if you use bigger-sized speakers. So, how should you choose the size?
Well, you can consider many factors. But the most crucial factor is the room size. If you are getting a home theatre for the living room, 2 to 4 small cube speakers with a 12-inch subwoofer is enough. Consider bigger soundbars and subwoofers if you need the sound system for the hall room.
Sound quality
Good sound quality is what everyone wants in a home theatre or music system. But the term 'sound quality" has various meanings to various users. For some people, it is powerful bass and lifeful music experience. Whereas clarity in voice and optimum power means quality to some people. If I summarize for all, good quality means no noise or distortion and a realistic feeling in sound.
Hopefully, all the alternatives I have suggested have excellent sound quality. Of course, all of them are not suitable for you. At this point, you have to understand your need and choose one according to them.
Surround or Stereo
Stereo speakers cover the whole room with powerful sound. They are usually placed in front of the listener. Whereas surround speakers do the same thing. But the speakers are placed all around the listener. However, you have to choose one between them based on the use case.
Stereo sound is better if you get a TV or movie sound system. For stereo sound effects, you can get sound bars.
If you are a hardcore music lover, surround sound effect is more suitable. For surround sound effects, you can get cube speakers.
Source options
It's the most crucial factor you should consider while getting the sound system. Firstly, you must understand from which source(s) you receive the signal. For example, the digital signal comes from satellite TVs, and the analog signal comes from radio stations. 
As you are searching for something similar to bose wave radio, I assume CD and radio are the sources. That means you mostly have to process analog signals. So, make sure the sound system you buy can process both digital and analog signals. But how can you know which source options are available?
Well, learn about the connection option for that.
Connection options
The connection option is directly related to the source option. Analog signal is delivered through RCA & VGA cable. Whereas digital signal is supplied through HDMI cable. These are the external connection options. If you receive analog signals from the source, ensure the system has RCA and VGA ports. Similarly, an HDMI port is necessary to deliver digital output.
Besides all these, the system has internal connectivity. It's basically the connection between the mainframe and the speakers. This connection can be of two types; wired and wireless. A wired sound system can be cost-saving. But a wireless sound system is better in many ways. It provides a minimalist look. Besides, speaker positioning gets flexible with it. Thus, it helps to achieve better surround/stereo effects. So, you should prioritize the wireless system instead of the wired one.
Other features
You have learned all the essential elements you should consider while getting a sound system. Besides these, you should consider some additional features too. Consider the app, for example. Most renowned sound systems come with a music app. You can control the volume, the sound effect, and the setting from it. Basically, an app works like a mixer for a music system.
Alongside the app, you can find a wifi synchronization option in many home theatres. You can synchronize all your digital appliances with the sound system and play them together. You must give these special features a shot when you get the home theatre.
Conclusion
Bose is the most popular brand for sound systems. Once you start using bose, it isn't easy to switch to other brands. But it's good to try out alternatives sometimes, especially when you can get the same benefits at a lower cost.
Anyways, everyone's preference is not the same. The products I have suggested are based on my personal opinion. You can have your own need or choice. That's why I have added a buying guide after the list. It will ease you to choose one from or out of the list.
That's all for today. Enjoy your day!