If you pick any smart TV from Samsung, you will notice that they have minimized or eliminated speakers to make the display thin and bezel-less. As a result, the sound you get from the built-in speaker is lifeless and weak. So, you must add at least a few external speakers to your home theater to get high-quality sound.
But the problem is very few of us know which speaker is suitable for a Samsung smart TV. So, I have listed the 4 best external speakers for Samsung smart TV. I have also added a buying guide. It will help you to choose one from the list. Here you go.
Top Picks: Best External Speakers for Samsung Smart TV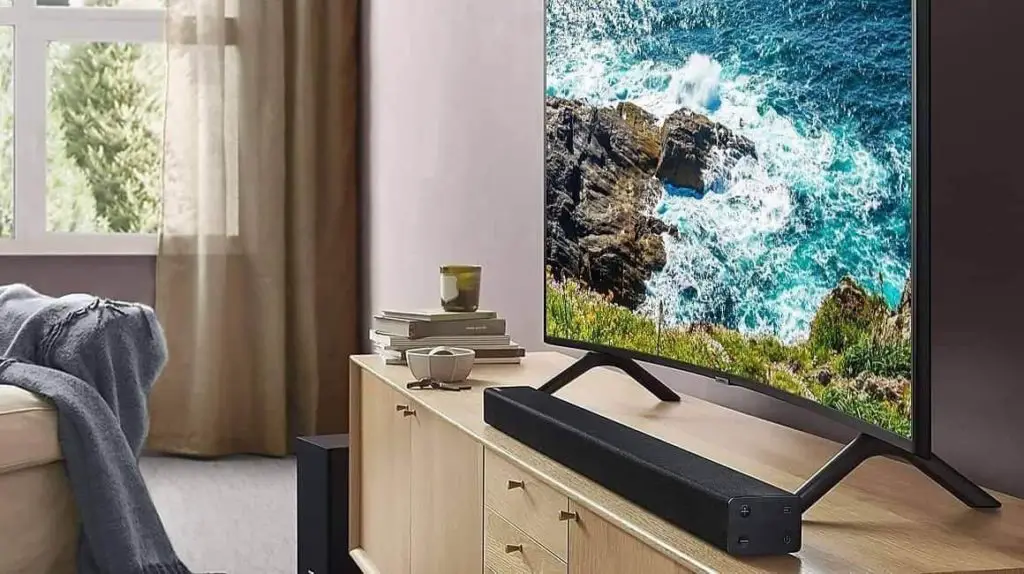 If you want to create a complete home theater system, more than a single speaker is needed. So, I have added various types of speakers to my top list. Get one or more according to your need. Here is the list.
| | | | |
| --- | --- | --- | --- |
| Speakers | Type | Effect(s) | Power Rating (RMS) |
| Bose TV Speaker | Soundbar | Stereo + Surround | 50 watts |
| Klipsch Reference Cinema | 5.1.4 | Dolby Atmos + Surround | 50 watts |
| Polk Audio T50 | Tower | Dolby Atmos + Surround | 75 watts |
| Edifier R1280T | Bookshelf | Stereo | 42 watts |
4 Best External Speakers for Smart TV: Detailed Review
All the speakers I have mentioned on my top list are from top brands. All of them are also compatible with your Samsung smart Tv. Besides, they are best in their own categories. So, you won't need to worry about reliability. If you still need clarification, read the detailed review before deciding.
1. Bose TV Speaker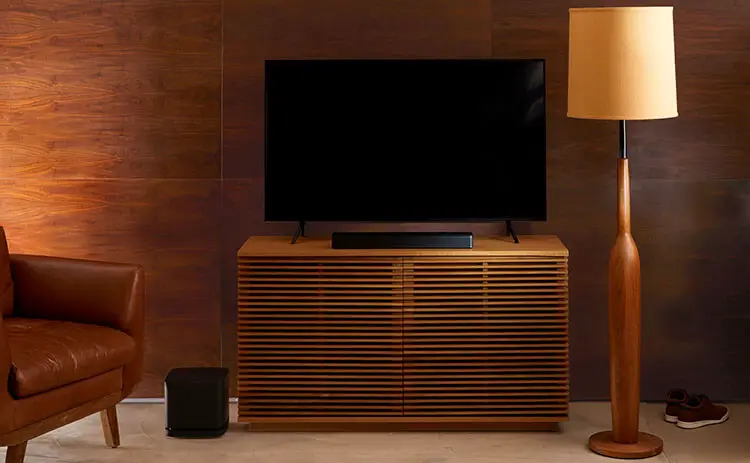 Highlights:
Type: Soundbar
Surround sound speaker
Wireless connectivity
If you search for external TV speakers on the internet, you will mostly find soundbars. That means most people prefer soundbars over other speakers for their smart TVs. As you have a smart Samsung TV, a Bose soundbar will be best. Thus you can enjoy high-definition pictures with the TV and high-quality sound with the speaker.
If you ask about Bose TV Speaker, Its tagline is "Hear your TV better." It thoroughly describes its objective of providing super clear sound. However, this soundbar accomplished its objective very well. It offers realistic surround sound that can fill your room with life. You can understand every word so clearly as if someone were speaking around you. This is unbelievable!
Besides crazy sound quality, Bose TV speakers offer some other exciting features. It has Bluetooth connectivity which provides flexibility in placement. Besides, HDMI helps to receive the digital signal and deliver high-quality sound. This soundbar also has an impressive design and built quality. It's a compact speaker with a minimalist look, a solid build, and an easy setup process.
Lastly, I can talk about control. Bose TV speaker comes with a remote control. It doesn't support Alexa or app control. If you want these, you can consider Soundbar 300 or Soundbar 700. But you have to pay double for it, which is not worth it.
Pros:
Compact design and minimalist look
Super clear sound
Easy to set up
Cons:
2. Klipsch Reference Cinema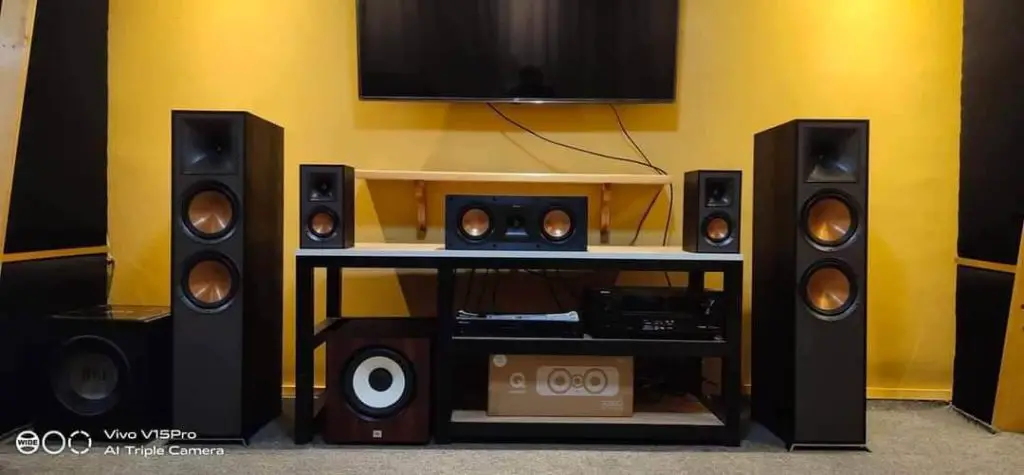 Highlights:
Type: Subwoofer + Satellites
Surround sound speaker
Wired connectivity
Movie freaks always look for the immersive feel of a cinema hall while watching movies. Doesn't matter if the film is playing on a phone or TV. Of course, a phone can't provide this type of experience, but a giant smart TV can. But it is only possible when you have a suitable home theatre system.
If you are a movie freak like this, Klipsch Reference Cinema is best for your Samsung smart TV. This package includes a 10" subwoofer and 5 satellite speakers. The subwoofer adds a powerful punch to the sound and makes your movie experience more intense and thrilling. Besides, it features a built-in amplifier. That's why the subwoofer can work as the main frame of the home theatre.
Though the subwoofer is the center of the home theatre, satellites are the key performers. Each satellite can produce up to 100 watts. But the exciting part is that these satellite speakers come with Dolby Atmos technology. It allows the speaker to produce 360-degree dimensional audio with surround effects. Unlike other satellite speakers, they feature aluminum tweeters with exclusive tractrix 90° X 90° horn technology. It makes the sound more energetic.
Pros:
Dolby atmos technology
High amplification
360-degree surround sound effect
Cons:
No Bluetooth or wifi connectivity 
3. Polk Audio T50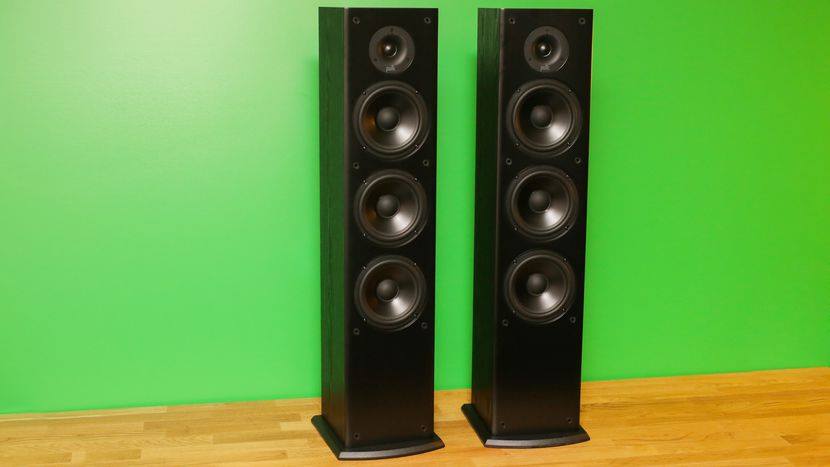 Highlights:
Type: Tower
Surround sound speaker
Wired connectivity
Whenever I make a top list, Polk audio always comes on board. Today also has no exception. Polk audio again bangs on my top list. Yes, I am talking about the T50 tower speaker. This versatile speaker is suitable for music, gaming, and movies. But here, I will only discuss how it works as a TV speaker.
Well, this speaker can provide a balanced sound. The sound is powerful and clean at the same time. T50 has Dolby Atmos technology. It helps to produce surround sound effects. So, you can get a realistic and immersive movie experience. Besides, the sound gets powerful with a 6.5 driver and" two bass radiators. Besides, the 1" tweeter provides extensive power to the sound.
If you ask about connectivity, this speaker connects with any receiver through a coaxial cable. It would be better if it could support HDMI. But it's okay for the price. However, you can pair the speaker with other speakers. So, you can create a complete home theatre system with this speaker.
Pros:
Balanced sound
Dolby atmos effect
Compatible with any AVR
Cons:
4. Edifier R1280T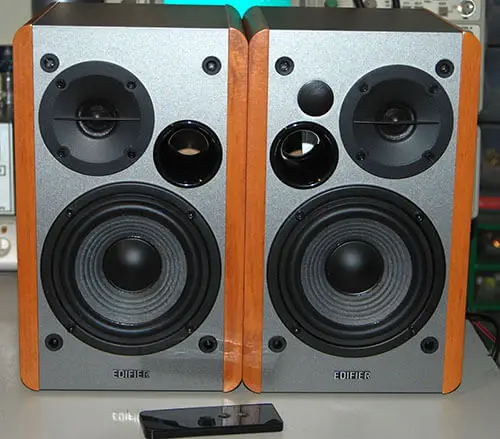 Highlights:
Type: Bookshelf
Stereo speaker
Wired connectivity
Soundbars and surround speakers are most suitable for your Samsung smart TV. But you can consider a 2.0 bookshelf if you are looking for an affordable option. Edifier R1280T is one of the best bookshelf speakers on the market. Also, it's perfect for a Samsung smart TV. Let's talk more about it.
Firstly, it's a budget-friendly speaker. The built quality is decent here. But Edifier R1280T comes with a 2-year warranty. So, little limitations are compensated. However, this speaker has a wooden cabinet. The classic wood finish gives it a retro look.
Now I should talk about the sound quality. Unlike other bookshelf speakers, R1280T can produce a balanced sound. The power rating is 42 watts. It is perfect for a TV speaker. The sound is clean and distortion-free as it features a silk dome tweeter. This speaker also comes in a pair. So, it can produce an excellent stereo effect.
Lastly, I can describe the connectivity and control. As expected, this bookshelf speaker comes with auxiliary connections. Besides you can also connect it through RCA. It's fair in this price range. You can control the volume, bass, and treble from the speaker's rear control panel. A remote control is also available.
Pros:
Studio-like high-quality sound
Classic look
Value of money
2-year warranty
Cons:
What Makes the Best External Speakers for Samsung Smart TV?
Making a buying guide for external Tv speakers is difficult. Because there are tons of factors to consider. Moreover, it varies heavily from user to user. That's why it's better to learn what is best for your Samsung smart TV. It can be a universal solution for all kinds of users. Here you go.
Right type of speaker
First of all, you have to choose one kind of speaker that can fulfill your purpose. I can't say this type of speaker is better or that type is worse. So, you have to consider your need and select one type.
There are many types of speakers in the market. But for Samsung smart tv, soundbars or satellites are more suitable. Besides, you can consider tower speakers or subwoofers as powerful extensions for them.
Anyways, all these speakers serve various purposes. If you are a movie person, satellite speakers with a pair of subwoofers are more suitable. This combo is often called 5.1 or 7.1, depending on the number of satellites. A 5.1 or 7.1 effectively produces surround-sound effects and provides a theatre-like experience while watching movies.
A soundbar is more suitable for average tv users. It can give both stereo effects and surround sound effects. So, you can enjoy a clear, room-filling sound with it. If you want higher bass and extra punch in the sound, you can add a tower speaker with the soundbar.
The correct size of the speaker
After choosing the speaker type, you should define the size or number of speakers. Again this depends on various factors. But, the room size and tv size are the most crucial factors to consider.
Let's talk about subwoofers first. An 8" or 10" subwoofer is perfect for a small or medium size room. For a large room, you should consider 12" or larger subwoofers. You can also get 2 subwoofers for a larger room. If you ask about satellites, 5 satellites are enough for a small or medium size room. For a large room, 7 or more satellites are necessary.
Size doesn't matter for soundbars. Most brands offer standard-sized soundbars that can fill any room with powerful sound. If you still ask, consider your tv size while getting soundbars. For example, if you have a 50" TV, get a 45" soundbar. Similarly, get a 50" soundbar for a 56" TV. The size of the speaker should be near equal to the TV size. Thus, you can bring a minimalist look and ensure room-filling sound.
Proper amplification
After deciding the type and size, ensure the speaker provides enough amplification. It's necessary for producing high-powered sound.
As you have a Samsung smart TV, you must have an AVR. Most AVRs come with built-in amplifiers. That means the AVR is enough to amplify the speaker. So, you can get a passive speaker if you want. But, here best is to get an active speaker. It can double up the amplification and deliver powerful sound. Besides, an active speaker is easier to install than a passive one.
Balanced sound
When you buy speakers for music, you may look for deep bass and crispy treble. But an external TV speaker is different. It demands more of a balanced sound than power or crispiness. Clarity is the primary need here. Besides, intensity and dimension are also necessary.
While getting tv speakers, make sure the total power produced ranges between 300 to 400 watts. It's more than enough for movies. If the power exceeds 500 watts, it will become chaos and cause hearing loss.
Besides optimum power, the speakers should also have clarity in the sound. It depends on the material and structure of the speaker. So, make sure the speaker cabinet is capable of eliminating distortion. However, a wooden cabinet performs better in this case. But the best is a blended construction. It can reduce noise like no other can.
Wireless connectivity
Connectivity is an essential factor to consider when getting speakers. Wireless connectivity is a must when it is an external speaker for your Samsung smart TV.
When building a home theatre system, you have to keep many things on your head; How it will look, how it will be set, and most importantly, how it will work. All these worries vanish when the speakers have wireless connectivity. Wireless speakers can bring a minimalist look. It's easier to install and works better than wired speakers.
However, Bluetooth connectivity is standard for TV speakers. But you can also find the latest technologies like wifi connectivity. It makes the pairing even better and provides uninterrupted streaming services.
Flexibility in placement
While setting up a home theater system, speaker placement is crucial. The correct placement of the speaker is essential to achieve a theatre-like experience while watching films. So, the external speaker for your Samsung smart TV must have flexibility in placement.
However, it depends on factors like connectivity, size, and shape. I talked about connectivity earlier. Wireless connectivity favors flexibility in placement. Besides, size and shape also play a vital role in this case. For example, satellite speakers are compact in size, and their shape allows you to place them anywhere you want.
Special sound effects
Last but not least, external speakers for your Samsung smart TV should have special sound effects. It can add a new dimension to your movie experience.
Stereo and surround are typical sound effects speakers can produce. Stereo allows a single speaker to provide room-filling sound. Surround sounds do the same, but with multiple speakers. Besides, correct speaker placement is also necessary for achieving surround sound effects. Tower speakers can produce stereo effects, and satellite speakers can produce surround sound. But soundbars can produce both.
The surround effect is more suitable for movies. Whereas stereo is more applicable for music or other general use. Besides stereo and surround, you may hear about Dolby atmos. It is almost similar to surround sound. But Dolby atmos has more dimension and layers in the sound. You can compare it with a 7.1 surround system.
Conclusion
Bulky box TV had extinct decades ago. Now we live in the era of smart TV. Thin bezel-less displays are standard in smart televisions. Samsung has no choice over compromising the speakers to keep the display looking large and lifeful. So, you should also accept it.
However, a lifeful movie experience is still possible to have. You will need a perfect home theater setup for that. I have tried my best to help you in this case. I hope you have already chosen the best external speaker for your Samsung smart TV.
Enjoy your day!
Cheers!