Whenever we consider subwoofers, Kickers and Pioneer subs come to our mind. These brands have heavily influenced our music taste with their pronounced bass and sound signature. If you are thinking of buying one and can't decide which one to choose, then you have come to the right place. 
I will guide you on how you can find the best sub for your vehicle by discussing the major differences as well as the subtle nuances. This will serve as an A to Z buying guide for your next subwoofer. 
Which subwoofer do you need?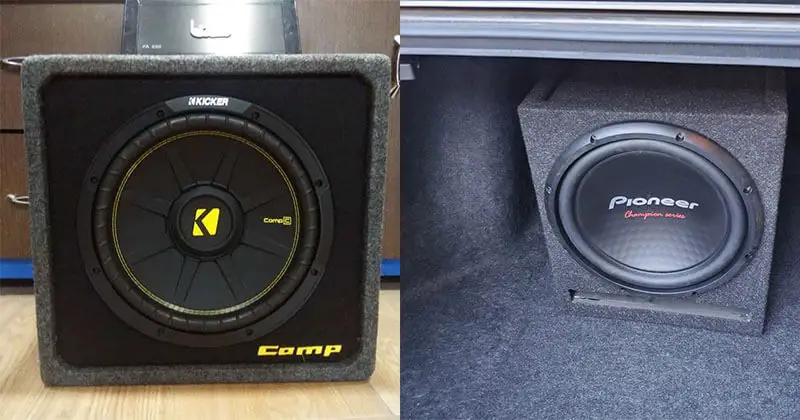 First of all, you must think about your requirements. Both Kicker and Pioneer subs can be considered as budget to mid-tier subs in terms of money. If you have a hefty amount of budget, then Rockford Fosgate or Cerwin Vega makes more sense. However, if you plan to save some bucks and purchase a decent-sounding sub, then both Kicker and Pioneer will serve you well. 
Kicker subwoofers are considered high-quality audio devices. Their journey commenced in the early 70s and is still serving millions of customers worldwide. The brand offers an array of different kinds of subs for your car. For instance, the circular subs incorporate linear cone movement and ensure stability, while the squared ones can deliver a 20% increased surface area than the previously mentioned ones. Hence, you can pick whatever suits your demands and taste in this category. These subs can range from increased power to several wiring functions, with adequate thermal management. If you are looking for high-powered bass, Kicker subs can be an excellent choice.
On the other hand, Pioneer subs have a richer history in the field of subs compared to Kicker. Their inception can be traced back to the late 1930s. Furthermore, Pioneer excels at manufacturing a range of electronic products, while specializing in car subs. Pioneer subs offer exquisite design choices and excellent performance, making sure that you are well prepared before dialing the volume knob to the fullest. Pioneer also produces circular subs as well as squared ones. However, their circular subs are offered in a more diverse collection.
Major Differences & Similarities Between Kicker and Pioneer Subs
You might wonder what are aspects that separate both sub-brands from each other. You should keep in mind that each model of the sub will vary in specifications and baseless comparisons will only make you more confused. In order to easily understand the differences between the brands of subs, you must compare in the same price range. For instance, if your budget is around 300$ for a sub, try to compare subs from Kicker and Pioneer that are priced around that figure. Let's pick some specific models to find out the major differences between Kicker and Pioneer Subs:
| | | |
| --- | --- | --- |
| Category  | Kicker 44DCWC122 | Pioneer TS-A3000LB |
| Size | 12 inches  | 12 inches |
| Units Per Box | 2 | 1 |
| Build Material | Polypropylene  | IMPP |
| Enclosure  | Ported | Sealed  |
| Connection Method | Spring Post | Binding Post |
| Frequency Response  | 25 – 500 Hz | 20 – 1000 Hz |
| Power Range (Wt RMS) | 600 | 400 |
| Maximum Wattage  | 1200 | 1500 |
| Sensitivity in dB | 99.9 | 88 |
| Impedance in Ohm | 2 | 2 |
| Price | $290 | $280 |
These specifications will certainly give you a proper understanding of how the two brands differ from each other, based on the specific model in the discussion. In my opinion, the Kicker vastly outperforms the Pioneer sub. However, it is slightly more expensive, but you will definitely enjoy the sound experience with the kicker sub.
Let's try to dive into a little more depth. We will now take these differentiating factors into account to figure out which subwoofer is really the best and will serve you perfectly. However, you should keep in mind that all models come with different sets of features and specifications. So, I am going to highlight the best of both worlds.
Which Brand Performs the Best in Terms of Features?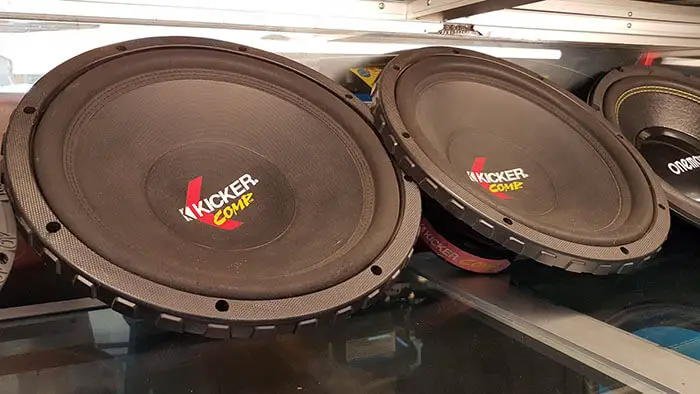 Both Kicker and Pioneer are full of features that a music enthusiast would love to have in their subs. However, there are still some factors that Kicker and Pioneer don't have in common. So, let's try to unveil these features.
Kicker
The Kicker subs usually don't lack any major features. For example, one of the best round-shaped Kicker sub is the Kicker CWQ12, which has a dual-voice-coil, 12-inch system. It is housed around an aluminum alloy basket with a feature-packed system. This sub consists of massive finned vents to ensure adequate airflow for the coil inside of it. Its passive cooling design never lets the system get too hot and provides a balanced sound experience even when used for extended periods. For decoration purposes, the outer layer is also polished which can attract anyone's attention.
The coil inside the sub can linearly move and its oscillation is measured using FEA computer analysis. The placement inside the magnetic gap is meticulously determined for maximum performance. It can enhance the long throw design through its magnetic motor that surrounds low-carbon poles. Moreover, you can easily mount this sub in an enclosure that does not have enough depth, while not losing any performance. The Kicker subs can be an excellent choice for you if you don't have enough space or more appropriately enough depth in the enclosure that you are planning to mount the sub.
On the other hand, the woofer utilizes a 360-degree cone brace. It helps the device to maintain a balanced sound while decreasing any distortion and also ensures rigidity. One of the best features about the Kicker subs in general is that its terminals are intelligently placed on one side of the basket. It will allow you to wire the connections very easily. The spring-loaded terminals can accept eight-gauge cables. 
Pioneer
The TS – Z10LS2 is another comparable model to the previously mentioned Kicker sub. This sub features:
Cellulose fiber dual layer cone
Increased linear movement facilitated by dual spider design 
High excursion
Can be mounted in small enclosures
High design and operational flexibility 
Excellent for Hi-Res Audio

Similar to the Kicker subs, Pioneer also guarantees excellent features that allow you to mount your sub in a smaller compartment while enjoying a plethora of connection modules. So, if you want, even though not recommended, you can mount both subs in a single enclosure! But I have tested that to see which performs better so that you won't have to.
To be honest, there is no single deciding factor or feature that can easily persuade you to choose one over another. When you are comparing products in the same price range, as competitors, both brands have made their subs equivalent in features.
But Most Importantly, Which Will Sound Better?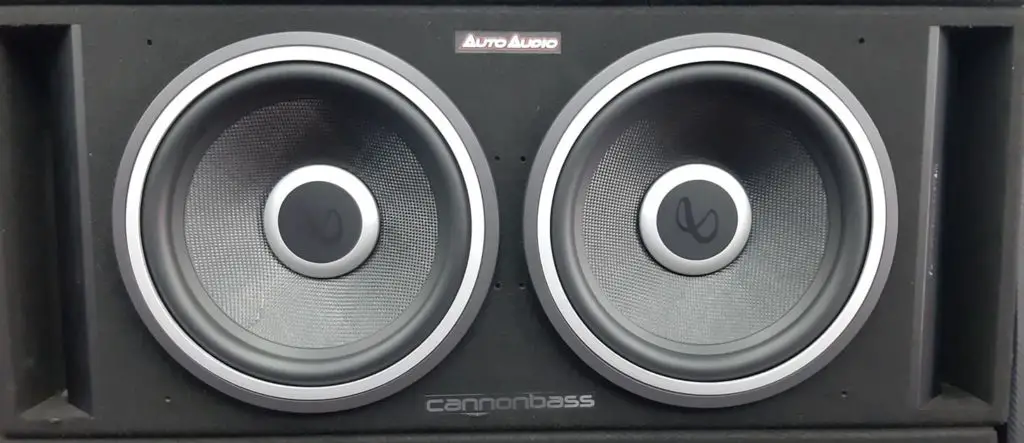 Let's be honest here, you are purchasing a sub not for its features, not for its looks or anything that stands out, you are ONLY purchasing for its SOUND QUALITY. If it doesn't sound good but offers a myriad of connection ports, what good does it serve? So, let's try to decipher which brand sounds better.
Kicker Sound Performance
The Kicker subs excel at producing extremely low-frequency sounds. If you are new in this endeavor, you will be heavily surprised to find out what you were missing these days. Normal subs don't have the physical features to produce some low-frequency sounds, especially in the range of 30Hz-60Hz. Even though they might say they can produce from 20Hz, this seldom is the case. 
The Kicker sub is an amazing choice if you love the low frequencies. It's not the strongest punchy kick that you feel in your heart, it's rather a soothing hum kinda sound that some people really enjoy, I sure do! One of my favorite tracks to experience low-frequency sounds is M.A.A.D City by Kendrick Lamar. The song starts with a very punchy bass in the beginning. Later, the song transitions into this captivating low bass synth type of music that really can blow your mind when you hear it for the first time. Apparently, there are not many speakers or subs that can reproduce this section precisely. The Kicker subs, especially the Q-Class subs nail this section. 
Apart from that, if you also love bass-heavy songs with a strong and tight kick, then these subs are really amazing. You can try to listen to Sail by AWOLNATION or I Can't Stop by Flux Pavillion. These songs comprise tight heavy bass sections. Your Kicker sub will absolutely blow your mind with its performance. However, there are some songs that incorporate very tight bass sections like Fast Lane by Bad Meets Evil. I think the Kicker subs cannot produce the crunchy and compact bass sections as accurately as its competitors. Nevertheless, you will definitely enjoy listening to some of the bass-heavy songs. 
When considered from an expert's point of view, while testing the sub for some definitions in the low-frequency section, it really performed well. For example, I tried playing some Jazz and Classical music with it. Some songs that audiophiles really love to enjoy. Music progression and chord changes were smooth and distinctly audible. The nuances between different low notes were very clear to observe. Recordings from DMP, Telarc, Sheffield Lab, and others were profoundly reproduced by the Kicker sub. To sum up, I was extremely happy with its performance. 
Pioneer Sound Performance
The Pioneer subs will also blow your mind away. When directly compared with the Kicker, I think the Kicker had more details and clarity in its bass, while Pioneer overshadowed its competitor in one sector. 
Similar to Kicker subs, I tried playing the same tracks with this one to ensure a fair judgment. For example, while playing M.A.A.D City by Kendrick Lamar, the lowest frequencies merged with some of its higher counterparts. But I don't think that would anyway ruin your music-listening experience.
On the other hand, while playing a track like Fast Lanes, I think Pioneer showed its true caliber. Its tight and crunchy bass hits you in the right spot each and every time. It never misses an opportunity to blow your mind away. 
Overall, I think both brands performed exquisitely in terms of listening experience. The only difference is Kicker performed above my expectation to produce the lowest frequencies but missed a few notes in the tight bass punches, while Pioneer sometimes failed to produce the lowest frequencies but excelled at punchy bass tracks. 
DVC Options 
A Dual Voice Coil or DVC sub does not guarantee a better sound or power compared to its counterpart a single coil one, however, it can certainly give you more flexibility. DVC subs can provide you with a wide range of wiring choices. Especially, when you are seeking a custom car audio setup, DVC subs will save you a lot of unnecessary headaches. Various loads can also be used as inputs for optimum power output while enabling easy amp configurations. 
You can take Kicker CVR and the Pioneer Champion subs in comparison here. Both brands offer 10 and 12-inch versions of these subs. In this case, the Pioneer sub majorly overshadows the Kicker sub. The Pioneer sub costs only $83 and the Kicker costs around $127. The Pioneer sub provides a real bang for the buck. It doesn't break the bank but still, you can enjoy a very decent sound experience with it. However, the Kicker CVR has a better surround quality than the previous one. 
Frequently Asked Questions
Is Kicker a good subwoofer brand?
The kicker is a very popular subwoofer brand for cars. These subs are usually priced reasonably and offer high-quality performance. 
Is Pioneer a good subwoofer brand?
Pioneer is one of the best car subwoofer brands out there. Apart from excellent subs, they also produce great head units. 
What is the difference between a 10-inch and a 12-inch sub?
With a 12-inch sub, you get more responses and louder sounds compared to the previous one. 
Conclusion
It is very hard to incorporate every single model and compare their benefits with each other. With such a wide range of product line up from both brands, it will take forever. But I do believe I have provided you with an easy guide to understanding the basic difference between the two brands, and what to consider before making a final purchasing decision. 
I also believe that you won't go wrong with either of the brand's subs. They both have a good reputation in the subwoofer market and user reviews are also satisfying. It comes down to personal preference. I really hope that you can make the best decision. Good Luck!