Looking to buy sturdy wood for your speaker box? Investing in the best-quality wood for your speakers will guarantee excellent audio quality with zero to  minimal sound distortion. Likewise, going for cheap substandard wood may ruin movie night because of distorted sound quality.
Now, here's the catch – finding the best wood for building a speaker box isn't that easy due to the variety of options available in the market. Well, good news for you – our team experts have experimented and tested with different wood types to decide which one's the best wood for a speaker box.
Without further ado, let's begin.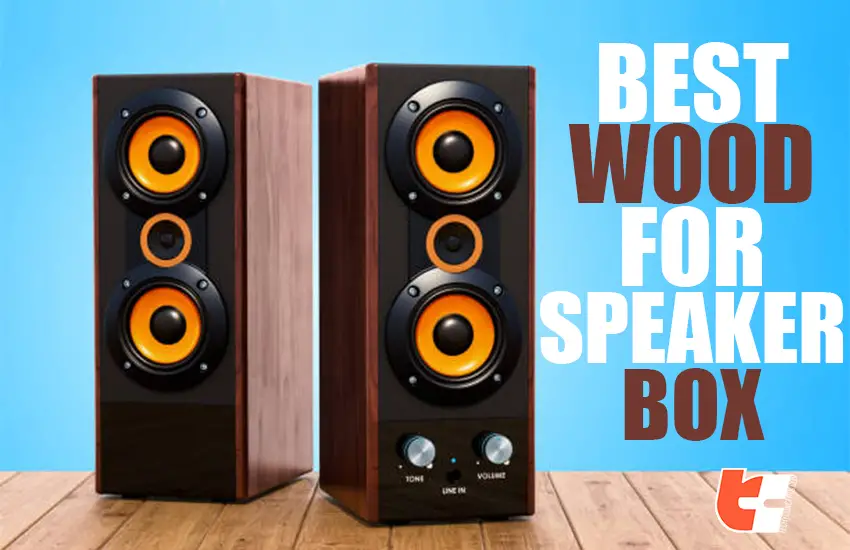 Top 5 Best Wood For Speaker Box
In a nutshell, these five wood types have topped our recommendation list due to their density, rigidity and acoustic performance. We have also highlighted some of their best features and some of their limitations to help you make the right choice tailored to your needs. You can buy any of these woods from your nearest woodcraft or timber shops and also get them online.
1. Baltic Birch Plywood
Our experts believe Baltic Birch Plywood is one of the best woods out there for the enclosures of your speaker due to its thickness.
Baltic Birch is a great choice considering how dense and strong the material is! If you don't want to compromise on the sound quality, investing in this wood will be worthwhile even though it's a little expensive.
We really loved how the material is tough as nails and long-lasting and reliable. Therefore, if you have to travel frequently, know that baltic birch plywood has got your back and will keep your audio setup safe and sound on bumpy uneven roads.
Let's talk about its nice and thick sheets that are all nice and even. Birch Plywood is less likely to bend out of shape and can withstand harsh weather conditions.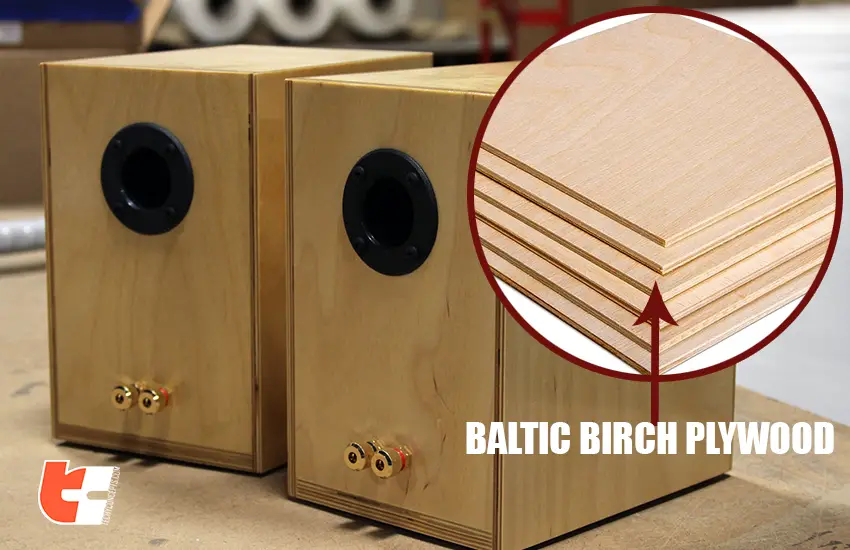 What You Will Like
What You May Not Like
Apart from being quite expensive, the material is very heavy and dense. Thus, don't expect easy portability.
2. Medium-Density Fiberboard (MDF)
MDF is another amazing choice for speaker boxes. An MDF panel is like a bunch of wood shavings all pressed together. If you're into speakers made with these medium density sheets, or if you're using medium density fiberboard to make your own speaker box, you're in for some legit awesome sound features.
MDF is pretty tough and dense, way sturdier than most of the wood materials out there. Therefore, you're less likely to witness sound distortions in your favorite music.
Fond of traveling? Guess what? MDF is on the chunkier side, which means your speakers are in good hands for ultimate protection, especially when the roads are crazy bumpy. So go ahead, breathe a sigh of relief – MDF makes a killer subwoofer enclosure that's got your back.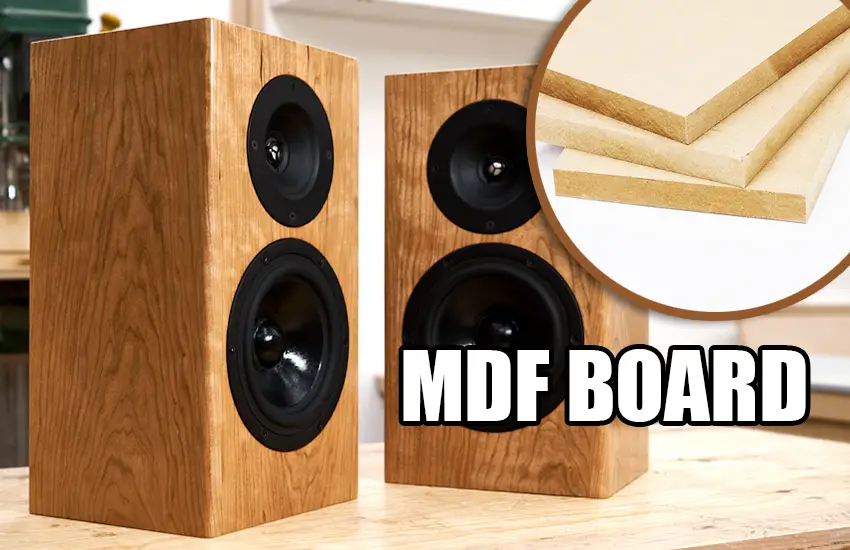 What You Will Like
Hassle-free cutting and trimming
Produces high-quality sounds
Offers optimal protection
Keeps vibrations at bay
Durable and rigid material
What You May Not Like
If you're on a limited budget, know that MDF can be slightly expensive. To save a few bucks you may buy directly from wood factories or retailers.
3. Marine-Grade Plywood
The third wood choice in our list is marine-grade plywood which is affordable and really versatile – can be used for subwoofer boxes too. Judging from the name, we believe you can already guess this plywood is generally used in constructing boats, hence the name marine.
However, many people use this wood to build outdoor furniture, docks, subwoofer boxes and speaker boxes.
If your speakers have frequent exposure to water, moisture, or humid conditions, we absolutely recommend this wood type because of its higher density and ability to withstand all weather conditions.
Marine wood also prevents resonance issues and sound distortions – enabling you to enjoy best sound quality.
Furthermore, if you're looking for a lightweight wood material, this definitely should work out for you. With the correct number of plywood sheets, you'll get a stable tone and great bass notes.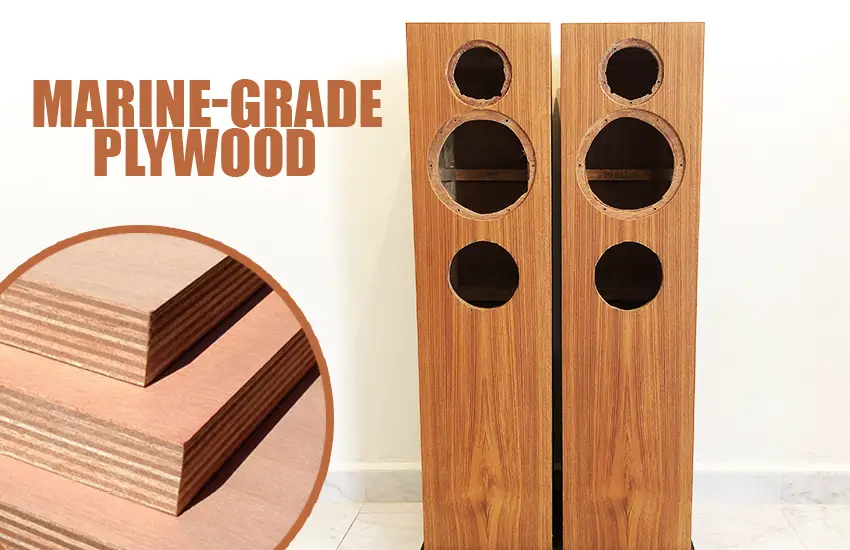 What You Will Like
Enhanced Stability and Durability
Resistant to Water and Moisture
Lightweight and Portable
Delivers awesome sound quality
Prevents resonance issues and sound distortions
What You May Not Like
The only downside is that it may not be as solid and durable as MDF or other plywoods since the glue used in joining these wooden sheets together absorbs water.
4. Pine
Yes, although pine is not the excellent wood choice for improving resonance and bass tones to a great extent, pine is thick and sturdy which makes it worth investing in.
When multiple pine sheets are piled up, the rest is an extremely durable and sturdy material. Keep in mind, there are over 100 different species of pine, but not all are suitable for building a speaker box. We would recommend Eastern White Pine or Southern Yellow Pine because they are dense and have good damping properties.
Moreover, you can also paint the wood sheets to enhance their resistance to decaying and rotting away. Lastly, pine is more sound-absorbent than some other plywoods, which makes it one of the best ideal choices for a speaker box.
What You Will Like
Absorbs Sound Really Well
High Resistance
Cost-effective and Environment-friendly
Durable and long-lasting
Gives an immersive sound experience
What You May Not Like
To be dead honest, using a pine speaker box may result in less bass performance by your speaker and may also cause slight knots and distortions which will be evident only when the volume is at its peak.
5. Oak
One thing we really love about oak wood is the appealing designs it comes in. Aesthetic lovers who put great emphasis on style and classy vibes should consider getting oak speaker boxes.
Oakwood is a rich brown wood and its sheets come in varying thicknesses. Not only speaker boxes, various furniture are constructed from oak wood due to its strength and uniformity.
Oak plywood is soft, long-lasting, and has greater resistance to environmental factors. Due to its uniformity, you will experience less warping in the box of the speaker.
Another great feature is that oak wood is treatable. Therefore you can choose to customize it according to your desire and paint however you want.
What You Will Like
Reliable and Sustainable Material
Offers Great Resistance to Sunlight and Water
Customizable and Treatable
Stylish Aesthetics
What You May Not Like
Oak wood can be quite heavy although the material may feel soft upon finger touch and not that hard and rigid compared to plywoods.
How Thick Should Wood Be For a Speaker Box?
Well, we don't have any one-size-fits-all answer for this question. It really depends on the type and density of wood and also what size dimensions are you going for with your DIY speaker box.
If you're going for MDF wood with decent density, it should be at least ¾ inches thick. Plywoods on the other hand should be  even thicker than that as they aren't as dense as MDF wood.
What To Consider Before Choosing The Wood For Your DIY Speaker Box?
Before you decide on the right wood choice to make your own speaker box you must keep a number of factors in mind so that your money doesn't go to waste. Since a speaker box impacts the quality of tones and their durability, you should go for a wood that can offer:
1. Tone And Resonance
Most consumers want their speakers to create high-quality, clear music with no vibrations or distortions.
It's an important consideration when looking at speaker boxes, especially if you've spent around $10,000 on a pair of floorstanding speakers. You don't want to muck up the clarity and tone of high-end audio equipment like that.
In such a case, choose denser timbers such as Medium Density and Baltic Birch plywood. They improve and refine the speaker tone more than other models.
2. Warping
Warping is a distortion in wood caused by moisture and temperature that changes the shape of the wood. As a result, when building a speaker box, use a wood that is less likely to warp.
3. Thickness and Acoustics
The thickness of the wood influences the structural integrity and acoustic qualities of the speaker box. Thicker wood can greatly reduce vibrations and lead towards better sound quality.
The density, rigidity, and internal damping qualities of the wood can all have an effect on the sound quality of the speaker. To attain the desired acoustic performance, experiment with different materials and thicknesses.
4. Environmental Considerations
If you want to prioritize sustainability, consider going for wood that is certified by environmental organizations such as the Forest Stewardship Council (FSC) to ensure ethical sourcing.
Our Final Verdict
It's hard to choose one final winner from our list and crown it the "Best Wood For Speaker Box" title. At the end of the day, it will vary from person to person based on their respective requirements.
If it rains a lot in your area and you like to party outdoors, go for marine wood. If you're looking for absolutely tough, hard and rigid wood then Baltic plywood is what you need. If you want to prioritize designs and aesthetics, no other wood will be better for you than oak.
No matter whichever wood you go for, just get the thickness right and make sure it's dense enough to prevent resonance and sound distortions.
Frequently Asked Questions:
1. Which wood is best for a speaker box?
Answer: You should buy wood that ticks the boxes for factors like density, resonance, and durability. Plywood and MDF are commonly used due to their consistent density and acoustic properties. Plywood tends to be sturdier, while MDF is more affordable. Hardwoods like oak or maple are also great options for aesthetics, but they may need more careful construction to deal with resonance. Ultimately, it all depends on your specific design goals, your priorities, budget and requirements.
2. Which wood is best for a subwoofer box?
Answer: For a subwoofer box, MDF is generally the most common and preferred choice. MDF is dense, affordable and also offers decent acoustic properties for low-frequency sound reproduction, which is significant for subwoofers.
3. Is MDF or plywood better for speakers?
Answer: MDF (medium-density fiberboard) is a more common choice and considered better for speakers due to its consistent density and ability to minimize vibrations that could affect sound quality.
4. Is MDF better than wood?
Answer: MDF tends to be heavier and can't support too much weight compared to solid wood. However, MDF also happens to have a higher resistance to moisture, tears and cracks making it more durable and long-lasting.