Being a DJ is no cup of tea – you're expected to do the arduous job of keeping people glued and hooked up to the party. However, owning the best-quality speakers can make your job so much easier. On the other hand, using poor-quality substandard speakers may end up ruining the spirit of the party for everyone.
Therefore, we have come up with this list of some of the Best Portable Speakers For DJing in 2023 to get your audience grooving on the dance floor. Let's begin, shall we?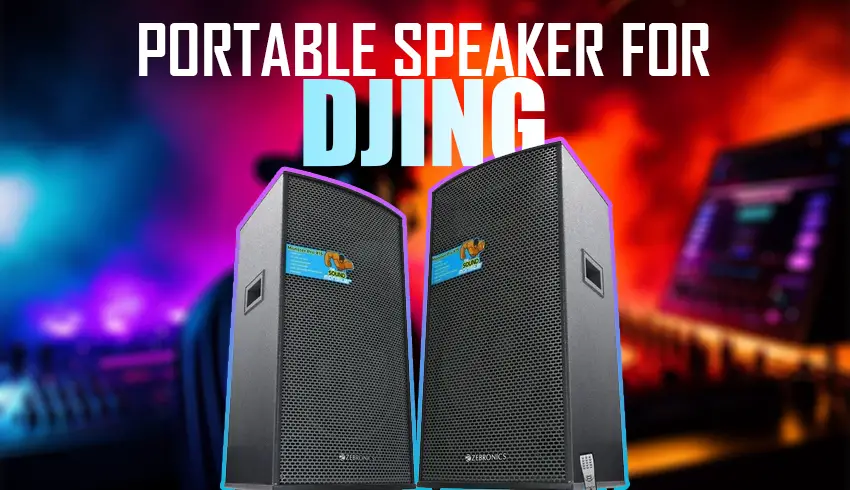 The Top 7 Best Portable Speakers For DJs in 2023:
We've chosen these portable speakers after careful observation of their exclusive features, specifications and consumer ratings and reviews. We've outlined our thoughts and impressions on each of these speakers in detail to make it easier for you to choose which one you'd like to buy for you or gift your DJ friend on his birthday.
1. Best Value For Money: Rockville RPG10BT Speaker
Rockville speakers in general offer tremendous high sound quality and multiple volume ranges for the price you pay, making them worth the investment. You can also use this speaker for the purpose of putting mid-bass punch to any home stereo or PA system.
This Rockville speaker also offers bluetooth integration making it easier to connect other devices to the speakers. We also appreciate the wheels that come with it – allowing us to easily move it around and carry it with us to different house parties.
PROS:
Convenient control of volume and EQ parameters
Sturdy handles and durable wheels for easy portability
Compatible With Bluetooth
Easy bass, treble, and mic level adjustments.
Built-in equalizer for easy control of sound frequencies.
CONS:
Outer plasticmaterial may start to wear out after heavy continuous use for years.
2. Best Overall: JBL PartyBox 300 Speaker
Looking for the perfect loud speakers for a late night karaoke party with your friends? This JBL speaker is exactly what you need. From its high volume sound quality to its study construction design – everything's praiseworthy.
It includes two 1/4″ phone jacks for your microphone and guitar ports and also includes separate ports for AC and DC power. Another plus point is that you can use the speakers for as long as 18 hours straight on a single charge. Overall, the JBL PartyBox 300 is worth every penny of your investment.
PROS:
Compatible withwireless Bluetooth technology
Gets very loud and deep bass
Eye-popping RGB lights set up the mood.
Guitar ports will come in handy for musicians
Good-quality microphone
Long 18.3-hour battery life eases daily use.
CONS:
Not compatible with Wi-Fi.
3. Best Premium Choice: Mackie Thump K10.2 Speaker
Why are music enthusiasts falling head over heels for the K10.2 Mackie speaker? Because of its three specialities – long-term durability, easy portability and clean sound quality.
All thanks to its 1.75″ high-frequency driver which is made up of robust titanium that makes the product impressive overall. We're in love with its stylish and lightweight design, Bluetooth compatibility and built-in subwoofer that produces loud and clear mid-high frequencies.
Because of the affordability of this speaker and its high-end features, buying this will be a win-win situation for anyone.
PROS:
Offers wide dynamic sonic range.
Lightweight and can be easily carried around.
Compatible with Bluetooth connection.
Built-in DSP circuitry for better sound reproduction.
Features a built-in 12″ subwoofer along with a 1.4-inch tweeter.
CONS:
It takes a while to recharge
4. Best Budget-friendly Speaker: Turbosound iQ10
The Turbosound iQ10 speaker is well-known for its versatility to produce loud volume sounds while delivering balanced bass sound. This speaker includes multiple ports and headphone jacks for connecting other devices and musical instruments such as a guitar.
Furthermore, this speaker covers a frequency range of 55 Hz – 20 kHz and a maximum of 129 dB sound pressure level – perfect for house DJ parties. Lastly, you can also connect your Android, iPhone or similar electronic devices via wireless Bluetooth connection to this speaker.
PROS:
Crystal clear sound frequencies and notes
Can be easily moved around
Wide range of EQ settings availability
Features a 10″ low-frequency driver and a high-quality compression driver
Clear LCD display
Compatible with Bluetooth and PC remote control software
CONS:
No proprietary covers available
5. Best PA Loudspeaker: Yamaha DXR15 MKLL
With this Yamaha speaker, you won't need to install additional amplifiers and subwoofers because it already features a good-quality Class D amplifier and three-channel mixer to ensure you and your audience enjoy stellar loud quality music.
These speakers also include a 100-watt high-frequency driver and a 600-watt low-frequency driver, not to mention its ABS enclosure which helps to reduce vibrations and surrounding noise for louder and clearer audio quality.
PROS:
Maximum Sound Quality with high volume and deep bass
Features a DXS subwoofer and mixer with 3 channels.
Convenient transportation with handles and wheels
Bluetooth-friendly
Durable ABS cabinets
CONS:
6. Best 15-inch Passive Speaker: Rockville Dual 15″ SPGN258
If you're looking for massive loudspeakers not for small cozy house parties but for entertaining large crowds, there's no better alternative to the Rockville 15″ dual speakers.
They feature a 1.75" compression frequency-driver for high volumes. The enclosures are constructed with durable, high-quality ABS. Overall, the built-in subwoofer with topnotch crossover settings deliver crisp and clear sound quality with deep bass.
PROS:
Durable handles and trolly wheels for easy transportation
Peak power of 3000 watts
4.0 v Bluetooth control
2-inch KSV voice coils
Wide range of frequency response up to 20 kHz.
CONS:
Weighs 57 pounds which is quite heavy.
7. Best 2-way Multi-purpose Speaker: JBL EON612
Do we really need to review any JBL products? JBL has been ruling over the tech market for over 70 years now – their customers at this point blindly trust them with their stunning speakers of durable material and premium build and design.
The JBL EON612 15-inch speaker is no exception. You can wirelessly connect your Android smartphone, computer or iPhone to the speakers via Bluetooth.
Overall, this self-powered PA speaker is well-constructed and features advanced waveguide technology that allows it to deliver clean, studio monitor-quality acoustics.
PROS:
It can produce great bass notes.
Includes a sturdy microphone
Very lightweight, making it easily portable.
Handles for easy pick up and relocating.
Transducer design and well-constructed with robust material.
CONS:
Too many customizable volume setting options which may be confusing for a beginner.
Wrapping Up
It's important to understand that the best portable speaker for DJing varies from person to person based on their separate needs and unique tastes. All popular speaker brands today claim that their product is the best whatsoever. However, whichever speaker you buy at the end of the day, make sure it has a built in subwoofer/tweeter or amplifier and good-quality frequency drivers with durable ABS enclosures. All the best for your next DJ party!
Frequently Asked Questions:
1. Which speaker is best for DJ?
Answer: It's very difficult to label any one single speaker as the best for DJing. We believe all of the speakers we have discussed and reviewed in this article from JBL, Mackie, Yamaha to Rockville and Turbosound – all are deserving of the 'best' title. Now it's up to you to make the final decision.
2. What size speakers do I need to DJ?
Answer: Out of the three most popular speaker sizes – 10″, 12″, 15″ and 18″, most gigging DJs prefer to use 15″ speakers or 18″ ones for best deep bass production.
3. How many watts is a good DJ speaker?
Answer: Should be anywhere between 300–600 watts RMS of continuous power. If you're hosting your DJ party indoors, you should dedicate at least 5 watts per person. And for outdoor DJing, you should double it to 10 watts per person.
4. What type of speakers do DJs use?
Answer: The common scenarios suggest that most professional DJs prefer active and powered speakers with a rack of amplifiers in them over passive speakers because buying the rest of the DJ gears separately is a real hassle.
5. Do DJs need a subwoofer?
Answer: Depends on the type and model of your speaker. The main job of a subwoofer is to bring out the deep loud bass sound that normal conventional speakers generally struggle to produce. For small indoor house parties, the in-built subwoofer of your speakers should suffice. However, for DJing at big nightclubs or wedding receptions, it's advisable to use additional subwoofers for hard-hitting bass sounds.
6. Does a DJ need an amplifier?
Answer: If you already have active monitors in your DJ mixer, you absolutely don't need an amplifier. Moreover, if you own a high-end speaker that already has a built-in amplifier such as the Yamaha DXR15 MKLL, you won't require an extra one. Some passive speakers may require additional amplifiers if you want to entertain very large crowds in an open field.
7. What is DJ sound frequency?
Answer: Ideal DJ sound frequency: 50 – 20,000 Hz