In the world of modern-day speakers, the two biggest trendsetters are undoubtedly Bose and Sony! Because of both the company's unwavering dedication towards manufacturing the best-quality speakers with high durability and advanced-tech features, the numbers of their loyal customers keep increasing day by day.
If you're here on the internet searching for the best Bluetooth speaker, your phone screen must be smothered with reviews of the latest Bose SoundLink Revolve Speaker and the Sony SRS-XB23 – two of the most hyped speakers of 2023.
In this article, we are going to do a side-by-side comparison of these two speaker models after we had our team experts test them and also pinpoint their respective features, advantages, specifications and drawbacks with you guys.
Excited? So are we! Let's begin!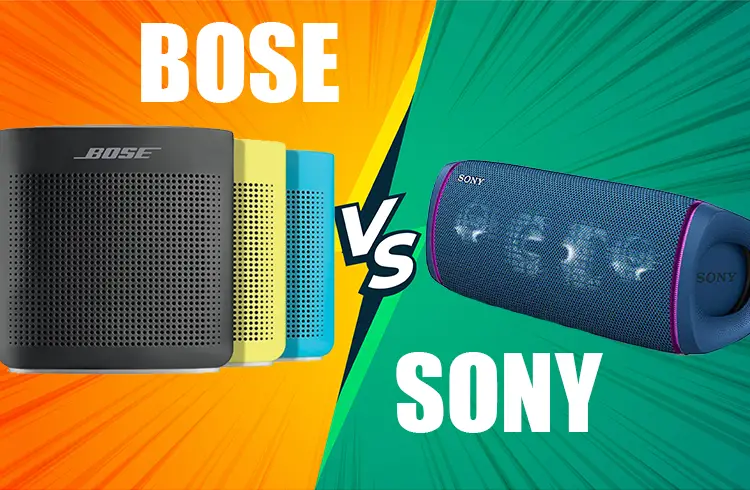 Bose Vs Sony Speakers – Features Comparison
In this subsection of our review, we're going to compare both the Bluetooth speakers on the grounds of – design and build, sound quality, performance, durability, portability, sizes, available colors and so much more. So, keep reading.
Design and Material
Most portable Bluetooth speakers opt for a common outlook – a typical oblong, flat shape, which is plain and boring. Fortunately, neither the Bose SoundLink nor the Sony speaker fall into this category. Both the models are upright-standing, and a little curved on the bottom – meaning, they can't be positioned in a sturdy, stable manner on an uneven surface.
Bose SoundLink Revolve: Has a sleek design. Threaded tripod mount at the bottom of the speaker with a seamless aluminum enclosure all over, making the overall product durable and strong.
Sony SRS-XB23: Similar to the Bose model, this Sony speaker also has a sleek, cylindrical design. Unlike Bose, it looks more utilitarian with a perforated plastic body. Nevertheless, the outer material does feel less robust than the Bose one which felt more sturdy on finger touch.
Outdoor Compatibility
This is a very important factor to consider if you're fond of traveling and like to host outdoor parties.
Sony SRS-XB23: It has an IP67 rating for dust and water resistance. Therefore, it is guaranteed to be fully dust-tight and immersible in up to a meter of water for 30 minutes. The material is also durable enough to withstand all kinds of weather conditions.
Bose SoundLink Revolve: The outer material of this SoundLink Revolve speaker is IPX4 rated (which is lower than Sony's rating). Although it's heat-proof and resistant to splashes of water, it may get damaged when exposed to heavy jets of water. However, nothing to stress about if your speaker gets wet in the rain – that's fine.
Audio Performance
Thanks to some unique outstanding hardware, both of these speakers offer better-than-average audio quality for portable speakers.
Sony SRS-XB23: The Sony can play stereo content without downmixing it to mono, which is more immersive. Also, the 360° speaker design just makes the sound reach as wide and spacious as possible. It also has a Graphic EQ which allows you to adjust the audio settings to your liking.
Bose SoundLink Revolve: The most amazing feature of this speaker is the 360° sound performance, engineered to deliver deep, loud and immersive sound in every direction and at all angles no matter where you place the speakers. Furthermore, with the built-in mic for speakerphone, you can take clear conference or personal calls out loud wirelessly within a range of up to 30 feet and also access your phone's virtual assistants such as Siri or Alexa.
Connectivity & Voice Navigation
Both of these Bluetooth speakers support not only Wireless connections but offer many more exclusive connectivity options as well.
Bose SoundLink Revolve: So that you're able to easily pair your speakers with other external devices such as a PC or subwoofer, the manufacturers have included Micro B USB port, an auxiliary input and 3.5mm headphone jack. Not to mention, you can also pair two different SoundLink speakers together for party mode or stereo mode using its exclusive Bose 'SimpleSync' technology
Sony SRS-XB23: When it comes to Bluetooth connectivity, we are leaning a bit more towards the Sony speaker because it's running the latest Bluetooth 5.0 technology whereas Bose Revolve is still stuck up with the old 4.2 Bluetooth version. Apart from Bluetooth, it also offers separate USB ports and optical input ports for more exclusive connectivity. Lastly, similar to Bose, this speaker is also compatible with voice commands.
Portability
Are both the speakers lightweight and portable? Let's find out!
Bose SoundLink Revolve: If your speakers are as heavy as heck, it's not convenient to travel with them and carry them around to different places. Luckily, the Bose speaker only weighs around 1.5 lbs, is 6 inches high with a depth of 3.25. Therefore, you can rest assured about its portability.
Sony SRS-XB23: Although both the speakers are compact and weigh roughly the same, the Sony speaker weighs slightly lesser than Bose (only 580 grams), therefore it's more portable and more lightweight. Not only that, it features a handy strap for connecting to your luggage or backpack when traveling – ain't that so thoughtful?
Available Colors & Prices
Bose SoundLink Revolve: This stylish looking speaker is available in the market in only two different colors – triple black and gray lux. Thus, leaving you with very less options to choose from unlike the Sony speaker which is available in pretty and subdued colors.
As for its pricing, it's very reasonably priced compared to the Sony speaker. The retail prices vary from $150-$199 in the U.S and cost around £199.95 / AU $299 in other parts of the world.
Sony SRS-XB23: The Sony speaker comes in multiple different color variants including: 'Black' (which is the most popular and also the one we bought and tested), 'Olive Green', 'Orange', 'Coral Red', 'Sky Blue', and 'Taupe'. All of these colors are eye-catching and pleasant to look at.
Battery Life
If you have to frequently charge your speakers, it may feel annoying and inconvenient at times. So, how long does the battery last on both?
Bose SoundLink Revolve: Once charged, the lithium-ion battery life lasts up to 12 hours max, making outdoor use more convenient.
Sony SRS-XB23: On the other hand, the Sony speaker will only last for about 9 hours max with every charging. But, based on several customer feedbacks, we've found that the Sony speaker takes a relatively lower amount of time to charge (less than 3 hours).
Now, let's look at the prices. Across the US, this speaker is being retailed for $94.99 to $105 – which is way more affordable than the Bose speaker.
Disadvantages Of Both The Speakers
We tested the audio quality of both the speakers by playing music and tones of different low-bass, midrange and high level frequencies. The results are very fascinating. Even though we were overall content with the audio performance, we still wished if some aspects of the speakers could be improved by the manufacturers. Let's discuss them.
Limitations of Sony SRS-XB23 Speakers:
The first problem we faced with this speaker is that it doesn't support WiFi connections. If it would, establishing connections between the speakers and other devices would become much easier.
Secondly, the speaker doesn't come with customizable RGB lighting. We're sure all their customers would be happy if this feature is included.
Moreover, even though you can tweak the sound profile however you like, unfortunately, the volume doesn't get very loud as per our expectations. The volume range is pretty average to most other similar-priced speakers. Also, just a heads up, you may face compression artifacts at max volume.
Limitations of Bose SoundLink Revolve Speakers:
One issue we discovered with this speaker is that there is not a single way to adjust the base and treble sounds…and the base can be a little too deep for your liking and not being able to adjust it may feel like a disadvantage.
Secondly, similar to the Sony SRS-XB23 model, this speaker also doesn't support WiFi integration which is another sad disadvantage.
Moving on, if you enjoy listening to music of bass-heavy genres, you may be a bit disappointed since we didn't find its low-bass ranges very flattering. Also, considering the high price it's set at, the maximum volume range may also disappoint you.
Furthermore, if you've connected your TV with the speakers and are planning to watch an action movie, know that you may not feel the deep thump in action-packed scenes because of the speakers' lacking low bass.
Our Final Verdict
Hmm…okay so who's the winner of this contest for the best Bluetooth speaker? It's hard to pick one honestly since both deliver exceptional performance and have their own uniqueness and flaws.
Considering how Sony SRS-XB23 speakers supports the latest Bluetooth version, has a higher IP rating, is more resistant to water and shock-proof, and also very reasonably-priced – we believe Sony deserves to be the winner of this battle.
If you have a tight budget and if you're looking for premium-quality speakers with decent sound quality at a very affordable rate, you should definitely go for the Sony SRS-XB23 speaker model – it's cheap, sleek and worth every penny of the investment.
On the other hand, if you love listening to podcasts and would like to prioritize a speaker that can deliver balanced mid-range sound quality and reproduce voices clearly and accurately, you should absolutely invest in the Bose SoundLink Revolve Speakers.
The Bose is capable of reproducing more low-bass and has a more even treble range. Because of its brilliant far-field performance, you won't be disappointed upon purchasing. Not to mention – its battery lasts longer than Sony's does.
Basically, at the end of the day, it's up to you to decide which one's the best and more suitable for you.
Wrapping Up
We hope by the end of this article you will be able to decide which one would be the best Bluetooth speaker that suits your needs and fulfills all your requirements. Both Bose and Sony design commendable quality speakers, so no matter which speakers you decide to invest your hard-earned money in, it won't go in vain and you'll enjoy a pleasant experience overall.
Frequently Asked Questions:
Q.1: Which is better, Sony or Bose speakers?
Answer: It will vary from person to person as not all people have similar priorities. If you prefer a robust speaker with low bass and balanced treble range and also a longer battery lifespan, then go for Bose. If you're trying to save money and are okay with moderate bass, go for Sony.
Q.2: What is the highest audio quality for Bluetooth?
Answer: Most good-quality Bluetooth speakers have only AAC and SBC as max quality codecs. But it's true that Sony's LDAC offers the best possible audio quality as it can run at 330, 660, or 990 kbps.
Q.3: Is Bose the best sound quality?
Answer: Can be said so. Bose speakers have a long reputation for delivering incredible sound quality with good bass and treble. However, the audio quality performance may vary for different people.
Q.4: Does Sony own Bose?
Answer: No, both are two different companies. Currently, the Massachusetts Institute of Technology (MIT) is the owner of Bose.