There are not many alternatives to Bose speakers available in the market. JBL and Sonos are renowned brands that provide more or less compatible features. Sleek and excellent sound quality are vital when buying a speaker.
Bose speakers provide some user-friendly features that are difficult to find in other speakers. They are very much known for their excellent sound quality. Bose also offers an extensive amount of products specially designed for different types of customers. First, the necessary specifications are needed to be learned. 
Key Features Required For Becoming An Alternative of Bose Speakers
Bose provides some specific features for customer satisfaction. If you are a fan of speakers that provide excellent sound quality then Bose speakers are the best for you. Let me inform you of some of the best features of Bose speakers that must have to be available in the alternatives.
Tremendous design quality:
Bose speakers are creative while designing products for their customers. Whenever you are looking for an alternative to Bose speakers then you have to observe the design of that specific speaker. Bose speakers have a section of customers who are concerned about aesthetic design. So, you must give designing priority whenever you are looking for a Bose speaker alternative.
An extensive amount of research in sound quality:
You have already understood the caption name. Bose gives maximum priority in this section. They are very much aware of their sound quality. They change the demand and specifications each year.
They conducted research each year about their failings and other kinds of stuff. So, as a competitor, other brands must put their maximum effort into making their sound quality good. So, you must look at the sound quality when you are searching for an alternative to Bose speakers.
Product longevity and durability:
Money value is another important thing from the perspective of customers. Products must last for a longer period of time. The Authority of Bose speakers is also aware of this feature also.
The alternatives of Bose speakers must focus on the longevity of their products along with durability. Durability refers to the pressure-handling capability of a product. Alternatives of Bose speakers must be durable enough to hold noisy audio signals. Refining these signals is also another major work. Apart from that, the warranty must be provided during the buying time. These things should be checked properly.
Inventing Newer Technologies:
Bose focuses on integrating newer technologies for customer satisfaction. During this decade, technologies are invented in order to enhance the listening experience of customers.
Noise cancellation features are the newest technology integrated by the Bose speaker engineers. Alternate companies must provide features like these whenever they are competing with the Bose speaker. 
Newer technologies must be researched and invented for customer satisfaction. Listening experience must have to be improved in sequential order. Denoising technologies must have to be properly integrated here also. With proper usage, these features will lead to the proper satisfaction of users.
Bose speaker alternatives must have these specifications in order to compete with the Bose speaker. Now, from my experience, I will recommend some of the best speakers that can provide an alternative to Bose speakers. I have narrowed down the search space to five items. Let's learn one by one about them and observe which one is suitable for you.
A Quick Comparison of 5 Bose Alternatives of Bose Speakers
For saving time, I have compared the necessary features of the speakers. You can have a glimpse of ideas after going through them. 
| | | | | | |
| --- | --- | --- | --- | --- | --- |
| Name of the Attributes | Sonos Beam 2 | JBL Boombox3 | Apple Homopad Mini | Echo Wireless | Sony SRS-XB 21 |
| Sound quality | Excellent | Best among them | Good | Good | Good |
| Inference rate | Low | Low | Low | High | Low |
| Denoising | Yes | Yes | Yes | Yes | Yes |
| Rock or classical music | Both | Mainly Rock | Both | Both | Both |
| Frequency response | Great | Great | Excellent | Good | Excellent |
| Impedance | Low | Low | Medium | Low | Low |
| Portability | Lightweight | Medium weight | Lightweight | Lightweight | Lightweight |
| Cooling System | Automatic | Automatic | Automatic | Automatic | Automatic |
5 Best Alternate of Bose Speakers
I will suggest the best speakers that can replace Bose in the case of sound quality and other specifications. Details will be discussed along with their good sides and bad sides.
1. SONOS BEAM GEN 2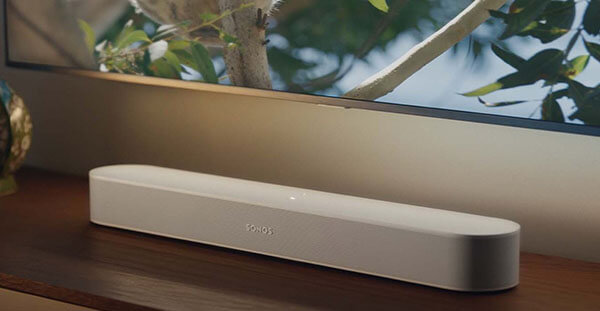 This is one of the most popular speakers globally. Many experts recommend this speaker as an alternative to Bose speakers. The price is within the range of middle-class customers. The good sides of this product are listed below. 
Excellent Sound quality: 
If you are comparing with other brands then Sonos is already a step ahead of other brands. Apart from predecessors, Sonos authorities have given their maximum effort to improve sound quality. 
Voice Control Ability:
Voice control ability is the charming quality of the Sonos Beam 2 speaker. Playback and other functions are easily accessible using voice control technology. This feature accelerates the selling rate of this speaker.
Operating system compatibility: 
Operating system compatibility is important when you are connecting your device with other brands. So, compatibility is a must in such cases. The Sonos Beam 2 might increase the range of platforms and gadgets it is compatible with, including game consoles, streaming services, and smart home gadgets.
Excellent Design:
Sonos is aware of the design sense. With the passing of each year, Sonos focuses on new designs and other features. Users usually like their design and a good reputation is properly preserved.
Taking all these things you can easily go for this speaker. The price of this speaker varies between USD 50 to USD 60 at times. Now, I will inform you about the bad sides of this speaker. 
Inference of noise: 
The inference is important when you are going for your desired speaker. Sometimes, Sonos Beam 2 provides inference in a higher amount. In such cases, users can not usually hear the sound properly. But this is a very rare problem.
Upper Version of HDMI support:
Sonos Beam 2 provides HDMI 2.1 support properly but the latest version is not supported yet. So, you need to do things without the support of the latest version. But, HDMI 2.1 is capable of doing all things properly.
2. JBL BOOMBOX 3: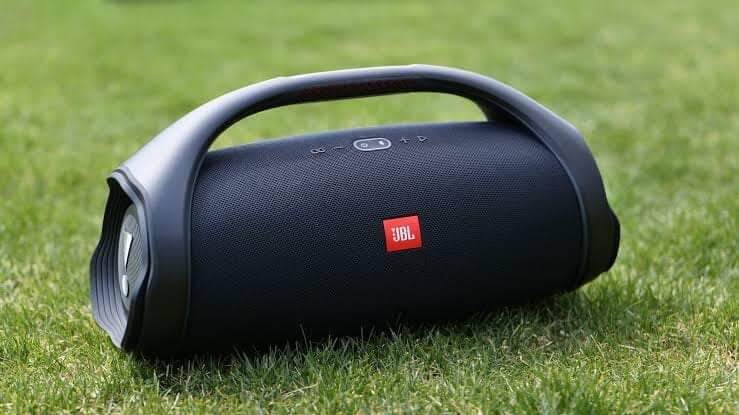 JBL produces excellent quality audio speakers that focus on quality sound. This is a portable speaker that supports a wireless connection. This speaker is fully waterproof and provides extreme bass quality.
Durability and Battery life: 
The battery life of this speaker can last up to 28 hours. JBL always focuses on durability. So, if you are looking for a speaker that is durable and can provide a longer amount of battery life then you can choose this. 
Smart Assistance Feature:
This is the latest technology that has been integrated by JBL. Smart assistance allows using Artificial intelligence to provide better search results. Alexa and Google assistance are the most used by JBL. 
Proper connection with Bluetooth Devices: 
Data passing and transferring is easy with a Bluetooth connection. Companies do not focus on the latest Bluetooth technology nowadays. But JBL always gives priority to integrating the latest Bluetooth technology. As a result, the data transferring rate is much faster and safer with JBL Boombox 3. 
Sound Quality:
JBL is already one step ahead of other brands if you're comparing them. In contrast to their forerunners, JBL officials have made every effort to increase sound quality.
Now, I will help you to understand the disadvantages of JBL Boombox 3. Though the major disadvantage is the price of this speaker. 
Price of this Speaker: 
The price of Boombox 3 is almost USD 800. This pricing is way higher than other speaker brands. So, middle-class families usually can not afford this speaker. This is the main disadvantage of this speaker. You need to think about this pricing before buying it.
Version Control of this Speaker:
One of the major features of speakers is to get updated. JBL Boombox 3 is no exception. In this case, JBL Boombox 3 allows you to get updates within the proper time. But, during version control, the performance of this speaker might get degraded.
3. Apple HomePod Mini: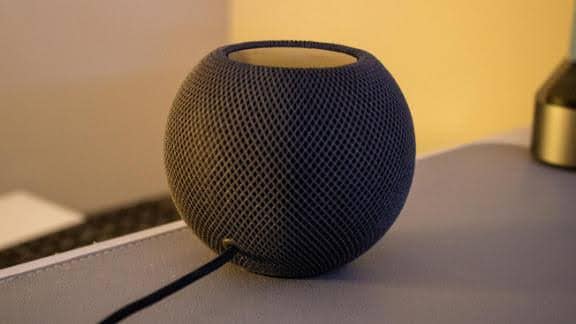 Apple Homepod mini is one of the major speakers that hold a good size of the customer market. The main advantage of the Apple Homepod Mini is its portable nature. Go through the advantage section in order to grab a proper idea.
Data integrity and Privacy Settings: 
HomePod Mini was created with security and privacy in mind. To protect your privacy and security, the HomePod Mini has a physical button that turns off the microphone. Moreover, all correspondence between the device and Apple's servers is encrypted.
Best Speaker for Home Usage:
Daily electric activities at home can be controlled by the Apple Homepod mini. Lighting, heating, and security concerns are maintained by this device. So, this device will allow providing these facilities with precise sound quality.. 
Smart Management With Siri: 
Siri is the most smart assistance that allows mining data from different sources and shows them in front of users. All the tasks can be smartly handled by Siri. So, all these features will allow you to give you a proper user experience.
Well, Apple users do not usually focus on other brands. But there are some disadvantages also available in the case of the Apple Homepod Mini. Now, let's focus on these points. You should go through them properly.
Lesser Amount of Features: 
Apple maintains a proper ecosystem that provides better data integrity and security. But feature lists are narrowed down due to this security concern. Full advantages that are provided by the Bose speakers might not be found by the Apple Homepod Mini properly.
No Advantage of Auxiliary Port:
Apple Homepod Mini does not provide any auxiliary port which is a disadvantage. This means this device is unable to connect with other devices from numerous brands. If you are a non-Apple user, then you might find it difficult to cope with that at first. 
4. Sony SRS-XB 21: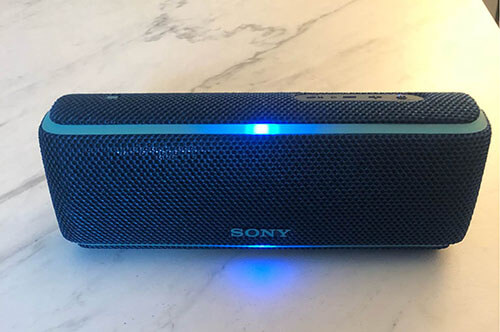 One of the major advantages of Sony speakers is their NFC pairing with Bluetooth technology. Sony SRS-XB-21 is widely popular for its performance and reliability. Some of the merits of Sony speakers are given below.
Excellent Bass Quality : 
An extra bass feature is provided with this speaker. You will have a proper experience while listening to rock music. Classic music will also be heard properly here. But the best performance will be found in hip-hop music. 
Battery Life with Durability:
Battery life is important in the case of wireless speakers. This device can provide support for up to 15 hours. The battery is durable enough while taking extra pressure. This speaker also provides party vibes also.
Self-Cleaning Technology: 
This speaker is able to clean memory by itself. The Sony speaker is able to resist water. The device is also dustproof. Whenever you are using this device outside, you do not need to think about dust along with water.
Like other devices, now you will be notified about the bad sides of Sony SRS-XB 21. 
Low Performance in Higher Volume: 
When you are using a higher volume than the device might not give its full performance. The control of the speaker might not always be in hand. No input audio jack is not available in this device. 
No Smart Assistance:
The major demerit of this device is there is no smart assistance here. So, users need to manually dig for data. Voice-controlled features are not available in such cases. There are a lower number of color options shown on the screen. You should think about these things. 
5. ECHO Wireless: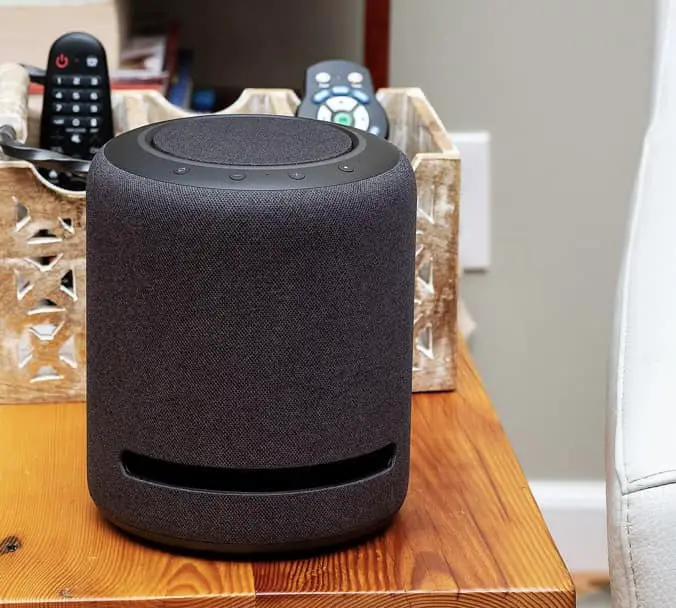 Another excellent speaker can compete with Bose speakers. This speaker can be affordable for all types of people. The previous four speakers have their own expertise in some sectors but Echo wireless gives good performance in all sectors. The advantages of the Echo wireless speaker are listed below from my experiences. 
Android Compatibility: 
While using your device with other brands, Android system compatibility is crucial. Compatibility is essential in these circumstances. With the ECHO wireless more devices can be connected to you.
Design and Features:
Echo wireless is sensible in feature analysis. Apart from features, this speaker focuses on new designs that attract customers. Excellent sound quality is an amazing factor from the side of the users.
Smart Assistance: 
With Echo wireless, you can gather a huge amount of data. The musical experience is far better than other devices. Streaming services are excellent when you are an Echo user. All the necessary updates can be done automatically.
The disadvantages of Echo wireless are also not lesser than other devices. Some of the major issues are listed here. You should seriously consider them before buying.
Connectivity Issued With Other Devices: 
Sometimes the wireless connection is gone without any notification. Apart from that, compatibility with some devices might not be that good. This issue lets down the performance of the whole speaker.
Issues With Interference:
More or less every device faces interference issues. But Echo speakers might not filter out all the noisy signals properly when there is water or dust available inside it. So, you need to think about these attributes before buying it.
I have let you know about the 5 Bose speaker alternatives. Sounds really confusing, doesn't it? Each speaker has its pros and cons. You must understand what type of speakers you are looking for then you should buy them.
Final Verdict About 5 Bose Speaker Alternatives
After extensive research, I found these 5 speakers can replace the Bose speakers. Not all speakers are good in every sector but the companies have chosen a certain area where they can rule. Taking all these things into account, I recommend the JBL Boombox 3 and Sonos Gen 2 that can properly replace your Bose speaker.
But as I have mentioned earlier, JBL Boombox 3 might be costly for many of the medium-range budget users, in such cases, Sonos Gen 2 is a good option. But at the end of the day, you need to understand your own requirements and decide which one is the most suitable for you.
Conclusion
It is really difficult to find alternatives for Bose speakers as they have certain expertise. But, the suggested five speakers have all the qualities to cover all the features. These speakers are top-listed for the year 2023. They have their own dominance in different sections.
I have updated all the necessary information to concise your search space. For any further queries don't forget to contact us.