Let's take you on a ride back to the old times. Once upon a time, there was a man named Paul Klipsch. He designed the Klipsch Belle speaker and introduced it to the world  in 1971 which is today considered as "the queen" of the Klipsch legacy series. It is the only speaker system designed by Paul Klipsch with a woman in mind, his wife, Belle. However, according to legends, Belle Klipsch, his wife, desired a less obtrusive, more visually appealing speaker system for their living room. That's when Paul thought of coming up with the La Scala sound system.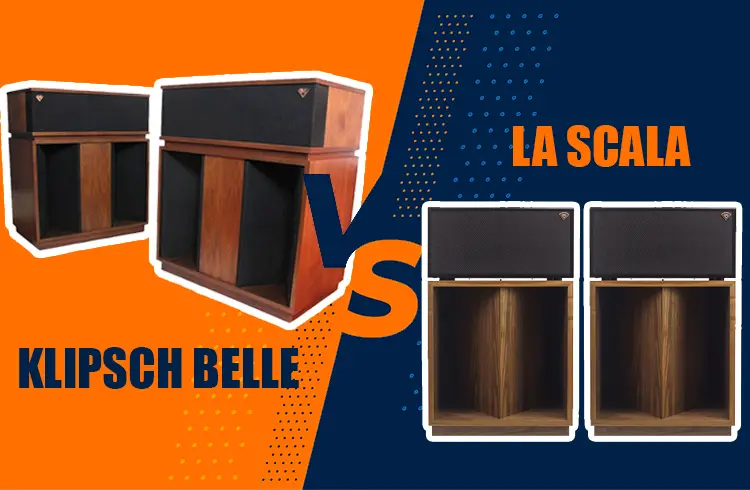 Today, both La Scala and Klipsch Belle speakers are symbols of high-grade veneer and give off truly timeless aesthetic vibes that take us back to the good old past.
If you're intrigued by the story we began with and wondering which one you should buy out of the two to add some vintage appeal to your home, don't stress. We are going to be reviewing both these evergreen speaker models and share the thoughts and feelings we had while using them ourselves to be able to present you with genuine feedback.
So, grab a seat and keep reading to find out more.
Klipsch Belle VS La Scala Speakers – Features Comparison
The features are what makes a speaker worth paying for. If a speaker only looks cool from the outside but the specifications and features are like trash, your money will definitely go in vain. Therefore, we are going to look into the exclusive features, design and material quality of both of these speakers and decide on a winner afterwards.
Let's Begin, shall we?
La Scala Speaker Review
Let's talk about the infamous La Scala, now in its AL5 iteration, that has been quite hyped ever since its first launch back in 1963. It's one the smallest of Klipsch brand's fully horn-loaded models. Now, don't be fooled because we said 'small', because the speaker is not even remotely small, rather massive in size.
Each La Scala speaker is constructed with birch plywood and MDF material – which leaves no doubt that the speakers are durable, strong and sturdy. Each measures about 40″ tall, with a 24 ¼" width, and 25 5/16″ deep, and somewhat weighs over 200 lbs. If your main priority is to have a speaker that is portable, suitable for outdoors and travel-friendly, honestly this speaker may disappoint you in that case.
Let's dig deeper into La Scala's design and infrastructure. The model is basically composed of two stacked cabinets. The upper cabinet contains the main components of the speakers such as the tweeter and what not. It also includes a compression driver with a 1″ polyimide diaphragm mounted to a Tractrix horn along with a midrange unit. You will also find the compression driver which has a 2″ phenolic diaphragm integrated to another horn. Just to let you know, both horns are very robust as they are made up of ABS plastic.
Let's get down to the lower cabinet. It contains a 15-inch fibre-composite-cone woofer that's mounted backward and fires into a folded horn. At the back of the upper cabinet, you are likely to find two pairs of heavy-duty binding posts. With the help of those, biwiring or biamping will be more convenient.
Now, let's move onto its audio performance. We are not gonna bluff, but the speaker's ability to generate lifelike dynamic contrasts, loud volume and scale is unmatched by any speakers we've tested before. It feels surreal when you're streaming your favourite artist's songs – it feels as if you're attending your favourite singer's concert and enjoying from the front row. Bass lines are super fast, mainly because of the visceral speed of the sound.
If you're fond of listening to old records of opera and orchestra, you can unhesitatingly choose La Scala speakers to be a part of your hobby.
Overall, using this speaker is a very pleasant experience and treat to the ears. If it concerns you anyway, we would rate our personal experience with the La Scala speakers a solid 9/10.
Wondering why we deduct one point? We'll highlight that in the next section of this article.
Some Drawbacks of La Scala:
In this subsection of our review, we will be sharing some unfortunate experiences we had to go through while testing the speakers. Let's start off from after we were done unboxing the new speakers. Straight out of the cartons, they had a very plasticky smell, with nasal sound and gummy transient response. Also, the tube amps didn't feel very good and appeared low-power. Also, it couldn't make much bass at all compared to our high expectations. But here's the good news, this traumatic experience will not last forever. All of these issues magically disappeared after about 100 hours of use. So, if you don't mind being patient, you can go ahead and buy this speaker.
Another thing is that, because the speakers are massive in size, the sound system takes up a lot of space in your room making it look cramped, especially if you have limited space. Oh, one more thing we should give you a heads-up about. If the audio quality sounds a bit unclear and foggy, you should unmount or take off the speaker grilles. We have observed that the music sounds more nuanced and clear without those.
Klipsch Belle Speaker Review
Unlike the humongous La Scala speaker, the Belle rather looks like a fine lady with good breeding, although they are big too, somewhat weighing like 125 lbs each. Moreover, we do honestly believe that Belles are refined and upgraded versions of La Scala speakers.
It also includes the same components in the upper cabinet, such as a 15" woofer with the mid high range reproduced by two horn-loaded components.
It also features a good-quality tweeter which uses a phenolic diaphragm. The speaker covers a wide range of sound frequency response, from 38 to 17.000 Hz. The sensitivity is said to be between 104 dB into 8 Ohms.
What we really appreciated when setting up the speakers is that the woofer came loaded with a folded horn. Meaning, it can be endorsed to the wall without requiring long hours of angling. This greatly helps the insertion to be made quicker into the domestic environment.
Hence, it won't be wrong to conclude that this speaker winks to the domestic hi-fi, without necessarily being thought for the wide spaces of the theatres.
We honestly don't have any complaints about the sound quality it delivers. The music quality is very natural, neat and clear with increased clarity. You get to adjust the volume, sound frequency and bass settings to your liking – it does feel great to be in control.
If you're curious to know about its build material, it's manufactured similar to La Scala, with plywood and MDF. The exterior feels really sturdy and hard, indicating how durable the overall product is.
Now, enough sweet talk, let's inform you about some of the things that you may not appreciate about these Belle speakers.
Limitations of Klipsch Belle Speakers
From what we felt, if you really enjoy chest-pounding bass beats, the speakers alone may not be able to satisfy you to the fullest. So, you'll have to spend extra money on a quality amplifier or receiver.
Furthermore, these speakers are very heavy, weighing almost 200 pounds. It will be very exhausting and tiring to move them around to different potential locations in your home while you're trying to decide which is the suitable area perfect for setting up.
Other than these, we couldn't find any significant issues with Belle speakers. The woodwork design is spectacular, sound quality is commendable and covers a good range of frequencies. Overall, these speakers deserve a solid rating of 9/10 from our team experts.
Our Final Verdict
Honestly, it's hard to choose a winner since both of these speakers are timeless beauties that deliver equally remarkable audio quality. Nonetheless, the Belle speakers are beautifully designed, weigh slightly lesser than La Scala speakers and are comparatively more affordable too while delivering as good sonic performance as the La Scala model.
At the end of the day, which is the ultimate best out of the two is very subjective as people have different tastes and different priorities when it comes to streaming music. The one thing, however, we can guarantee you is that, both Klipsch Belle and La Scala are worth every penny of your investment and that you'll not regret later.
Frequently Asked Questions:
Q.1: When did Klipsch La Scala come out?
Answer: The Klipsch La Scala speakers were first released into the market and introduced to the world in 1963.
Q.2: How tall is Klipsch La Scala?
Answer: About 40 inches or so.
Q.3: What is Klipsch flagship speaker?
Answer: The Klipsch Jubilee speakers the brand's new flagship loudspeakers that are said to be bigger than most humans.
Q.4: What is the crossover frequency of Klipsch La Scala?
Answer: The Crossover Frequency of La Scala ranges between 400 Hz and 6000 Hz.
Q.5: How many watts is a Klipsch LA Scala?
Answer: On the User Manual, the power consumption range is stated as 100 to 400 watts.