Sometimes the standard or regular speaker stands in the market can be very expensive. That's why I gathered a few ideas that I used myself and saw my friends and neighbors use as a speaker stand alternative, which are practical and very cost-efficient.
For easy to find the materials, I categorized them based on the main material and a few options under them. But, before that, let's have an overview of the criteria for being a good speaker stand.
What Makes Good Speaker Stands?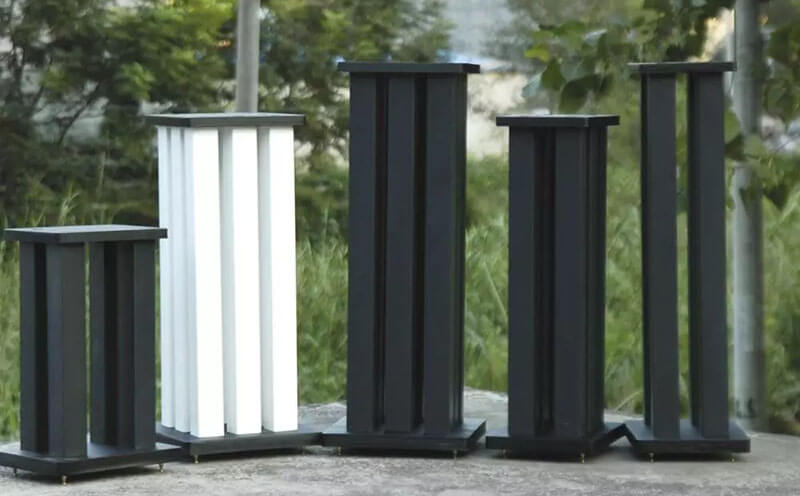 When you choose a speaker stand, you look for some factors to get the best. Sometimes you might not have the budget or like to make your own.
But those factors don't change the fact that those must also be in the alternatives. I will briefly go through those factors to help you understand what you will need in the speaker stand ideas.
Let's get into it!
Factor #1: Weight
One primary factor when choosing a speaker is how much the stands can carry or take on the top plate. In that case, not just for stability but also for protecting your speaker.
Whatever you will use as the alternative for the speaker stand, you must ensure that the stands can take that much weight without any issues. In that case, the other factors, such as the material of the stand alternative, will be considered, which I will discuss in the following section.
Factor #2: Height
The height of the stand is another factor to consider. If the tweeter is not on the ear or listening level, you won't enjoy the entire experience your speakers offer.
Depending on the material and the weight capacity of the speaker, you can make a speaker stand yourself. But, you need to ensure the stand tallness or height based on your sitting arrangement and other factors.
Factor #3: Primary Material
As discussed, the material in these alternative speakers will make the core difference. Whether it's a plastic material or wood, based on that, the weight capacity will vary too.
For example, if the size of the speaker or the weight is too much for the stand to take, it will be unstable and might fall into the floor, breaking the speakers and the stand too. 
In that case, ensure the material is up to standard for everything considered, such as durability, budget, support, etc.
Factor #4: Upper Plate
The upper plate keeps the speaker's weight in the first level stable. Many materials have been used in the top plate of speaker stands, such as rubber, bolt to hold the speaker, wood, etc.
Depending on the material, you need one that is compatible, durable, and can hold the speakers tightly. Besides, the top plate size will also make a difference and ensure getting one with a large or wide plate width to ensure stability.
Factor #5: Lower Plate
Most factors are the same for the lower and top plates. But, if you look at the speaker stands, you will see that the lower plates are larger than the top ones, which you must remember.
Besides, getting a larger one will give you better stability. As you have the option to make one stand alternative yourself, you get one from the market, and you have to be careful about choosing the right size depending on the material and weight capacity.
10 Speaker Stand Alternatives Based on Material
Instead of choosing random alternatives, I compiled a list of options for you to go through based on the material of the speaker stand alternatives. 
And I also discussed which one will be better based on your speaker number, size, and other factors and if you can get one from the market or make it yourself.
Material #1: Wood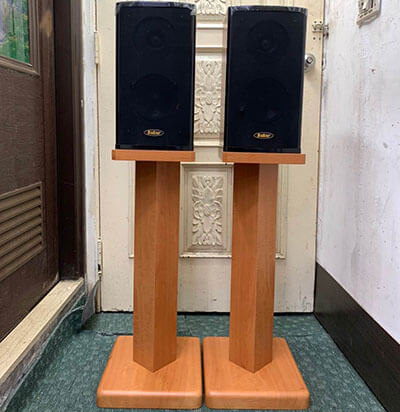 One of the perfect material to use for the speaker stands are wood. You can make many options or get readymade ones from the market. Let's see those options.
Alternative #1: Chloe Small Mahogany Accent Table
I will start with a simple option, which is an Accent Table. Here is why it will be an excellent alternative to the speaker stands.
It is a perfect alternative for the 24-inch stands.
You can get the full benefit from this option with a proper sitting arrangement.
Comparatively way cheaper than the standard speaker stands.
Great top plate to hold and take the weight of the speakers.
It will work as the perfect alternative with some modifications, such as a few screws and nuts to hold the speaker.
Alternative #2: Plant Stands
Another great alternative could be the plant tables because it fits the criteria.
The speakers and plant pots or flowerpots are almost similar in weight. As they both require stability to hold those, the plant stands to give stability to the speakers too.
As per your requirement, you can get your preferred heightened plant table.
Some tables' top plates can hold more than two speakers at once, which is excellent if you have multiple speakers.
Great for decoration and is durable, which is perfect in these cases.
Alternative #3: Wooden Crates
Wooden crates are the perfect thing you need if you have larger or bigger speakers. As you might already know, the higher the speaker is, the shorter the speaker stand should be.
In that case, wooden crates serve the purpose of being a stand for the speaker, which you can just put above the crates and don't need to worry about stability or durability anymore.
Alternative #4: Bookshelf Speaker Stand
One of the cheapest options for speaker stands is a bookshelf speaker stand. Maybe you already have a broken bookshelf in your store room, and you can just fix it and use it as a speaker stand.
Or maybe you can make it yourself with a few materials, such as the Besta Vara drawer front and your toolbox. These stands can take two to three small-sized speakers, and you make the top plate a bit wider and give a bit of support in the lower plate; it can take bigger ones too.
Alternative #5: Wooden Cube Speaker Stands
Among all the other wooden options, this is the cheapest option. All you need is a cube-shaped wood. You will find it at sawmills readymade or make it out of a log.
Try to get a big one so that you can place as big a speaker as you want. These will long last then you can imagine.
Material #2: Plastic or PVC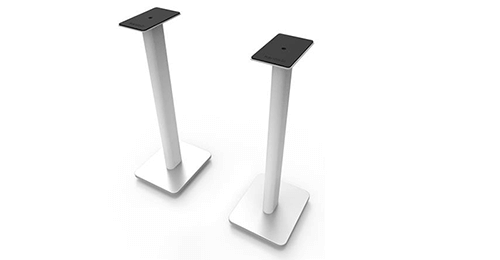 Plastics are new-normal to create new and creative things with. The material itself is cheap, and you can experiment with these to get a perfect size, not to mention the material's flexibility.
Alternative #6: Small or Big PVC Pipes
You can do or make many things with pipes, including a pipe speaker stand. And you can show so much creativity with it.
You just need to get some ABS or PVC pipes and cut them with the correct measurement. Then join them and adjust them to fit the speakers perfectly. In this case, the size has to be on the spot, but it will be cheap.
Another way to do this is to make a custom stand with a wood plate and PVC tube.
For the larger speakers, you need around six to eight pipes.
If the diameter of the pipes is long, then six will do the job; otherwise, it's eight.
You can use small wooden pieces as the top and bottom plates.
Ensure that the plate's measurement is correct and can hold the speakers.
Alternative #7: Milk Crates
As ridiculous as it might sound, I have seen many people using milk crates as a speaker stand. It is another perfect option if you don't care about room aesthetics.
You need a few of them and pile them up above one another. It might be a bit messy compared to other options, but it is cheap. In terms of stability, it needs support at the bottom, and tightening the structure with something like rope might also help to get better stability.
Material #3: Steel / Metal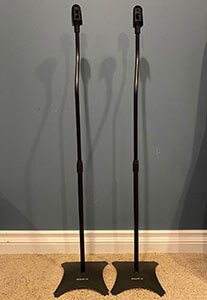 While plastic materials can be a bit unstable, metals can be the perfect replacement for your speakers. Here are some uses of these as the speaker stand.
Alternative #8: Metal or Industrial Pipes
Plastic pipes are an excellent choice for a speaker stand, but the problem is that they can't handle the weight of two or more big speakers. In that case, metal and industrial pipes meet that need perfectly.
The metal is solid in terms of material, and you can bend the pipes however you want. One of the advantages is that you can make the bottom plate T-shaped to make it more sturdy and stable.
You can also use wood as the top plate to hold the speaker and industrial pipes as the stand. These can take the weight of the biggest speaker you can put in your room.
Material #4: Concrete or Plaster/Resin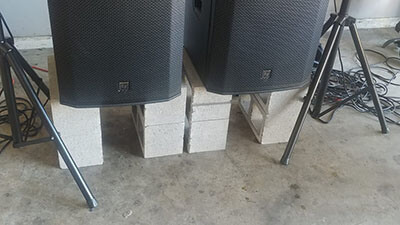 You can use concrete blocks or plaster items as the alternative too. These are cheap, easy to find, and easy to use.
Alternative #9: Cinder Blocks
Looking around the backyard, you might find a few cinder blocks easily. Even if you can't find them, you can buy them around the corner stores.
Get a few blocks; 6 or 8 blocks might do the job. Depending on your seating arrangement, place one brick above another and get an optimal height for the optimal sound experience.
As these bricks can be a bit unstable, you can place a couple more at the bottom to make it steady. Try not to put a big speaker above the pile for the sake of the speaker. It is not the best solution or alternative, but definitely the cheapest one.
Alternative #10: Resin Columns
Another cheap option is resin columns. Sometimes you might find second-hand or broken columns in sales. You can use them to place your speakers.
These columns are great height-wise as well as to take the speaker's weight. You won't need to add something extra to get better stability. Besides, these will work as decorative too.
It is another cheapest option you can find to use as a speaker stand.
Honorable Mention: Subwoofers
You're in luck if you already have a cylinder-shaped sub. Most of us want the complete audio experience from the home theatre or the sound system. That's why you might get a subwoofer to get a clean and clear bass.
Another use of these subs is that you can use these as an alternative to a speaker stand. The cylinder-shaped subs are usually big or height-wise perfect to use as the alternative. They are capable of taking the weight of the speakers as well as stabilizing speakers.
Besides, the bottom grip system is also suitable for placing the speakers above them. The bottom line is, if you already have a cylinder-shaped sub, you can just put the speaker and start using it as the speaker stand. Another thing is a rectangle or regular-shaped subs will work as long as they meet the criteria.
Comparison Table
Here is a comparison table of all the options that I discussed.
| | | | | |
| --- | --- | --- | --- | --- |
| Alternative | Primary Material | Speaker Capacity (Weight)  | Stability | Durability |
| Chloe Small Mahogany Accent Table | Wood | Small to Medium Sized | Medium | High |
| Plant Stands | Wood | Small to Medium Sized | Medium | Medium |
| Wooden Crates | Wood | Small  | Low | Medium |
| Bookshelf Speaker Stand | wood | Small to Big | Medium | High |
| Wooden Cube Speaker Stands | wood | Small to big | High | High |
| Small or Big PVC Pipes | Plastic / PVC | Upto Large | High | High |
| Milk Crates | Plastic / PVC | Small | Low | Medium |
| Metal or Industrial Pipes | Metal / Steel | Large | High | High |
| Cinder Blocks | Concrete | Large | High | High |
| Resin Columns | Resin | Medium | Medium | Medium |
Wrap Up
That was everything I knew about the alternatives you can use as a speaker stand. I discussed nine options that are similar to each other and easy to make and use. Finding all these materials and making them yourself won't be a hassle.
Let me know if you know of any other methods, and I'd be happy to hear them from you. Until then, have a great day!