Finding compatible front-height speakers for atmos can be tiring as there are few options, and it holds an essential aspect in your entire audio system. There are many factors to consider while choosing, such as dimension, space in your room, compatibility with your existing sound system, and speaker positioning.
Considering all these, I have chosen a few options for you to go through, all of which are for atmos. Let's get into it!
Top 3 picks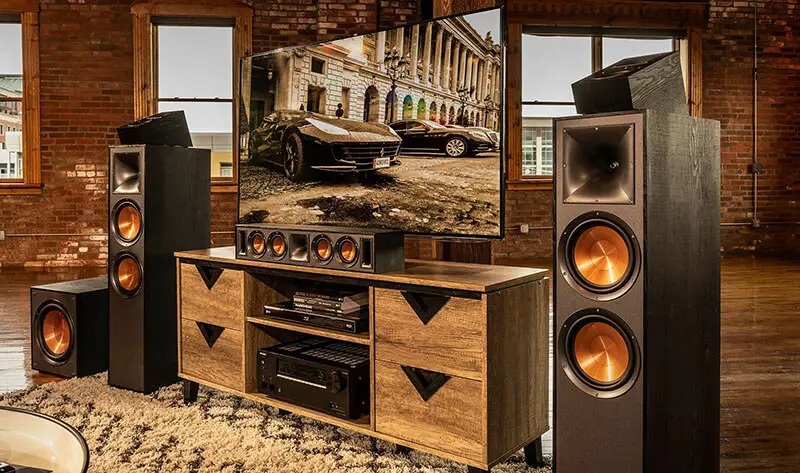 It's completely understandable if you don't want to go through the rest of the post to get the recommended options. So, here are the three options that I highly recommend.
Klipsch R-41SA
Fluance SXBP2
Polk Audio OWM3
How Do You Choose a Front Height Speaker?
When choosing a surround system, especially a front-height speaker, some factors need to be considered crucially. The speakers I'm going to select will be based on these. 
Let's get into it!
Dimension:
Whether watching a horror movie alone or having a movie night with friends or family, a 360-degree surround sound system is necessary, and you must add dimension.
You can add dimension by mounting it on a wall, and most speakers come with this particular option to have a 360-degree audio experience, and it gets better if you add another 5.1 or 7.1 with it.
Space:
Getting the right speaker size is essential because you don't want to miss out on getting the whole experience out of it. Even though it's not true that the bigger the speaker is, the more volume, it has other benefits.
But it is essential to mention that if the room size is more significant than usual, maybe getting four speakers won't be enough. In that case, you must need a surround system to get the best of it.
Compatibility:
There have always been some compatibility issues with front-height speakers, especially with the processors. If there is any issue, you need to check first.
Ensuring that your front-height speaker is compatible with your current system will save you time, energy, precious money, and the hassle you will go through later.
Number of Speakers:
I observed people saying things like that the total speaker numbers matter a lot when in reality, it is absolutely not true because more speaker has nothing to do with quality unless you don't care about it.
Besides, when it comes to front-height speakers, their primary purpose is to give quality to the background music and effects. Not only will it be a waste of money if you don't consider other things, such as space, but it will also be unwise to buy many speakers without a proper system will also be unwise.
Positioning:
Based on your seating arrangement, TV position, or other systems which are situated in the studio or theatre, or living room, your positioning of the speakers will matter a lot.
Fitting the speakers at the right angle and getting the perfect distance from where you will enjoy the music must be calculated. Besides, getting a front-height speaker is pointless if you're not careful about not getting the ideal ear level.
Installation:
Although most modern front-height speakers are easy to install, the old models can be challenging to deal with. As there is always a clear manual book to guide you the way, you won't need to worry about this.
Front Height Speakers For Atmos: Recommended
As mentioned, based on all those factors, I choose the three best front-height speakers, and I highly recommend these to you.
1. Klipsch R-41SA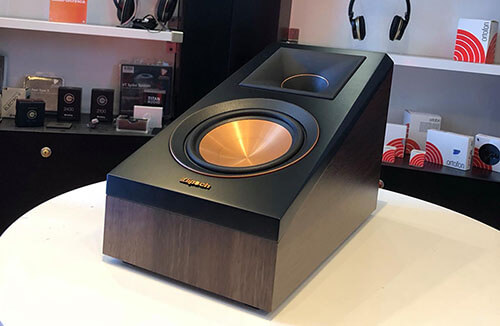 My first choice is the Klipsch R-41SA. It didn't just make it in the list because it got Dolby Atmos-Ready, but also for the other features. Those are;
It has a  1″ Aluminum tweeter with which you can move the speaker to 90 degrees to align with your listening position.
With the power handling capability of 100 watts, you won't need to worry about its power capability.
It has a keyhole mounting system, meaning you can mount it anywhere you want.
One of the significant ways to get the best from it is to understand that it won't disappoint you with audio clearness and clarity.
And, with the Spun Copper IMG Woofer, you will experience unbelievable sound and excellent clean bass.
2. Fluance SXBP2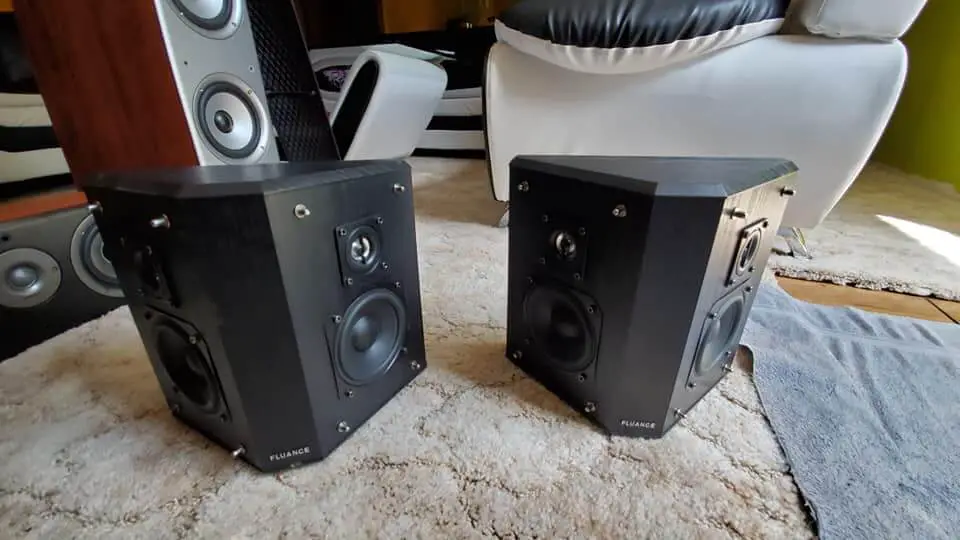 The Fluance SXBP2 can give you an excellent audio experience, and of course, for atmos. Besides that, here is a list of benefits that comes along with it.
It is a satellite speaker, meaning you can place it behind the primary audio system and still get the complete experience.
It got an immersive bipolar surrounds feature, which means it will reproduce the primary audio system compiling with atmos.
Whether it's an SX series or any other, you won't need to worry about its compatibility.
It is perfect for your Home Theater, regular seating places, and even studio and stable uses.
Besides, you're also getting lifetime customer support along with the speaker.
3. Polk Audio OWM3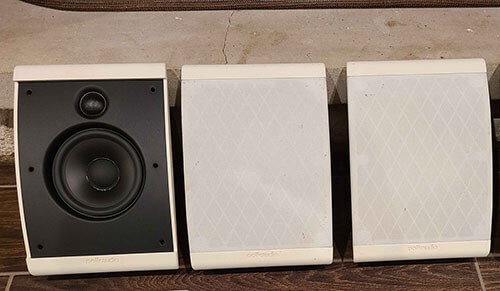 If you want to get unobtrusive atmos under two hundred, it is one of the cheapest and most excellent options to get. Additionally;
Whether you want to use this speaker in your bedroom, drawing room, studio, or home theatre, you can use it anywhere you want.
It comes with seven different placement options, so you can mount it on a wall or the shelf and even use a speaker stand to put it on.
There is zero to minimal distortion, thanks to the multi-application speaker delivers which comes with it.
Enjoying detailed audio won't be a problem as capacitive coupling technology is built in with it.
Besides, it comes with three options to choose with your pick.
Comparison Table
Here is a comparison table for understanding these three front height speakers with aspects.
| | | | | |
| --- | --- | --- | --- | --- |
| Speaker Model | Frequency Response | Sensitivity | Power Handling | Impedance |
| Klipsch R-41SA | 80 Hz – 21 kHz | 93 dB | 50W RMS (Peak 100W) | 8 Ohms |
| Fluance SXBP2 | 60 Hz – 20 kHz | 85 dB | 20W RMS (Peak 100W) | 8 Ohms |
| Polk Audio OWM3 | 80Hz – 25kHz | 89 dB | 20W RMS (Peak 200W) | 8 Ohms |
Wrap Up
The front-height speakers can produce the most superior sound and give you the best experience your audio system has to offer. I discussed all the factors you need to consider for your speakers and presented you with a few options.
I hope this helps! Enjoy your music!