If a soundbar can be mounted above a Tv, then naturally, you would assume that mounting a soundbar above the projector is also practical. Well, you can mount your soundbar above the projector but with a few adjustments. Along with setting it, you also need to make sure that it is placed in such a position where your listening experience is comfortable. Also, if the projector screen is attached to the wall, then you may need to mount the soundbar underneath. 
We will talk about what type of soundbars you will be needing along with if it is okay to mount the soundbar above your device along with how you should do it. 
How do I mount my soundbar above the projector screen?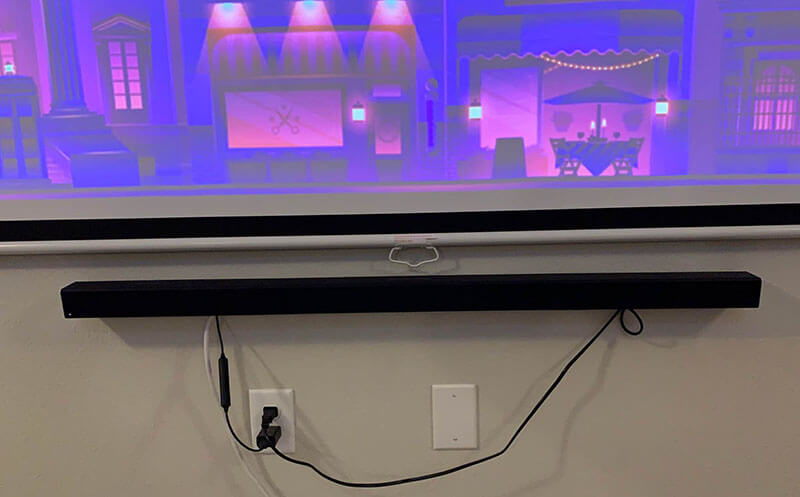 It is essential that you have up-firing speakers. As you know, Dolby has a technology designed for the soundbar to be mounted above the Tv or projector, whichever device we will be experiencing with; since you will be mounting it above your projector, then wall mounting is the feasible way, as there would be an option to mount it above while attached if it were a TV. Your screen curtains are probably directly attached to the wall or positioned in such a way that there is room for the soundbar to be attached. 
Thus, we will apply the generic ways to wall mount a soundbar above the screen.
Tools required: 
Phillips Screwdriver
Stud Finder
Drill and Drill Machine
Jib Locks
Step-by-step process:
I will not name brands as most out there to come with their own wall mounting kits, which at least are brackets, screws, and a user manual. 
Step 1: Use the stud finder to find out the available spot to place the holes so that you can use the brackets. Make sure you do the math in knowing the distance between the screen and the soundbar so that your sound fires at the right spot. 
Step 2: Your mount should come with a paper guide where it shows the points where the brackets need to be drilled in. If not, then simply place the brackets inside the soundbar and mark the dots by attaching a piece of paper to it. 
Step 3: Now as you know the place to drill the holes for the bracket, you now need to check if there's a required stud. If you can't find any stud, then that is where Jib locks will come into place. Otherwise, just drill the brackets into the wall. 
Step 4: For Jib locks, place the hole based on the measurement of the jib locks. The one I used recently was around 9 millimeters. Jib locks will give you a solid hold.
Step 5: Make sure you have attached all the necessary cables for connectivity before you have mounted your soundbar, and you should be good to go. 
Note: For Universal mounts, make sure that those are not for your TVs, as most of them I have seen are designed to mount along with the TV. 
Way to Connect the soundbar with the Projector 
In general, the viable options to connect the soundbar with a projector can be HDMI, Analog connections (RCA or Auxillary), Digital optical, or any other wireless connectivity. Lots of soundbars these days have only optical outputs, and naturally, they are designed that way so that you can connect them to your TVs, but in your case, you have a projector with you. 
Projectors don't have an optical connection output, so here are a few ways you can fix this problem you will face. 
Use of a receiver for cables
Your devices, along with speakers, including the soundbar, get connected to the receiver through an HDMI cable, and with that cable, you connect it to the projector's HDMI port. The receiver will have optical ports along with other ports that will direct it with a single HDMI port. 
Use of Soundbar's HDMI input
Your soundbar needs to have more than one HDMI output for this case because you will connect all of your source devices to one of the soundbar's ports, and the other port of the HDMI cable will go down to the projector's output. 
You may also be able to connect the devices through the projector to the soundbar with an analog cable, but in that case, you will only be able to connect your device's audio as it will produce stereo sound.
Is it better to mount your soundbar above the projector or Tv than below?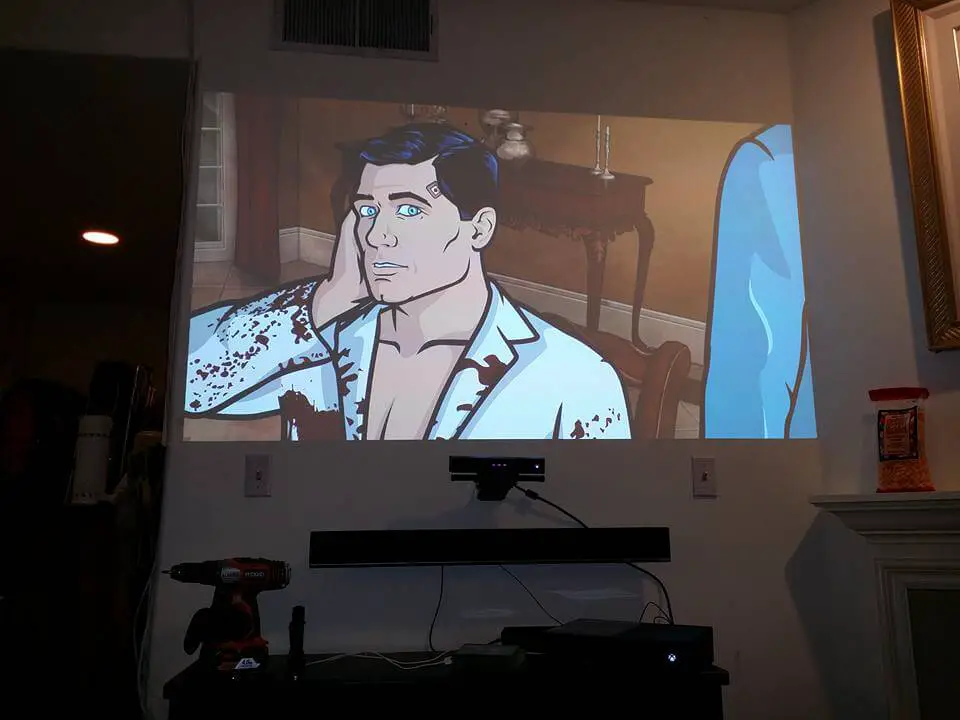 Suppose you're using upward-firing speakers, then in many instances. In that case, it is better to place them above your tv or projector than below them. Because maybe that is what their placement is supposed to be. 
When it comes to upward-firing soundbars
When it comes to upward-firing speakers, their functionality is in such a way that the music is supposed to hit the wall and come back at you. So, its placement should naturally be above your viewing sight. The sound bounce-off technology is widely known by Dolby as it is used by them in movie theaters as well as home theaters. Overall through up-firing speakers, if your room has been appropriately covered, then it will make use of its acoustics. 
When it comes to regular soundbars
It may be better to keep it below the projector for typical soundbars, but you may put it above if you can have it at your viewing level. Only in regular soundbars if you have the flexibility to place the soundbars below; otherwise, you will face significant distortions and issues in your experience if you keep an upward-firing soundbar below.
Preventing obstructions and blockages
You will often struggle to adjust your settings as the path is getting blocked because you cannot command with your remote. The sensor gets collides with other things as it is at the bottom bezel, so you could even assume that your remote is busted. But placing it above is actually hassle-free as the remote is bound to work with the controls since there is no obstructions. 
Also placing it down below can also cause magnetic distortions and a lack of spread-out sound. Since there could be electrical devices or a piece of furniture could be blocking it. If you can't mount it above, then you could explore other options like 
FAQs (Frequently Asked Questions) 
Can a soundbar be behind your viewing angle?
No, it is not recommended by any means to have your soundbar behind your projector or TV, whether or not you mount it above or below. It is there so that you have a listening experience directly from your ear level or in a position where the sound bounces off from the wall to you. You will only hear uncomfortable distorted noise once you hear. 
Wrap Up! 
Thus, I hope all that I have explained makes sense to you because there are certain things you need to fill in before trying to mount your soundbar above the projector, like if your soundbar is upward firing or if the projector screen is directly attached to the wall or not. You will have a comprehensive guide on what to do once you have skimmed through all the things I have said. All the things I have said are in such a way that it is brand neutral.