No, you don't need a soundbar with a 4K TV. If you're confident that your TV's audio quality is far better than any other soundbar, you don't need one. But, most of the time, that's not the case, as a dedicated soundbar for your 4K TV can improve the overall sound quality and accessibility.
Besides, getting a sub will benefit the audio experience too. Another factor is if the TV's built-in speaker is back-facing, you should definitely get one. And a soundbar will improve the overall TV audio experience with a surround system. 
The bottom line is it's more like a preference than a need. I will discuss everything and help you to understand it in detail in the following sections.
Benefits of Getting a Soundbar For Your 4K TV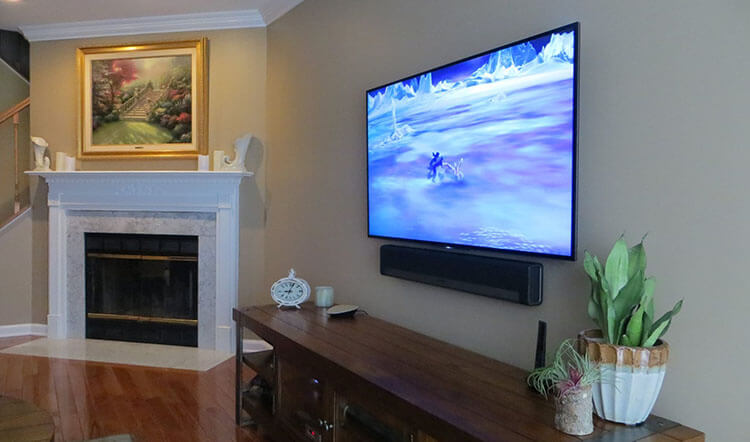 The TVs are getting slimmer and slimmer with every generation, and so is the space for setting up the built-in speaker. As a result, even though TVs are doing what they are supposed to do, the speakers are not. That's where the soundbar comes in.
Here are the core and extra benefits you'll get when choosing a soundbar for your 4K TV.
They are excellent for your TV's frequencies and balance them out.
Soundbars can boost a clean and clear bass and trebles.
When you're watching a movie or series, you won't need to change the volume up or down constantly, and sometimes not even use subtitles to understand, as with a soundbar, the audio will be much more precise.
Soundbars come with amplifiers, increasing the volume to fill an entire room.
The setup process is super easy, and the compact design helps save your room space.
Even during a small house party or friends and family gathering, the soundbar will come in handy with punchier bass audio and more.
Alongside these, there are tons of other benefits with some specific soundbars. But before that, there are some factors to consider for your 4K TV.
9 Factors to Consider for a Soundbar with a 4K TV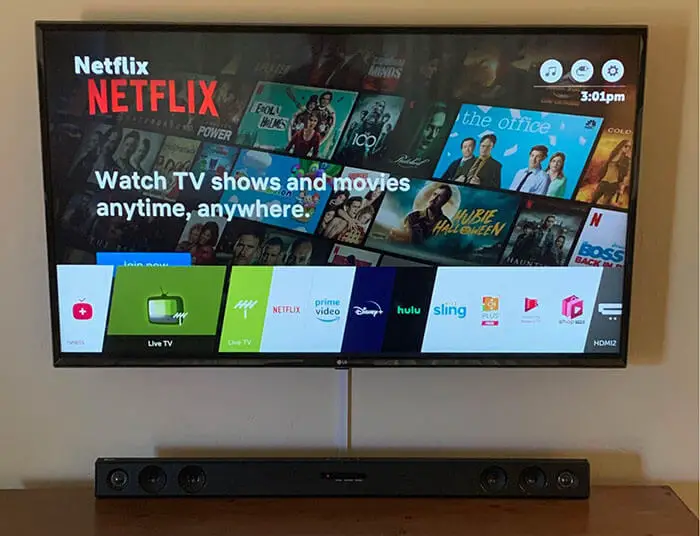 I will review some factors for the soundbar you'll get for your 4K TV. These factors will help you find the perfect audio quality and soundbar.
Factor #1: Room & Soundbar Size
Whether getting a soundbar for your smart TV or a 4K TV, knowing the room size and TV size is crucial to finding the perfect soundbar. The first thing is the room size.
There are usually three sizes of rooms, small (304 cm × 365 cm), medium (365 cm × 548 cm), and big (487+ cm × 609 cm).
Now, here's what you need to remember;
Get a soundbar that has not more than 20% length of the room, which means, for a small room, the optimal length should be 60 cm, and for the medium and big rooms, the length would be 73 cm and 98 cm, respectively.
Also, remember not to get one whose side length is more than 3 cm or exceeds the TV length.
Besides, this rule of thumb doesn't need to be applied strictly. It is just a simple guideline to give you an idea of how you should measure it and the significance of the room size while getting a soundbar for the 4K TV.
Don't miss out the important guide on soundbar size for tv
Factor #2: Channel
The soundbar channels are also crucial in this case as it depends on the room size and surround systems like Dolby Atmos.
Depending on the room size, the channel count will differ. If you're getting a soundbar for a small room, a three-channel soundbar might be enough. On the other hand, for a medium-sized room, you need at least a 3.1 to 5.1 channel.
And, last but not least, for a big room, you need at least a 5.1 channel to more like 7.1. That might do the job. Get one that has a superior driver and handles heavy power.
Factor #3: Wired vs. Wireless
Whether you get a wired or wireless soundbar, they come with their perks. Whereas the wired ones are less expensive, the wireless ones will give you the flexibility to place the soundbar anywhere, and you can put it on the ceiling too.
Besides, there are other differences in drivers, built-in amps, sub-options, etc. You need to get one that suits your budget and your need.
Factor #4: Subwoofer
If you go through the catalog, you will see many soundbars come with sub-built-in, and some have extra options to connect them. And everyone loves cleaner and better audio and bass, and getting a sub is the best way to get that.
Whereas built-in options are great if you don't want any hassle, some prefer choosing the right sub for superior sound quality. 
Factor #5: Audio Quality
The sound quality depends on many factors, including all the factors mentioned in this section. These are primarily internal factors, such as drivers, channels, connections, systems, etc.
As for the external factors, the soundbar brand, model, year, etc., affects a lot. With time the tech changes so do the functionality as well as the effectiveness and efficiency of the techs. 
Another thing is the surround system, like 5.1 Dolby, has a huge effect on the sound quality. Besides, the components also have effects too.
Factor #6: Total Number of Speakers
Depending on your preference and need, the number of speakers will vary. Some people want to keep it simple, and one or two speakers are enough for them.
And some people want to get the whole experience, and they want everything that will give them that experience. If you already have a surround system installed, or are planning to install one, then you need a minimum of two speakers that should be compatible.
You can channel them through a sub and the main components and watch whatever you want with the whole experience.
Factor #7: Connection
The connection types between the TV and the soundbar depend on the TV and the soundbar itself. Most modern or digital soundbars have one or multiple connection options.
You will find HDMI or optical cable options in most of them. You can easily connect through the ports and enjoy your audio. 
Another important factor to mention is that you don't need a 4K HDMI cable for your 4K Tv; getting a regular or standard cable would be fine.
Factor #8: Mounted or Floor
Depending on the room size, the number of speakers, and other factors, the placement of the soundbar should be optimal. For example, some people prefer mounting the soundbars to save space, and one of the ways to do that is to get a soundbar stand.
And, if you have a big room, then you can place the soundbar on the floor or use a tool or something to lift it to the floor to not get the vibration. Besides, depending on the weight of the soundbar, the stand might vary too.
Factor #9: Surround System
The most important factor of all is the surround system of the speaker. Whether you want to experience the entire movie audio, you must have a surround system, such as  Dolby Atmos or DTS: X.
Getting a surround system will enhance the overall quality and make you feel every dialogue, song, and whatever you're watching. 
You need a better surround system if you want to leverage the 4K TV visual experience with the audio experience and use all the channels that will improve the quality.
3 Soundbars to Get for Your 4K TV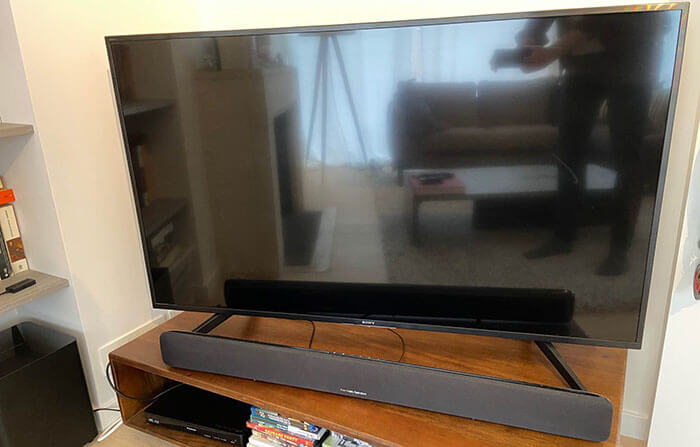 Here are three soundbars that I hand-picked for your 4K TV. These soundbars are great value for the price, and their compatibility is excellent. Without future ado, let's get into it!
1. Sony HT-G700
The Sony HT-G700 comes with a long list of benefits for users. Not only do you get a far better sound quality than your regular TV speaker, but also you get more! Those are;
It has a 3.1ch Dolby Atmos DTS: X, which means whether you have a big or small room, you don't have to worry about the volume because it will take care of that.
It also has a wireless sub that promises to deliver a clear and powerful bass experience.
You can add multiple media with the soundbar if you want to add any other extra instruments.
Not all soundbars come with a 4K HDR pass, but this one does provide an excellent sound experience.
You can connect it via Bluetooth or HDMI, whichever one you prefer and is convenient for you.
If you're looking for an all-in-one benefit and everything in one box, this is the one to get.
2. LG GX
Even though it doesn't have wireless functionality, it also has other great benefits. Here are they!
As for the extra features, it has Dolby Atmos and DTS: X.
Besides, if you have a 4K LG TV, then the thickness will be the same as that of the same line.
The soundbar can provide excellent audio with 192 kHz in 24 bits.
You're getting a wireless sub with it, and you can place it anywhere you want in the room.
With 3.1 ch and 420 watts, the soundbar can fill up a small to medium-sized room.
3. SAMSUNG HW-Q60T
The SAMSUNG HW-Q60T comes with seven different models and options to get from. You can also choose two different styles as well. In terms of functionality and other features,
It comes with an advanced adaptive sound feature, which means whether you're watching a horror, drama, war movie, or series, the sound will adjust itself to give you the proper experience.
With the DTS Virtual: X, you can experience the theatre feelings in sitting in your living room.
You can add multiple media devices to control the audio.
If you already have a Samsung QLED TV, then the sync will be more than perfect, and you will get some extra features.
You can connect it via Bluetooth and HDMI, whatever you prefer.
If you're looking for an excellent soundbar under five hundred, it is the best you got.
Wrap Up
Getting the perfect soundbar for your 4K TV would be challenging, but now you have this and decide on the right one considering all the factors. I have gone through the details and given you a direction on which would be better for you considering your preference.
To make the task easy, I also recommended some of my personal favorite and hand-picked soundbars for your 4K TV. I'm hoping by now you have a clear idea of what you're going to get and have even decided. Let me know which one you choose, and have a great day!