If you're an Android user and have got the latest JBL speakers lying around in the house, then you're seriously missing out from a possible game-changing experience in the world of music streaming.
You can spice up your house parties by pairing up your Android device with your JBL speaker and enjoy louder and more nuanced audio quality. However, if you're not sure exactly how to connect or pair JBL speaker to Android Mobile Phone, then you're at the right place to get guidance.
In this article, we'll walk you through some of the easiest ways you can pair up both the devices and freely move around and enjoy your favorite songs anywhere anytime with the wireless phone-to-speaker connection.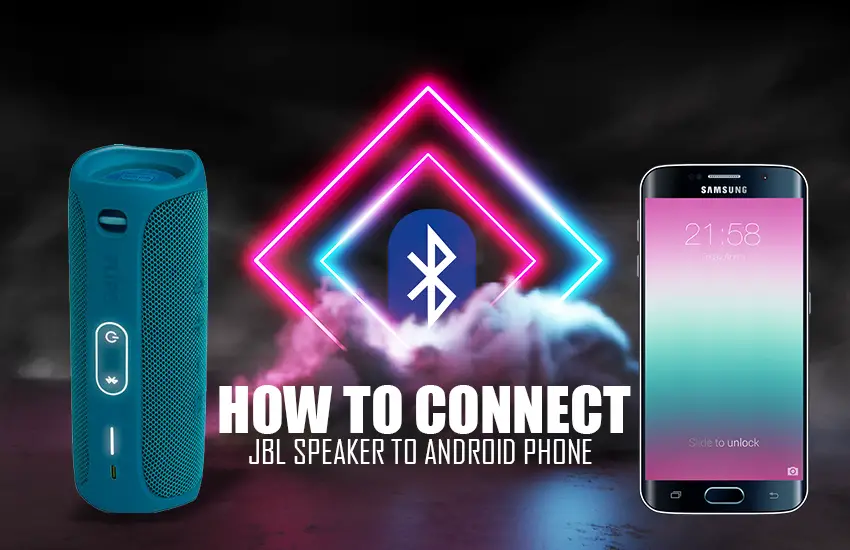 How to Connect JBL Speaker to Android?
In this section, we are going to discuss the top 3 possible ways to connect an Android device with a JBL speaker – either via Bluetooth, or the exclusive JBL app or through the PartyBoost feature. Without further ado, let's dive into the details:
Connecting Via Bluetooth Connection
Step 1: Power On
In order to be paired up, both – the JBL speaker and your Android smartphone should be switched on and have sufficient battery power left in them.
Step 2: Enter Pairing Mode
The JBL speaker needs to be entered into pairing mode. If it's the first time the JBL speaker is being paired, then it will automatically direct itself to pairing mode, otherwise you'll have to do it manually.
Step 3: Press Bluetooth On Your Speaker
On your JBL speaker, press the Bluetooth button (could be labeled as 'BT' button on the top of the case). When you press and hold the button for 5 seconds, it will enter pairing mode and you can confirm this by detecting the blinking light on the tiny LED indicator at the back of the JBL speaker.
Step 4: Turn on Bluetooth on Your Smartphone.
Now you need to turn on Bluetooth on your Android smartphone too. Go to the settings menu and turn on Bluetooth. You'll then see options like "Search For a Device" or "Add a Bluetooth Device". Press that and wait.
Step 5: Maintain Close Range
During this time keep both of the devices closer to each other within a range of 5 feet for faster results. Allow your Android phone some time to detect the external device which it has never paired with.
Step 6: Restart in Case of Problems
If the JBL speaker doesn't show up on your Android phone's "Available Bluetooth Devices Nearby" category, you may turn off your Android phone and JBL speaker and then restart the process from scratch.
Step 7: Select Device From List
Eventually when the JBL speaker does show up on the list on your Android, tap on it to connect it to your smartphone.
Step 8: The Final Step
It may ask for some kind of passcode which will show on your Iphone screen. Type it and click 'send' or 'enter'. Wait for a few moments and you'll soon notice that both the devices have paired up with each other.
Step 9: Detect Any Light Flash
You can be further assured by the LED flash indicator at the back. If the pairing was successful, then you'll notice a light pop-up but it won't be blinking, it will stay solid for a while.
Step 10: Time For a Quick Test
Last but not least, you should put your efforts to the test by playing some music on your Android phone and then check if the sound quality is much better and louder than usual.
Connect Via Official JBL App
Yes, that's right. JBL has its own app called 'JBL Portable'. You can download this app on your Android smartphone from Play Store. With this app, you'll be able to enjoy more features and different settings such as 'Feedback Tone' and will also be able to pair up multiple JBL speakers to your smartphone at a time.
After installing, choose your JBL speaker type from their list (i.e – Boombox 2 or Flip 5) and then the pairing options will show up.
Connect Via PartyBoost
In case you want to play music for an even larger crowd and want to connect several Android smartphones to your JBL speaker, it can be made possible if you own one of the latest high-end JBL speakers such as JBL Flip 5, Pulse 4, Clip 4, Xtreme 3, Boombox 2 or Charge 5.
On these speakers, you have a feature called 'PartyBoost' but before you press on it – you must turn on your Bluetooth first on your Android phone as well as JBL speaker. Once the devices are in pairing mode, connect them up!
Android Phone Not Connecting to JBL Speaker? –  Problem Solved!
We understand it can get challenging when trying to connect your JBL speaker to your smartphone. If you're struggling, then here are some quick troubleshooting ideas you can try out:
Restart your Android device.
Power off the JBL speaker and turn it back on again.
Plug in the charging power cable if the remaining battery percentage on the speaker or your smartphone is very low. 
Do a quick factory reset on your JBL speaker.
Check if any other Android smartphones nearby got accidentally connected to the speaker via Bluetooth. You'll have to disconnect the unwanted one first.
Any of the internal components of the speaker could be damaged – may require professional repair servicing
Both the speaker and smartphone are probably kept very far from each other after turning on Bluetooth. They should be positioned as close to each other as possible.
Wrapping Up
Now that you've learnt how to connect or pair a JBL speaker to an Android phone, you can easily make your neighbors feel jealous when you host the next in-house party with your friends and family. If you're having troubles connecting both the devices via Bluetooth, you can switch to the JBL app since that's more simplified and perform our troubleshooting suggestions to get better results.
Frequently Asked Questions
How do I put my JBL in pairing mode?
If your JBL speaker was never paired to any devices before, it will automatically enter pairing mode when you power on the speaker. If it's not the first time then you'll have to manually do it by pressing and holding the Bluetooth button for 3-5 seconds.
Why is JBL Bluetooth not connecting?
Double-check if the speaker is turned on and has plenty of battery charge left. If yes, then check if your JBL speaker is really into pairing mode. Remember – simply clicking on the Bluetooth button won't do, you must press and hold it for at least 5 seconds. For further troubleshooting, you can try switching your speaker off and then turning it back on or do a quick factory reset on your JBL speaker.
How do I connect a JBL speaker to my Samsung phone?
In short, you must activate Bluetooth on your JBL speaker as well as your Android phone. Then click on 'Search For Bluetooth Devices'. Meanwhile keep both the devices very close to each other. Soon you'll see your JBL speaker's name pop up in the list on your smartphone and then pair them up by confirming the 'OK' button.