Practically, floor-standing speakers can be wall mounted. But, technically, it is better not to wall mount your floor-standing speaker without considering a few factors, such as speaker weight, size, wiring, acoustics, and placement.
Considering all these, if your floor-standing speaker is compatible enough to be wall mounted, you can install the speaker without any issues. If not, it's better to replace your floor-standing speaker with wall mounted one to avoid any problems in the future.
Can You Mount Every Type of Speaker?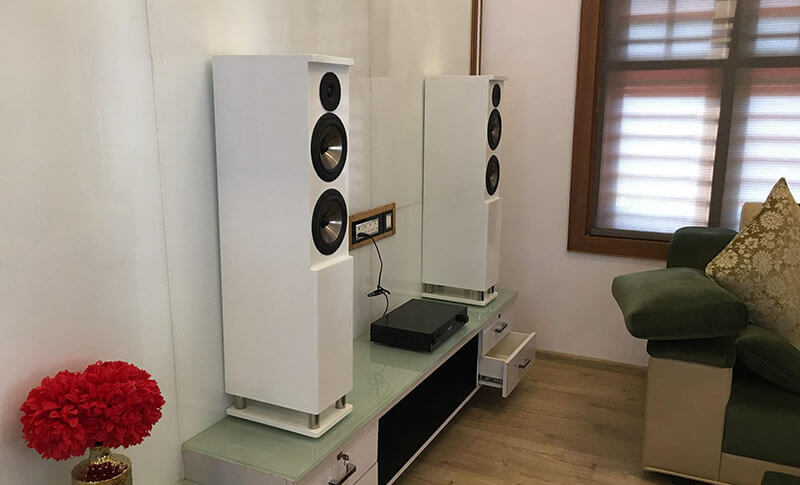 No, typically, you can't mount every type of speaker on your wall. The primary obstacle in the process is the sheer size of your speaker itself. As many speakers are bulky and can't be held by anything practical hardware available in the market, it would be difficult to mount.
For example, mounting a tower speaker on the wall would be highly impractical and a waste of space, money, and time. As a matter of fact, you can't even mount it in most circumstances.
Besides mounting position, the wall's overall design and hardware, such as brackets, also play crucial factors while determining whether you can mount it.
I will elaborately discuss all these factors in detail in the following sections. Let's get into it!
Wall Mounting Your Floor-Standing Speakers? 5 Factors to Consider
You can mount your floor-standing speaker, but there are some issues you need to consider before doing that. Technically, the process can be tricky, and it's better to know everything you need to know beforehand. 
Here are they!
Factor #1: Weight
In this case, weight is the crucial factor you need to consider among all these. Because,  usually, floor-standing speakers are heavier than floor-standing speakers. 
You must ensure that the wall can support the weight of the speakers, meaning your floor-standing speaker's weight and wall are compatible as usual with the wall-mounted speakers.
Factor #2: Size
The second most crucial factor is the size of your floor-standing speaker. When we get a floor-standing speaker, we use different types of speaker stand to set on them. Depending on the speaker size, we choose only those that can hold the speaker.
But, when we consider mounting them, the size plays a significant factor as you can't place them in anything you think can hold them. If there isn't enough mounting hardware to hold the speaker, it will damage itself and cost a lot of money to fix everything.
So, it's better to be aware of the certainty that the wall and hardware can hold the speaker.
Factor #3: Wiring
Usually, floor-standing speakers have more wired options and work better in that way. But, when it comes to mounting speakers, they are more wireless, or the overall wiring have less complicated and more digitalized and straightforward.
Besides, in the system, you will find that floor-standing speakers usually have speaker wires that connect to the amplifier or receiver. When wall-mounting the floor-standing speakers, you must ensure adequate space to route the cables from the speakers to the amplifier or receiver. 
Factor #4: Placement
Floor-standing speakers are designed to produce sound in a specific way that may not be optimal when wall-mounted. The sound may be less apparent or balanced, or you may experience unwanted resonance or vibration in the wall, which I experienced a few times.
Not only must you ensure that the speaker placement is optimal, but it is also compatible with providing the best audio you want to experience when it is floor-standing.
Factor #5: Audio Quality & Aesthetics
Of course, I trust your judgment while choosing the right floor-standing speaker and the audio quality of that specific speaker. But when it comes to the overall sound quality difference between when it was on the floor and mounted.
As you might already know, your sitting position and placement of the speaker matter a lot while it is floor-standing; it will also differ when you mount it. So, It is essential to experiment with different mounting locations and angles to find the best sound quality. 
And, not just that, you don't want wires hanging around in your home theatre and ruining the overall looks and vibes. In some cases, when you mount them on the wall, they may look out of place and may not be visually appealing. You should consider that while the overall aesthetics before making a decision.
Do You Need Technician or Expert helps?
How to Mount Floor-Standing Speakers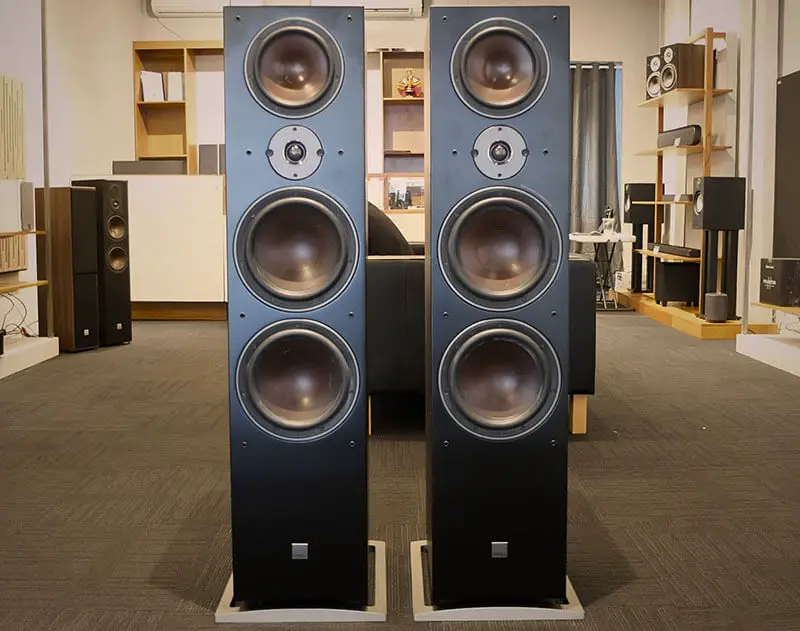 After considering all the factors, you can mount your floor-standing speakers. It is a great way to save space and achieve a clean environment, but it also gives your home theater or music room a modern look.
But there is a proper way to mount while dealing with floor-standing speakers. Of course, you'll need a few items before you start mounting. Here is a list of everything necessary to save you trouble.
Brackets (These usually come with the speaker, but if not, ask the manufacturer for the specific type)
Screws & wall anchors
A stud finder
Cutter
Wire stripper
Drill
Level
Pencil
These items will do fine now, but you might need additional mounting accessories. Not to forget that you must ask or get the information if your speakers are suitable for wall-mounting.
After that, we can process mounting on the wall.
The first step is locating the studs on your wall to ensure the speakers are securely mounted.
Get a stud finder to locate the studs.
After that, mark the location on the wall with a market or tape or something.
Get the brackets and screws, and don't forget to check their compatibility with the speakers.
Drill pilot holes into the wall where the screws will go, and insert wall anchors if necessary.
Then, attach the brackets to the wall using screws.
When the previous process is done, you need to attach the speakers to the brackets using the mounting holes or keyhole slots on the back of the speakers.
The installation or mounting part is done, but you need to adjust a few things to get the best out of the speakers. Assuming you maintained all the factors and chose a perfect mount, you only need to change the speakers' position or angle.
Ensure that the speaker's direction is directed toward the sitting position. That way, you won't need to worry about finding the optimal audio experience you want.
That's not all! You can also use different positions for the floor-standing speakers.
Alternative Placement Options for the Floor-Standing Speakers
Sometimes, we might wish not to place it on the floor or mount it on the wall. Don't worry! In that case, there are alternative placement options that you can consider besides mounting the speaker on the wall.
Alternative #1: Ceiling Mounts
If you don't want to take up space on the wall, mount your floor-standing speaker on the ceiling. Ceiling mounts are available for a variety of speaker sizes and weights. 
Just be sure to choose a mount designed for your specific speaker. Mostly your speaker might come with an additional bracket specifically for them. You can ask the manufacturer requesting the hardware.
Alternative #2: Speaker Stands
The obvious option is the speaker stand, which is as popular as the rest. With this particular option, you can elevate the speaker off the floor, but it can also allow you to position it at the ideal listening height.
You can choose one that matches your decor, as there are plenty of options for your floor-standing speaker. And, of course, you must check if your stand is compatible with taking the speaker's size and weight.
Alternative #3: Bookshelf Placement
Depending on the size of your floor-standing speaker, you may be able to place it on a bookshelf. It can provide a stable surface for the speaker and allow you to position it at ear level. 
If you're on a low budget, or you want to upgrade the system without spending too much with what you have in your home theatre, it might be the best option you have in that case. But you need to ensure to choose a sturdy bookshelf to support the speaker's weight.
Additional Tips to Remember
I discussed all the significant factors in the previous section. But, besides those, there are also some additional factors that you must go through, and there are some tips for that.
Here are they!
You must carefully choose an optimal position for your speaker and drill holes.
Just to remind you again, you can mount your subwoofers too.
The smaller the speaker, it would be easier to mount on the wall; also, it would be wise to choose a flatter one.
It's better to use wall brackets while mounting the floor-standing speakers, and I highly recommend not drilling or installing the speaker directly.
Front corners are always the optimal position to place your speakers. Remembering that, it would be wise to measure if it's possible to put the speaker there to get a better frequency and bass response.
Never overtighten the screws in your brackets that hold the speaker. NEVER!
Recommended Floor Standing Speakers That You can Mount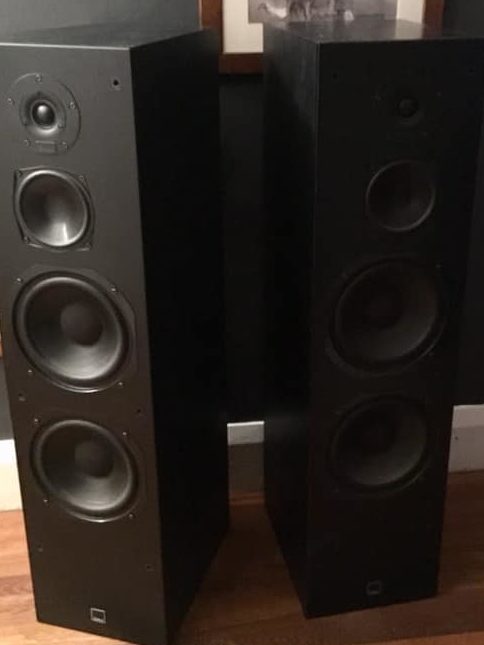 If you already have a floor-standing speaker that meets all the criteria and has no issues mounting on your wall, go ahead!
But if you're still at that phase where you can't decide if you should get a floor-standing speaker to mount on the wall later, I understand your confusion. You might be overwhelmed, and it can be difficult sometimes to find the right speaker.
Don't worry! Understanding your issue here, I will recommend two wall-standing speakers that you can mount if you want. 
I won't go into product details, just a brief idea. Without any further delay, let's get into it!
Klipsch RP-8000F
The primary reason for choosing this particular speaker is its versatility. You can use it as a floor-standing speaker or mounted on the wall using Klipsch's wall-mount bracket, making it an excellent choice for anyone who wants to maximize their space or create a more customized home audio setup.
As for the other aspects;
It has a durable MDF cabinet and a scratch-resistant finish, using high-quality materials and solid construction built to last.
The speaker's 1-inch titanium tweeter and dual 8-inch copper-spun woofers deliver exceptional sound quality with deep bass, clear midrange, and crisp high frequencies.
Its sleek black finish and copper accents give it a sophisticated, high-end look that can blend into your home theatre.
ELAC Debut 2.0 F6.2
As you already know, you can use this speaker for floor-standing and mounting purposes, making them ideal for those who want the flexibility to change their setup over time.
Besides,
A custom-designed woofer and tweeter, along with a carefully tuned crossover, offers exceptional sound quality, with clear highs, detailed mids, and powerful bass.
A sleek and modern speaker that looks great in any setting, whether standing on the floor or mounted on the wall.
With a power handling capability of up to 120 watts, the F6.2 can handle even the most demanding music and movie soundtracks.
Wrap Up
You already know your answer in detail by now. As a wrap-up, you can mount a floor-standing speaker, but you must ensure a few things and consider some factors. Without considering those factors, I strongly suggest not mounting any floor-standing speaker, for your and your home theatre's sake. And if you have any issues finding the perfect speaker, I also provided a few options.
Good luck!