The perks of ceiling mounting your speakers are always lucrative. From getting that Dolby Atmos experience to clearing up space for your room, mounting your speakers does help in your overall experience. Brands like Polk and Klipsch have created quite the name by making their speakers immersive to their users through ceiling mounts. But, before mounting, you need to know if your speakers are compatible with mounting along with the wiring. Also, the mounting can differ based on the speakers. 
As we further talk, I'll talk to you about the best bookshelf speakers and how you can easily mount your speakers on your ceiling. 
Important: What do you need to know before getting ceiling-mount bookshelf speakers?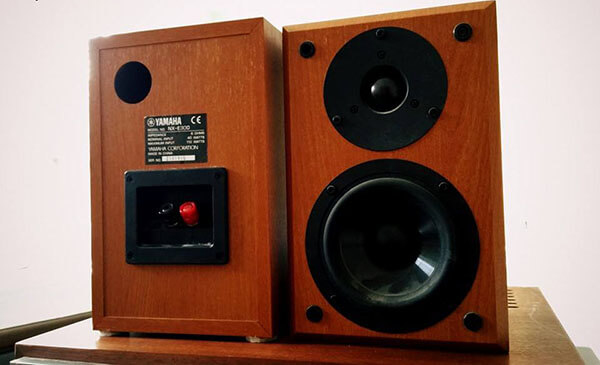 The essential thing you need to keep in mind is that the mount has to be suitable for the ceiling; you could get convinced that an in-wall mount is ideal for the in-ceiling, but no, the features are different. As one could be for basic home setups, and the in-ceiling will be for home theater setups. 
Here are some of the essential yet necessary insights everyone should know before getting bookshelf speakers for ceiling mount. 
The Weight of the speaker
The weight will surely pay dividends, as you need to be aware of the dimensions and the weight of your speakers. Your wall mount needs to be able to hold at least 40% more weight than the speaker itself. 
Also, you need to be careful about the shape of the speakers as the bookshelf speaker can be taller than the typical size it could require a different type of mount. So, you shouldn't just buy a mount that is minimal in size and cheaper. 
The placement of the speakers
This varies based on your room because you may need to adjust the placement of your speakers because the surface of the wall isn't suitable for drilling along with positioning them in such a manner that you are able to have a completely immersive experience. 
The essential suggestion after placing the speakers at the recommended distance, make sure that the Left and Right speakers are equidistant from each other and that the speakers are pointed toward the couch, which is where you'll be sitting. 
Wiring of the speakers 
Wiring is actually a crucial factor as you will need to either connect it to the main electricity port or to the amplifier, depending on your speaker. After that, depending on your mount, you need to do your wiring. I am actually a fan of flush-mounted wiring as you cannot see the wires, but you can go for cable surface installation if you don't have any issues, or that's what your mount can offer. 
Know if the brackets can be installed in the speakers 
Based on the speakers I have researched, I have noticed that not all bookshelf speakers can be ceiling mounted because you either cannot get brackets for them or their surface doesn't have the rigidity or material to install a bracket. 
Also, you need to know if the adapter panel is suitable for your speakers, as you may require to open the bracket of your speaker and install it to use the mount. If the ceiling mount isn't universal, then it may not be adaptable to your speakers/
Recommendations: Best bookshelf speakers for ceiling mount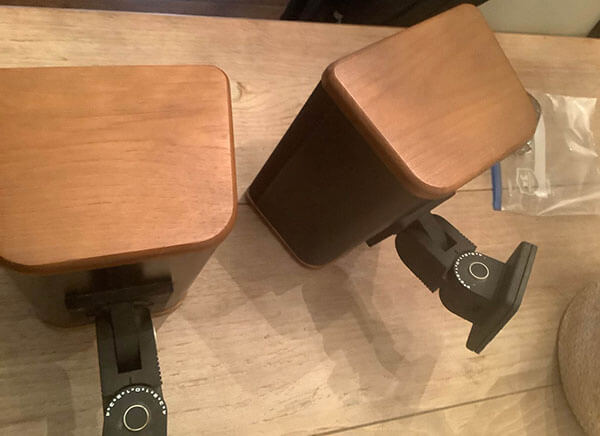 Since mounting is your priority, I'll be first suggesting you the best ceiling mount speakers while keeping in mind those can be hung on your wall or ceiling. 
Edifier P12 (If you're on a budget)
Suppose you're looking for a premium experience while on a budget that also fills your aesthetic demands. In that case, the Edifier P12 has got you covered. The passive speaker, which means you'll need an amp covers many things and let you control a lot of activity options of the sound system. The speakers also come with a built-in wall mount bracket, so you don't really need to worry about getting another panel. 
Features: 
The P12 has a 3.4-inch silk-dome tweeter along with a 4-inch driver for its bass. 
It consists of 79 decibels of signal-to-noise ratio. 
For its price, the P12 has an impedance of 6 ohms
It has a frequency response of 55Hz-20KHz. 
It requires an amplifier for you to have access to more connectivity. 
It has a total power output of 5-20 watts per speaker. 
Drawbacks
Many users often complain that the sound quality isn't high-end, with mediocre mids and lows, while the sound is too bassy. 
Polk T15 (For the home theater experience) 
Inspired by Polk's instant-classic Monitor Series loudspeakers, the Polk T15 has been created to give you that home theater-like, immersive concert experience while also giving you the freedom to use it just as a bookshelf speaker. It is also a passive speaker, so you'll require an amp, and it has a keyhole for the wall mount, but the surface looks suitable to install a bracket if the keyhole isn't suitable for the mount. 
Features: 
The Polk comes with a 0.75-inch tweet and a 5.25-inch dynamic balance driver for its high bass and low frequency. 
For its nominal impedance, the Polk has 8 ohms. 
It has an overall frequency of 60Hz-24kHz. 
The T15 comes with a sensitivity of 89 decibels. 
Per channel, it can be 20-100 watts. 
You will need an amplifier to gain access to its Hi-Res Audio and Bass Boost. 
Drawbacks:
The overall sound of highs and mids may seem unbalanced to a few people.
JBL Professional C1PRO (One for the JBL enthusiasts) 
This is an all-time classic, and many of you enthusiasts are aware of how good the Control 1 Pro is. And, of course, JBL requires no introduction as it has been serving us magnificent sound experience for decades now. Its magnetic shield gives that classic along with its packed features. While it provides options to mount but what catches my attention is its maximum SPL of 114 dB. 
Features: 
The C1 pro has an impedance of 4 ohms. 
It has an SPL of 108 decibels at a continuous rate and 114 peakings. 
For its sensitivity, it has 87 decibels. 
The frequency range of the C1 Pro is 80 Hz to 20 kHz.
The C1 pro comes with a 0.75-inch dome tweeter and a 5-inch woofer. 
For its power handling capacity, it can go as high as 150 watts per channel.
Understand the differences among these bookshelf speakers. 
Now that we have discussed all the speakers let us now look at all of their specs at a glance for your convenience. 
| | | | | | |
| --- | --- | --- | --- | --- | --- |
| Speakers | Impedance  | Channels Per Watt | Frequency Range  | Sensitivity | Tweeter and Dome Size |
| Edifier P12  | 6 Ohms | 20-100 Watts  | 55Hz-20KHz | 79 Decibels.  | 4-inch silk-dome tweeter along with a 4-inch driver for its bass |
| Polk T15  | 8 Ohms  | 20-100 Watts per channel | 60Hz-24kHz | 89 Decibels | 0.75-inch tweet and a 5.25-inch dynamic balance driver |
| JBL Professional C1PRO | 4 Ohms | Upto 150 Watts per channel | 80 Hz to 20 kHz. | 87 Decibels | 0.75-inch dome tweeter and a 5-inch woofer. |
The Process: How can you mount your bookshelf speakers onto the ceiling?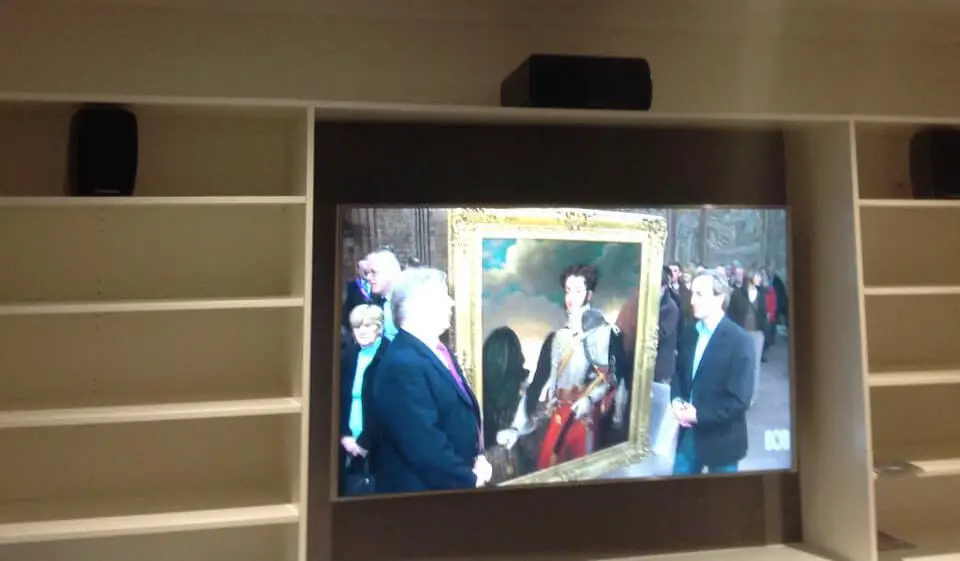 Since bookshelf speakers vary along with their wall mount, for that reason, I shall talk to you about how you can mount your bookshelf speakers through a Universal mount. Also, the average weight of a bookshelf speaker is around 14-16 pounds, but the fluance or similar speaker mounts can carry over 30 pounds. So, you don't need to worry about the weight of your speaker. 
Tools required:
Screwdriver
Allen keys
Wall anchors 
Drill kit
Stud finder
The Process:
There are, of course, various types of wall mounts, like the wooden wall mount that stays as it is or the dual-side clamping ones to rotate left and right, but I'll be explaining to you how to install those Tilt and Swivel Wall mounts as it is universal and suitable for your Ceiling. So, here are the steps. 
Unless your brackets match the panel of the mount, you need to open them up with your screwdriver. 
Install the Mount bracket.
Now, install the speaker mount bracket on your speakers and make sure that you don't harm the material of the speakers, as it could require you to use a drill that has a more precise pin. Make sure that the screws are well adjusted because some of them only require the installation of two screws. 
Install the second half of the mount that will hold the speaker. Make sure that the bracket is well adjusted before attaching it to the wall; otherwise, you'll face difficulties in placing it the right way. 
Find the right place to drill.
Now use a stud finder to find the perfect spot in your speaker positioning angle so that you can keep yourself away from danger. Before drilling, mark the areas with a pencil to avoid confusion.
Find out the right stud center and drill it precisely and then install wall anchors. I recommend anchors because it is common to have dry walls. 
Install the washers and screws with a drill. There should be at least four screw placements to hold your speakers firmly. 
Tighten the speaker to the clamp.
Now simply mount the speaker onto the clamp and tighten it with the adjustable screw. Some of the mounts will require screws which you can tighten using a large Allen key. After that, you successfully installed your speaker onto the ceiling.
Note: In case of accidents so that the speaker might not fall down, some mounts give safety cables which let the speaker hang in case of some sort of accident. 
FAQs (Frequently Asked Questions)  
Are in-ceiling speakers better than bookshelf speakers? 
Ans: In a nutshell, ceiling speakers are not for your regular usage; it is based on your needs. You could want a full-on 9.1 surround sound home theater setup, or if you want Dolby Atmos, then you could have in-ceiling or in-wall speakers. In contrast, Bookshelf speakers are traditional speakers that you can also typically be for your 2.1 setups as well or your high-end setups. If only sound quality were your priority, then you should definitely go for bookshelf speakers, as I have also shown you how to install them on your ceiling. 
Wrap Up! 
Thus, I hope I have helped you overall in choosing the right speaker as well as giving you an idea on how to install a ceiling mount which is actually not that difficult if you get one that is universal.
To comprehend, I would suggest you be mindful in finding the right speakers, not just be biased over a brand as they won't have the features for installation, and of course, be mindful in choosing the wall mount because some of them might not carry the weight limit or some of them are suitable for the in-wall mount, not in-ceiling mount.