A new projector set-up is never easy! Installing the projector in the ceiling, then mounting the projector screen – even after all that hassle one big problem still remains – which is processing the video sound from your projector to your speakers.
If you're exhausted by now and looking for some quick easy solutions on how to get sound from projector to speakers – you're at the right place. Without further ado, let's explore the different methods together!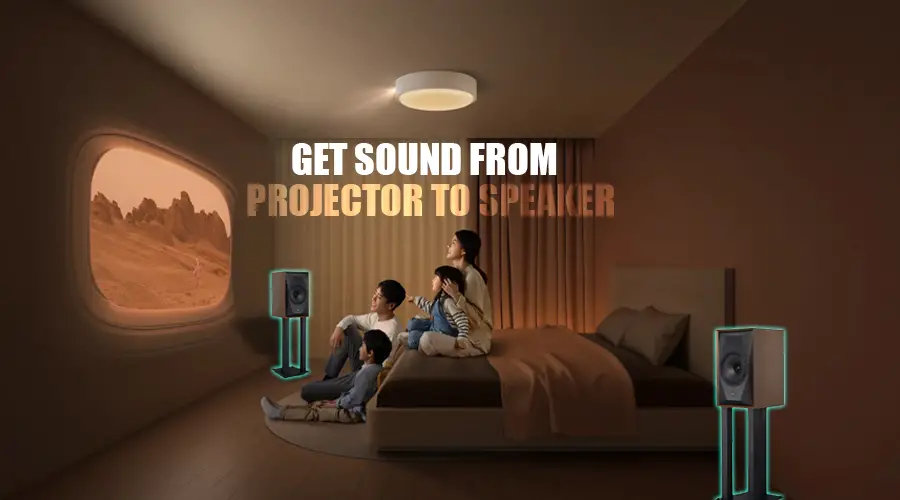 Top 3 Ways to Get Sound From Projector to Speakers
Before you worry about whether you'll get sound from projector to speakers, you should plan all the other arrangements first which are more important.
At its best, effective planning will lead to a smooth and reliable setup. On the other hand, a lack of proper planning will result in you having to repeat everything again from scratch.
Therefore, you should pre-plan where you want most of the sounds aimed at and select a suitable location for your projector and projector screen.
Method #1: Use an A/V Receiver
Step 1: Power Off The Equipment
Yes, the first step is to make sure that your projector is not connected to a power source.
Step 2: Pair The Projector to The A/V Receiver
Now, link up your audio source to the A/V receiver. You can do this with the help of an HDMI cord and connecting it directly from the video source or maybe a SPDIF cable from the projector to the I/O port on your AV receiver.
Step 3: Connect the A/V Receiver to a Sound System
Great job! You've handled the receiver input like a pro, now let's move onto the speakers. You'll see that there are speaker channels on the receiver, you need to connect them to your speaker output ports with the help of good-quality cables.
Step 4: Power On The Equipment
Now that the basic setup is done, you should power on all the equipment and then it'll be time for a quick test.
Step 5: Test Your A/V Receiver Setup
Check if all the cables are plugged in correctly and that no cable feels loose. To test if all your efforts were worth the pain, simply stream some music or play a movie and check the audio quality. If you would like to adjust the volume, you can do that with the projector remote control.
If the volume is still low even after turning it up on the projector, then check the video source in case you are projecting from a computer or laptop. You'll need to turn up the volume on your video source device as well.
Method #2: Directly Connect Using Cables
We hope the previous method worked out for you. Even if not, don't feel upset. The technique we're about to show you now is less complicated and much simpler – all you need are some decent-quality auxiliary cables or RCA cables. 
Step 1: Switch Off Everything
Yes, you need to unplug everything and turn off the projector. Whatever you had setup in your previously failed attempt, you need to undo those and begin again from scratch.
Step 2: Measure The Distance
In order to find the right-sized cables, you have to measure the distance between your speakers' audio ports and the location of your projector using a retractable measuring tape.
Step 3: Arrange Cables
Now, go to the nearest shop and buy good-quality AUX/RCA cables. Don't buy cables of exactly the same size as the distance you calculated. The cable size should be longer than that. For instance, if the distance was 20 ft. you should get cables that measure 30 ft. or more.
Step 4: Establish The Connection
Okay so your cables are ready, the projector is all set up, what are we waiting for then? Use your cables to connect the projector to your speaker's 3.5 mm audio jack.
Step 5: Final Examination
Just like how we showed you in the previous method for a quick check-up, follow the same suggestions here as well. Check if all the cables have been correctly plugged into the correct outputs. Lastly, if everything looks sorted, then power on all your equipment.
Step 6: Test The Connection
Congratulations! Your setup is complete! Now it's time to test the connection. Play something from your computer and check the audio quality. Make necessary adjustments to the volume as required either manually or by a remote. Then enjoy your favorite movie with your friends!
Method #3: Use Bluetooth
Feeling too lazy to go buy some 3.5 mm cables? What if we told you that things can get even more simpler if your speakers are compatible with Wireless Bluetooth Technology?
Yes, you can also connect your speakers to your Projector using Bluetooth, given that your projector model features a built-in Bluetooth.
Now how do you know whether there's Bluetooth software inside your projector or not? You can Google it up or also check in the User's Manual that was provided with your projector when you bought it.
Now, follow these steps:
Step 1: Power on your projector.
Step 2: Go to the 'Menu' option and select 'Settings'. From there, activate Bluetooth. Or if your projector already features a 'Bt' button on the case, then press and hold that button for 5 seconds to turn on Bluetooth.
Step 3: It's time to activate Bluetooth on your Soundbar as well. Go to the 'Settings' menu and select 'Audio Output'
Step 4: Once you see the Bluetooth option, click on it. You'll see a flash of red blinking for a while on the LED bulb sensor. That indicates Bluetooth has been turned on successfully.
Step 5: Now, click on 'Search For Available Devices'. Once the name of your projector pops up in the list of available nearby devices, click on it and pair them up together.
And you're done. Now all that's left to do is test the audio quality by streaming some music and adjusting the volume settings as needed.
Wrapping Up
By following our easy step-by-step instructions, you will be able to successfully pair up your projector to your speakers no matter which method you choose. However, if luck is not in your favor today and none of the methods work out for you, perhaps it's not your luck but the cables. That's why we recommend using good-quality cables instead of cheap substandard ones.
If you feel like the problem is with your speakers, for instance the capacitor is damaged or the wiring set is faulty, you should seek help from a professional technician to come and perform a thorough diagnosis and evaluate what's wrong.
Frequently Asked Questions:
1. Can I connect speakers directly to the projector?
Answer: Yes it is possible to directly connect your speaker to a projector using 3.5 mm aux cables or RCA cables. Moreover, if both your projector and speaker are compatible with Bluetooth, you can also pair them up together wirelessly.
2. How do I get sound from my projector to wireless speakers?
Answer: After you've connected your projector to your speaker, you should go to the 'Sound Settings' option and adjust the volume, frequency and everything else to enjoy the best audio quality possible. You can also lower or raise the volume with the remote.
3. How do I connect speaker wire to my projector?
Answer: You can connect your speaker wire to the 3.5mm audio jack on your projector if your specific model has one.
4. Where do you plug speakers into a projector?
Answer: It depends on the type of projector you have. Some projectors feature external audio ports for inserting speaker wires, some projectors also have a 3.5mm headphone jack where you can plug in AUX cables. A few models may also have HDMI-ARC outputs for plugging in speakers.