If you're an iPhone user, you probably listen to music the ordinary way every typical person does – through Apple Music or spotify. But what if we told you that you could step up your music streaming to the next level! Yes, that's right. You can pair your iPhone to JBL speakers which is absolutely going to be a gamechanger decision. 
If you're intrigued by the idea and want to try it out, don't worry if you don't know how to pair JBL speakers to iPhone, because that's exactly what we'll be teaching you today.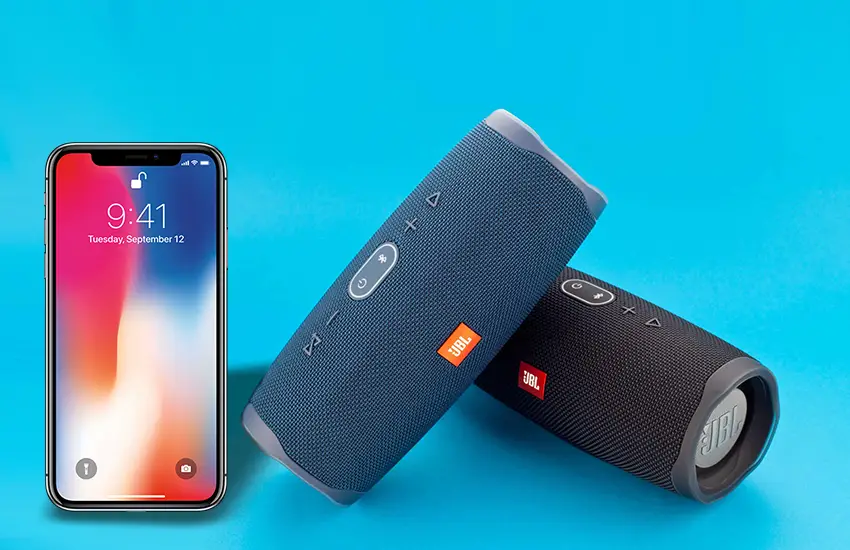 Advantages of Pairing JBL speakers to Your iPhone
Pairing JBL speakers to an iPhone does sound like a hassle, but we can assure you – the final outcome is worth the extra effort. Here's why:
1. Better and louder sound quality
2. Sounds come off more nuanced and clear. 
3. You can also involve Siri and make it turn up the volume, lower the volume, skip to the next track or jump back to the previous song simply with your voice commands. 
[P.S – Please note that this facility is only available for Flip, Xtreme, Pulse and Charge lineups] 
How to Pair JBL Speakers to iPhone? – 7 Easy Steps
Here's the thing – both Apple and JBL don't like 3.5mm headphone jacks / aux outputs. What's the solution then? 
There are two ways we can pair JBL speakers to iPhone – one, via the infamous app named 'JBL portable' that you can download off Play Store and Apple Store. (This app is not only suitable for Iphones but also supports Android and IOS smartphones). And second – via bluetooth.
Whether it's the latest Boombox 2, or the much-loved JBL Flip 4 or simply the old JBL Clip 2, you'll be able to follow our easy instructions for all of them and pair to your iPhone via bluetooth. 
Without further ado, let's jump to the tutorial.
Step 1: Make sure both – the JBL speakers and your iPhone are switched on and have sufficient battery power left. 
Step 2: On your JBL speaker, press the Bluetooth button and hold it for 5 seconds till you see a blue/red flash on the tiny LED indicator.
Step 3: Repeat the same process on your iPhone as well. Find the settings menu and turn on Bluetooth. 
Step 4: Now keep both of the devices closer to each other within range. You need to give it some time for your iPhone to detect the external device which it has never paired with. 
Step 5: If the JBL speaker doesn't show up on your iPhone's available Bluetooth devices category, you may turn off your iPhone and JBL speaker and then restart the process.
Step 6: Eventually when the JBL speaker does show up on the list, tap on it to connect it to your iPhone. 
Step 7: It may ask for some kind of passcode which will show on your Iphone screen. Type it and click 'send' or 'enter'. Wait for a few moments and you'll soon notice that both the devices have paired up with each other. 
What to Do if The Bluetooth on iPhone Isn't Pairing with JBL Speakers?
Although the process isn't that complicated, it's still possible to face several technical issues while pairing. Here's what you can do: 
1. Restart the process all over again.
2. Turn on and off the Bluetooth as much as required until the issue solves.
3.  Be sure of JBL's wireless range and keep both the devices as close as possible within range. 
4. If the issue is internal, it's better to restart your iPhone and try again.
5. Ensure that the JBL speaker has enough battery power left. 
6. Double-check whether your JBL speaker mistakenly got connected to another device nearby which has its Bluetooth turned on. Since two different devices cannot be connected to the JBL speakers at the same time, you'll have to disconnect that first.
If the above steps don't come out fruitful, you should keep your Iphone aside and try pairing a different device (i.e – Android phone) with your JBL speaker. If you still face problems, that would mean your JBL speaker has some technical issues going on inside and may also require repairing. On the other hand, if they pair up perfectly fine, that would indicate the issues are with your iPhone.
Last but not least, if pairing with Bluetooth is proving to be troublesome for you, you can use their dedicated app 'JBL portability' to connect your iPhone.
How Do You Unpair JBL Speakers From an iPhone?
Unpairing your device from JBL speakers is as easy as pairing them. Here's how to do it: 
Step 1: Open the settings menu on both your iphone and JBL speakers
Step 2: Find Bluetooth and open it.
Step 3: On the right-hand corner, you'll see an option labeled "Forget Device". Click on that. 
Conclusion
If you're going on long drives with friends, playing loud music to set the mood is a must! And if you can play all your favorite songs from your iphone via JBL speakers, that will be twice the fun. Nonetheless, if you're having problems with pairing via bluetooth and don't mind wired connection, you can also use a 3.5mm aux cable and connect one of the ends to your JBL speakers and the other end to your iPhone's headphone jack adapter.
Frequently Asked Questions: 
1. Does JBL work with iPhone? 
Answer: Yes, the bluetooth on JBL speakers is very compatible with most Iphone models. Apart from playing music, you can also receive phone calls and give voice commands to Siri. 

2. Why won't my iPhone pair with my JBL speaker? 
Answer: Perhaps the Bluetooth hasn't been turned on properly in either of the devices or the battery power is really low on one of them. There could be some internal issues as well, so it's better to restart your device and attempt pairing again.

3. How do I put my JBL speaker in pairing mode? 
Answer: If you never paired any devices to your JBL speakers before and this is your first time, it's likely to enter pairing mode automatically once you turn on Bluetooth. The LED indicator flash will turn white which means it's searching for devices to pair to within close range.

4. How do I reset my JBL paired device?
Answer: You need to press and hold either the Volume Up (+) button or the Volume Down (-) button simultaneously together with the Bluetooth button. Doing this will turn off the speaker within 5-10 seconds. The LED light ring surrounding the power button will flash 3 times before turning off. Few moments later, turn on the speaker. You'll observe that all the previously paired devices have been erased from data because of the successful reset.