We understand how important your JBL Flip 5 speaker is to you and how frustrating it can feel if it suddenly stops working or malfunctions. However, before you think of selling it off or replacing it with a new one, what you should do is try resetting the speaker once to check whether the issues are solved.
Now, don't worry if you don't know how to factory reset your JBL 5 speaker or how to pair new devices again after all the data is erased because in this article, we're going to walk you through all the stuff you need to know on how to reset and pair JBL Flip 5 speakers.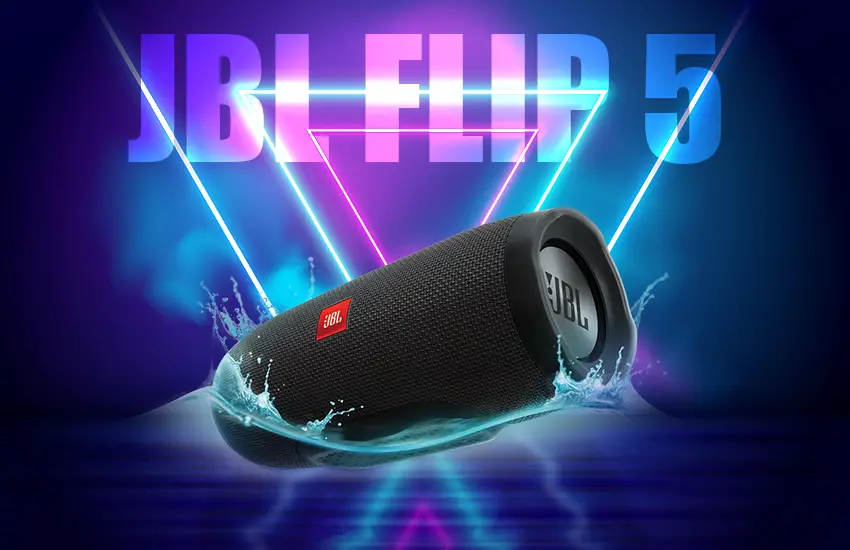 How to Reset JBL Flip 5
Although the JBL Flip 5 speaker was launched 3-4 years back, its popularity has been rising ever since and is one of the first choices of tech-geeks and music lovers. So, how do you reset this popular speaker?
Step 1: Firstly, make sure that the speaker is turned on and has sufficient battery power left for a successful reset.
Step 2: Use two different fingers to press and hold two different buttons together at the same time – the 'Play' and 'Volume Up' (+) buttons.
Step 3: Do not just press and then let go, the reset won't be complete then. You need to hold the buttons for at least 5 seconds after tapping on them.
Step 4: If you could properly press and hold the two buttons simultaneously, then the speaker will automatically turn itself off after the flash blinks for a while.
Step 5: Allow your speaker some time to adapt to factory default reset (about a minute or two) then power on your JBL Flip 5.
Step 6: After turning on, if everything looks exactly like how it did when you used it for the first time, that would indicate a successful reset. Good job!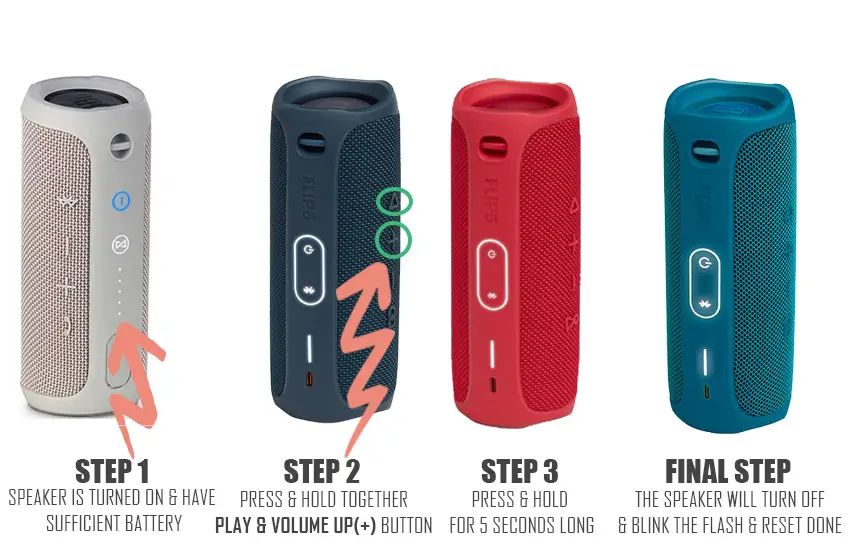 How to Pair JBL Flip 5 Speaker
After resetting your JBL Flip 5, you must have noticed that all the settings for paired devices are gone, including saved Wifi passwords and configurations.
If you want to pair your JBL Flip 5 to your Android, PC or iPhone, you must do it all over again in the following way:
Step 1: Use a Bluetooth connection – this is the easiest way to pair your JBL Flip 5 to other devices.
Step 2: Go to 'Settings' and activate the Bluetooth button on your iPhone/Android/IOS/TV or computer and do the same with your JBL Flip 5 to enter into pairing mode.
Step 3: Make sure you keep both the devices very close to each other within a range of 8-10 meters and not farther than this.
Step 4: On the device which you'd like to pair your speaker with, you'll soon see the name 'JBL Flip 5' pop up in the list of the available devices nearby with Bluetooth on.
Step 5: Click on it and within a few moments both the devices will be paired up with each other.
To examine whether the pairing has been successful, you can play any music and detect whether the sound's coming out from the JBL speaker or not.
Moreover, please note that the pairing process may not always be as smooth as it seems like, you may face multiple issues such as – technical or internal.
These are some quick solutions you can try when having troubles with pairing:
Restart your pairing device (iPhone/Android Smartphone/Tablet/PC etc)
Power off the JBL Flip 5 and turn it back on again.
Plug in the charging power cord if the remaining battery percentage on either of the devices is very low. 
Do a quick factory reset on your JBL Flip 5 speaker.
Check if any other nearby devices got accidentally connected to the JBL Flip 5 via Bluetooth. You'll have to disconnect that first.
Any of the internal components of the speaker could be damaged – may require professional repair servicing.
Wrapping Up
If you own a JBL Flip 5 and can't imagine your day without streaming your favorite songs on it – we totally get you. Knowing how to pair different devices to your JBL speaker and resetting it whenever necessary is a must-have life skill. Hopefully, by following our simple yet effective guidelines, you'll be able to enter pairing mode on your JBL Flip 5 speaker or take it back to factory default setting 
Frequently Asked Questions
How Do I Put My JBL Flip 5 in Pairing Mode?
Firstly turn on your JBL speaker and activate Bluetooth. You'll notice that the power button will flash light for a while and then it will enter discovery mode or pairing mode.
How Do I Factory Reset My JBL Flip Five?
Turn on your JBL Flip 5 speaker. Press the 'Play' button and 'Volume Up' button simultaneously and hold them like that for a few seconds. The power button will light up and blink for a while and automatically switch off itself. After a minute passes, turn your speaker back on and it will be in the factory default mode if you did all the steps correctly. If it didn't reset properly, repeat the process.
How Do You Reset a JBL Flip 5 That Won't Turn On?
Perhaps your JBL Flip 5 speaker is not turning on because the battery died. You must plug in the charging cable and allow it to power up for at least 20-30 minutes and then try turning it on again. After it switches on, press and hold the 'Volume Up' button and 'Play' button together at once for a few moments until the speaker turns itself off on its own. Give it some time and then turn the device back on.
Why is My JBL Flip 5 Not Connecting?
There could be several possible reasons for why your JBL Flip 5 speaker is not connecting to other devices, such as – technical problems, bluetooth not turned on correctly, battery percentage is very low, another device somehow got connected instead, internal failure of any components, any/all of the buttons on the speaker got damaged and so much more. You must perform a close-up diagnosis to identify the specific problem first and then attempt the necessary troubleshooting methods.