In brief, yes, it is possible, but with a few adjustments and sacrifices. The issue arises if the surround sound feel is possible with the center speaker. As you would need to adjust your seat's position, change the settings of your AVR, and create a phantom sound effect and many other things, which we will discuss as we proceed. 
Before we had all these surround sound, home theater-like setups, people used to experience through a 2.1 setup. But, now people are more into those surround setups with 2 Front Left & Right and two rear Left & Right, including one central channel speaker for a true surround, movie-like experience inside their personal space. 
Is it possible to get surround sound without a center speaker?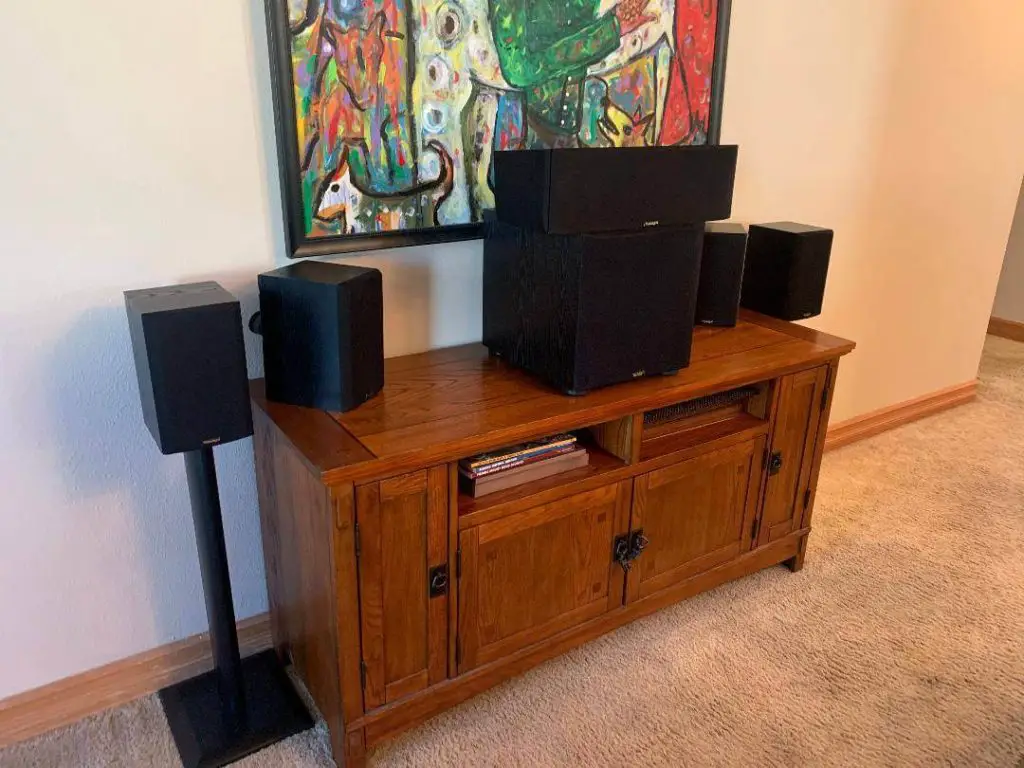 You can get surround sound without a center channel speaker but at the cost of a few sacrifices, which I will explain in a way that you will quickly understand. A lot of things will not appear to be the same, but here are a few basic ways to make sure to get a similar feel. 
Creation of Phantom Sound through L and R speakers
You obviously would have the question regarding what phantom sounding is. In the generic sense, it is where you can feel sound coming out of a place where there are no speakers pointing at you.
The creation of phantom sound is usually done to miss out on the void of that non-existent speaker. Your adjacent rear left and right speakers have to be placed in such a place that the sound will appear as if there is a center speaker. It essentially is an illusion that is achieved when the speakers are placed at the right place while you are sitting at the sweet spot along with the sound frequencies, which will give you the assumption of the sound's direction.  
Adjusting the settings of the receiver
This will also come down as a concern in case you have terrible center speakers that are actually making your hearing experience challenging, but not having a speaker works as well because you will be tweaking the settings of the speakers. The experience will definitely not be the same anymore, but it'll be close to getting a surround sound effect. If you use the Sony STR series receivers, then here's what you should do,
Go to the settings menu. 
Select 7 System options. 
Locate the center speaker option.  
Select the disable option. You'll have options like small and large as well. 
You should also adjust the settings of your speakers if you have a subwoofer or not because the frequency and the bass sound will be adjusted to the subwoofer. 
Do You Need Technician or Expert helps?
What you're missing out: The Importance of Center Speaker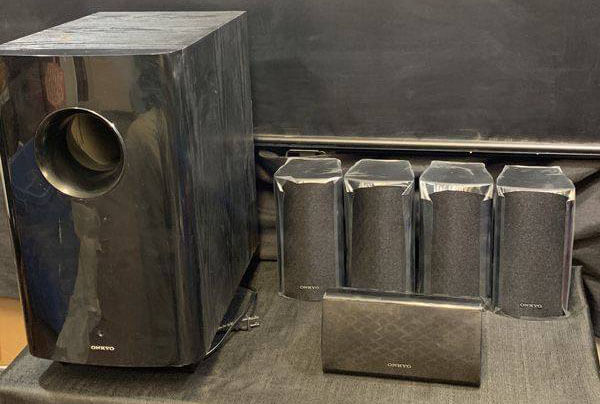 Now that you know what to do when it comes to creating surround sound without a center speaker, let's dive into what exactly you're missing. I mean, you clearly know that those action movies and bassy music won't be the same, but here are some of the rather specific reasons. 
Not having the 5.1 Surround Sound Effect
If you're thinking about surround sound effects, then naturally, you'll assume that there will be five speakers. But, as we know that you are missing out on that very specific speaker, we need to compromise ourselves on a 4.1 setup.
You'll need the front left & right and rear left & right sound along with the central sound for the voice, but since there isn't any central speaker, make sure you have the right amplifier and a subwoofer so that it can split the frequencies between the speaker because the settings of the amplifier or the AVR might show that you have a 5.1 setup. 
Adjusting your seating 
This is, of course. You have some idea already because when you're inside the modern movie theaters or the home theater setups with Dolby surround, you'll see that no matter where you are seated, you'd have an equal listening experience because of how all the speakers are placed. It is essentially created because there are all the speakers. 
But now, you need to find out that specific spot in your room after the settings are adjusted. Sitting at the center would be a safe bet, but sometimes you need to sit elsewhere based on the phantom sound effect.   
Check some 4.1 setups for surround system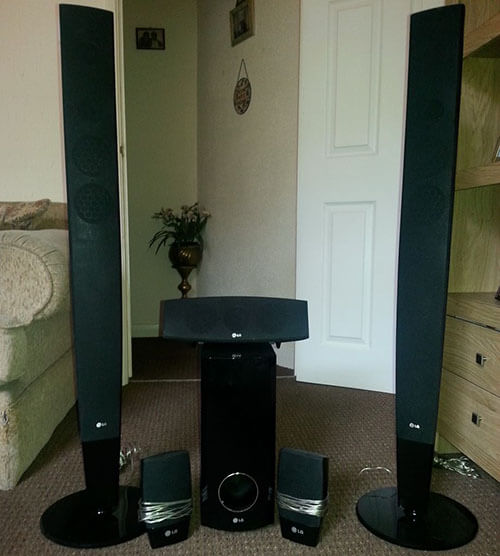 Since we can't have 5.1 setups as you don't have any center speakers, naturally, we need to adjust with a 4.1 surround setup, even though it is relatively unheard of. Now, since you need to buy 4.1 surround setups, bear in mind that 4.1 setups are not available in the western market as it is not that common to have, whereas, in the Asian and middle eastern markets, 4.1 setups are a common thing. So, you may need to purchase from there. 
1. Sony SA-D40 (Premium Choice for audiophiles) 
Sony is, of course, a household name when it comes to getting speakers, and of course, I'd have to include Sony in my suggestions. The SA-D40 surely packs a punch with its 80-watt power-out speakers along with its large subwoofer, which will add more immersion. 
Features: 
The Sony has a frequency response of 40Hz – 20kHz. 
The impedance of its front speaker is 10 Ohms. 
The system has an 80-watt power output. 
It has Bluetooth wireless connectivity and comes with remote control. 
2. Zebronics BT4440RUCF (For those who are on a budget)
Zebronics is quite the notable name in India selling audio products with decent to premium quality for those who are on a budget. For less than 50 dollars, the BT4440RUCF will seem like a steal as it could be comparable to most famous brands that are selling. It comes with a 60-watt and 4 ohms. The Zebronics' funky design will match your aesthetics if you like something less minimal and glossy. 
Features: 
It has a frequency response of 20Hz – 20KHz, which is quite decent. 
The Zebronics has a total output power of 60W (20W + 10W x 4). 
Its subwoofer drive has an impedance of 4 ohms. 
The speaker surprisingly has an FM radio along with Bluetooth connectivity. 
3. Philips Audio Spa8140B/94 (Mid ranger but is also an allrounder) 
Be it aesthetics, gaming, music, or creating a mini home theater, the Spa8140 won't leave you disappointed. The sound quality is so bassy and crisp that it is hard not to recommend it at its price point. Around its budget, even though it won't give you high specs but its 40-watt output power and functionality will suffice your needs. 
Features: 
Similar to Zebronics, it also has a frequency response of 20hz – 20 KHz. 
The Phillips has a power of 50 watts in total. 
The nominal impedance of its L and R speakers and the subwoofer is 4 ohms. 
It has an easy-going setup along with Bluetooth connectivity for any device along with USB connectivity. 
Note: You can also opt for a 2.1 setup if you feel that you're on a budget and if your room is too small. This can also work as a last resort in case if you see that you can't get a 4.1 setup. 
Differences between the recommendations
Here's a table that shows the differences between the speaker setups so that you have a clear idea of what you're buying
| | | | | |
| --- | --- | --- | --- | --- |
| Speaker Setup  | Frequency Response  | Impedance  | Output Power  | Connectivity  |
| Sony SA-D40 | 40Hz – 20kHz | Front speaker 10 Ohms  | 80 watts  | Bluetooth and USB  |
| Zebronics BT4440RUCF | 20Hz – 20KHz  | Subwoofer drive 4 Ohms  | 60W (20W + 10W x 4) | Bluetooth, USB, SD Card |
| Philips Audio Spa8140B/94 | 20Hz – 20KHz  | All Speakers and subwoofers are 4 Ohms  | 50 watts | Bluetooth and USB |
FAQs (Frequently Asked Questions)
Why is the center speaker so significant for stereo sound? 
The center speaker is essentially the most important part of your speaker setup. Some might even say that it is the heart of the setup because having it is the general assumption.
The majority of the sound comes from the center speaker, especially the dialogues. If you're watching a movie, a center channel speaker is a must, but if you're listening to only music, then you can probably get away with a center speaker. 
Can a soundbar compensate for a central speaker? 
The core difference between the two speakers is that the sound bar produces sound through multiple channels, which is a stereo setup, whereas a center channel speaker produces sound through a single channel which is essentially mono. 
Now you can probably turn your soundbar into a center speaker if you can change its settings of it through the receiver. Basically, making all the channels direct the sound to one single source. 
Wrap-Up
Thus, whatever I have said makes sense to you because finding a solution over the replacement of a center speaker is not really practical. However, through some normal adjustments, it is possible to get a similar experience, but it will never feel like those Dolby surround sound setups.
I would actually recommend you get a cheap center speaker instead of not having one at all. You just need to make sure that it is compatible with your amp and subwoofer. The experience at the end of the day won't suffice for you, but it'll compensate for your minimum based on the recommendations I have given.