If you're looking for great ways of enhancing the sound quality of your favorite TV programmes and TV shows, the best way to achieve that is through connecting ceiling speakers to your TV.
No matter if your TV is set in your living room, bedroom or even kitchen space – you can enjoy loud and clear audio quality typically anywhere. If you're intrigued to know how to connect ceiling speakers to TV, make sure to keep reading till the end.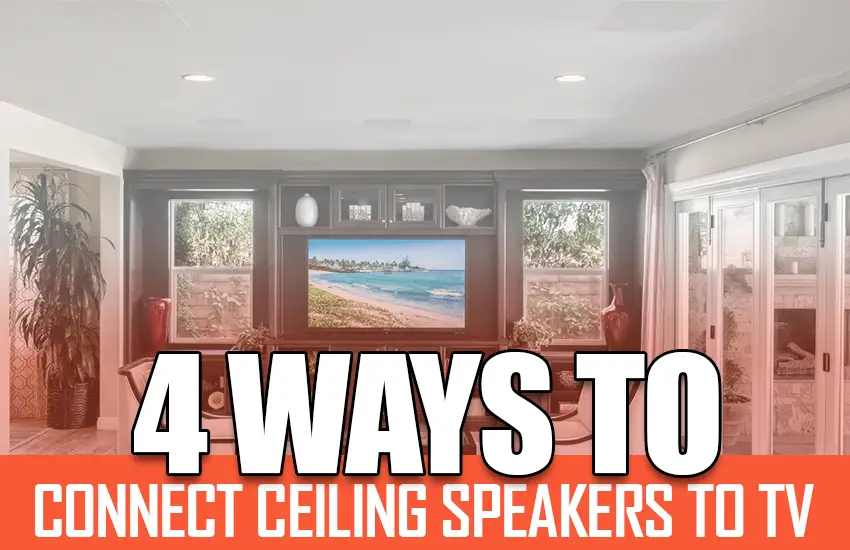 Why Connect The Ceiling Speakers To Your TV?
Some people may be wondering, "Why go through this extra hassle? For what?"
Well, honestly you have no idea what you're missing out if you have ceiling speakers but never experienced watching a movie after pairing them with your TV.
If you want to upgrade your everyday TV watching on the sofas to an immersive home theater like experience, then you should seriously consider connecting your TV to the ceiling speakers to enjoy these advantages:
1. Improved sound quality
2. More nuanced and clear sound effects
3. Deep bass
4. Better and wider sound coverage
5. Home Cinema Surround Sound
How to Connect Ceiling Speakers to TV?
If you've finally made up your mind about connecting your TV to ceiling speakers, simply follow our step-by-step guidelines for smooth operations. There are several methods through which you can establish a connection, go with whichever seems easier for you.
Method #1: Using Optical Cables
Most TV models of modern times and high-end tech brands such as LG, Samsung, Sony etc. all feature a 'digital optical audio output' so that you can easily connect external devices to your TV with the help of TOSLink.
Step 1: Locate the "Digital Audio Output" which should be labeled somewhere at the rear surface or on the sides of your TV. It looks like a square terminal for inserting cables that glows red.
Step 2: Now, take one end of a good-quality optical cable and connect it to the  "Digital Audio Output" on your TV.
Step 3: Connect the other end of the TOSLink cable to the audio output jack on your ceiling speakers.
Step 4: Some modern TV models have both – 'Analog Audio Output' and also 'Digital Audio Output'. Don't be confused if your TV is one of those. Simply connect it to the DAO for best sound quality assurance.
Step 5: Now turn on your TV and power on your ceiling speakers as well.
Step 6: Do a quick test. Turn on a TV channel with your remote control and check whether sounds are coming from the ceiling speakers or not.
Step 7: If the connection was successful, the only thing left to do is adjust the volume settings on your ceiling speakers and on your TV. It shouldn't be too loud so as not to bleed your ears nor should it be too low.
Method #2 Using HDMI Cables
Almost all TV models today are compatible with ARC/eARC and support HDMI connections. In the shop, you will find different kinds of HDMI cables of various lengths and sizes.
We recommend buying HDMI cables with fiber optic that are at least 30 meters in size. But before purchasing one, it's better to measure the distance between your TV HDMI output and ceiling speakers, this way you'll be able to buy the perfect-size HDMI cables that are not too lengthy or too short.
Also don't forget to check what type of HDMI cable you need – Type A, Type C or Type D – based on what the HDMI output jack looks like on your TV. Most standard TVs require the 'Type A' HDMI cable with the plug size 13.9 × 4.45mm.
After you have arranged the appropriate cables, start with:
Step 1: Connecting one end of the HDMI cable to the HDMI output at the back of your TV.
Step 2: Then connect the cable to your ceiling speakers.
Step 3: Adjust the volume settings manually using the surface buttons on the case or with the help of a remote.
Step 4: Lastly, check whether the connection was successful and everything's working fine.
If this method seems too much of a hassle or doesn't work out for you, move onto the next ones and try those.
Method #3 Using Wireless Connectivity
Bluetooth is the most common way and most preferred way by people for easily connecting one's TV with their ceiling speakers. Follow these simple guidelines:
On Your TV:
Step 1: Turn the TV on and go to the settings menu.
Step 2: Select "Remote & Accessories"
Step 3: You'll see some options but only click on "Bluetooth Settings"
Step 4: To make your TV enter into pairing mode, select "Add Device" or "Add Pair Accessory". The wordings may vary from TV to TV, but it will more or less mean the same.
On Your Speakers:
Just a heads-up, not all ceiling speakers will be compatible with Bluetooth Wireless technology. Therefore, if your speaker doesn't support Bluetooth, simply jump off to the next method illustrated ahead.
However, if you have the Lithe Audio Ceiling Speakers that feature Bluetooth, you'll be good to go.
Step 1: On the speaker case, you'll see a 'Bt' button that refers to Bluetooth.
Step 2: Press and hold this button for 5 seconds. The tiny LED bulb sensor will blink for a while or flash a color to indicate that Bluetooth was activated successfully.
Step 3: Now, select "Available Bluetooth devices" to see the list of Bluetooth devices nearby within the range. From that, select the name of your TV.
And voila! Your Bluetooth TV is now successfully connected to your Bluetooth ceiling speakers without much of a hassle. To determine whether the connection was successful or not, play a TV show or movie and see if the sound quality is much louder and clearer than before.
Method #4: Using Aux Cables
If the TV you have in your house is an older model, perhaps your TV may have analog audio outputs to make it easier to connect to ceiling speakers. Unfortunately, the latest high-end LED TV models from LG or Samsung do not have these 3.5 mm outputs. More and more TV brands are starting to drop out these outputs while designing the appliances.
However, if you get lucky, you'll find a red and white output on the back of your TV which is labeled as "AUDIO OUT". Follow these instructions if your TV has one:
Step 1: After successfully locating the analog audio output, use a 3.5 mm audio jack cable to connect to this port.
Step 2: Now connect the other end of the cable to the headphone socket of your ceiling speakers.
By the way, you can also insert good-quality RCA cables in replacement of aux cables for this method. If you're not sure about what's the difference between these two types of cables, in short – Aux cables are typically more easier to use and are compact in size. On the other hand, RCA cables are long-lasting and more reliable. Now it's up to you to decide which cable type you want to go for.
Now, it's finally time to check whether the connection was successful. As usual, stream a movie on your TV and observe the sound quality. Make necessary adjustments to the volume and EQ settings to get to your desired sound quality.
Avoid These Common Mistakes When Connecting Ceiling Speakers to TV
It's not unusual to struggle while pairing up your TV with the surround speakers – the procedures are indeed very difficult. All efforts could drown in vain because of one wrong step on the go. Therefore, to make the connecting process easier, less time-consuming and more effective, stay away from making these common mistakes:
1. Use The Right Cables
It's extremely crucial to use the right cables and insert them at the right outputs.
We don't recommend using power cables such as Super Tension (ST) or Extra High Tension (EHT) for connecting one's TV to speakers. And if you are using audio cables, don't even think about running them with power cables, otherwise your ceiling speakers may start generating buzzing/humming noises.
2. Say No To Substandard Cables
Sometimes, if people are on a tight budget, they end up buying cheap, poor-quality cables to save some bucks instead of the expensive high-end ones. Don't do that. Those cables may be cheaper but might not be properly shielded or durable enough to last longer. Eventually, you'll have to replace them again within two weeks.
Nonetheless, you don't really have to invest a ridiculous amount of money on some cables, but buy from a decent brand so that they're worth the long-term investment.
3. Don't Use Cheap Audio Converters
Buying a cheap DAC, again, won't be fruitful for the long run. Not only will they malfunction every now and then but also not last for long.
If you want our recommendations for the best durable audio converters that are also affordable, we would suggest the CYP AU-D3-192.
It features a 16 and 24 bit rate with an advanced 192Hz sampling rate. Moreover, it also has great-quality connections.
4. Inappropriate Cable Lengths
If you run an audio wire longer than 10 meters, especially an analog audio line, you risk having sound problems. Thanks to fiber optic HDMI cables, you can now go much further with HDMI.
To avoid potential cable issues, try to position your TV as close to your ceiling speakers as possible – especially if you're connecting via Bluetooth.
Wrapping Up
By following any of the methods explained above, you can easily connect the ceiling speakers to your TV without an additional receiver. Just make sure the cable connection doesn't feel loose and is well-tightened.
Frequently Asked Questions:
Q.1: How do I connect my ceiling speakers to my TV without a receiver?
Answer: You can connect ceiling speakers to TV without a receiver either via wireless Bluetooth connection or via TOSLink/RCA/Auxiliary cables. You can also try another way if you own an amplifier – first connect your TV to the amplifier via cables and at the same time the speaker cables should also be connected to the amp.
Q.2: How do ceiling speakers get power?
Answer: Ceiling Speakers don't really need mains power of your house since they're of the passive kind. You'll need to power your ceiling speakers through an external amplifier and connect the two together using speaker cables.
Q.3: Do I need a receiver for ceiling speakers?
Answer: Yes, passive ceiling speakers must be connected to either a receiver or an amplifier for better operations.
Q.4: Why do ceiling speakers have 4 wires?
Answer: Most speakers have this "whole-house wiring" (also known as multi-room audio) to reduce the number of cables for establishing connections and to obviously save some time and effort. This way you can use a different cable for each pair of output terminals.